Herbs And Phytochemicals: Verbenalin From Verbena Officinalis Alleviates Acute Lung Injury Induced By Sepsis And IgG Via GPR18 Receptor
Herbs And Phytochemicals
: Acute lung injury (ALI) and its severe form, acute respiratory distress syndrome (ARDS), are critical clinical conditions linked to various underlying causes, including bacterial and viral infections (including COVID-19), as well as sepsis. These conditions not only lead to systemic inflammation but also result in damage to multiple vital organs, with the lungs being a primary target. Alveolar macrophages play a central role in the development of ALI, and their aberrant activation and pyroptosis contribute significantly to tissue damage. To combat this, targeting the GPR18 receptor represents a promising therapeutic avenue for mitigating inflammation.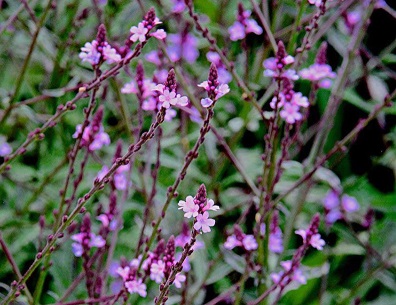 In this
Herbs And Phytochemicals
news report, we delve into the potential therapeutic benefits of verbenalin, a key component of Verbena officinalis, found in Xuanfeibaidu (XFBD) granules, a Traditional Chinese Medicine (TCM) that is recommended for the treatment of COVID-19 in China. Researchers from Tianjin Nankai Hospital-China, Tianjin Medical University-China and Nankai University-China explored how verbenalin directly binds to the GPR18 receptor, inhibits inflammatory signaling pathways, and holds the potential to revolutionize the treatment of acute lung injury and sepsis.
The Underlying Mechanisms of Acute Lung Injury
Acute lung injury and ARDS are characterized by increased alveolar permeability, disruption of lung epithelial cell structure, edema, hemorrhage, neutrophil accumulation, and macrophage pyroptosis. Among these processes, macrophage pyroptosis is recognized as a central mechanism of tissue damage in ARDS, either directly through pathogenic factors or indirectly via an exaggerated inflammatory response.
Immune complexes, formed by the interaction of various immune cells with antibodies and antigens, play a critical role in these conditions. Under normal circumstances, soluble immune complexes are filtered by the kidneys, while larger insoluble complexes are eliminated through macrophage phagocytosis. However, in certain cases, these immune complexes deposit themselves at the base of blood vessel walls, triggering complement activation, inflammation, and tissue damage. It's worth noting that anti-spike IgG has been implicated in causing severe lung injury in SARS-CoV-mediated ALI, and sepsis-induced acute lung injury is often associated with immune complex deposition in tissues.
Recent research has unveiled that inflammation resolution is an active process mediated by endogenous chemical mediators, such as lipoxins, resolvins, and protectins. These mediators act through various G protein-coupled receptors, including GPR18, to promote inflammation resolution and restore tissue homeostasis.
Resolvin D1 (RVD1) and Resolvin D2 (RVD2) are endogenous lipid mediators that actively promote the resolution of acute inflammation. RVD1, for instance, inhibits NF-κB and C/EBP activity in alveolar macrophages, significantly attenuating IgG immune complex-induced inflammatory responses. RVD2, on the other hand, suppresses the NLRP3 inflammasome, leading to reduced cytokine production, inhibited neutrophil recruitment, and enhanced macrophage phagocytosis in septic mice. The importance of GPR18 in this process is underscored by studies showing its expression levels in sepsis patients correlating with prognosis and severity.
The Potential of Traditional Chinese Medicine
Traditional Chinese medicine (TCM) has long been recognized for its efficacy in treating acute lung injury. One notable TCM formulation, Xuanfeibaidu (XFBD) granules, has gained prominence in the management of COVID-19. XFBD granules consist of 13 TCM herbs, including Verbena officinalis, which has shown a remarkable protective effect against coronavirus-induced lung injury, particularly in the small airways.
Verbena officinalis is rich in various bioactive compounds, including iridoid glycosides, phenylpropanoid glycosides, triterpenes, flavonoids, sterols, volatile oils, and organic acids. Among these, verbenalin stands out as one of the most abundant components. Verbenalin has demonstrated its potential in mitigating acute lung inflammation caused by Pseudomonas aeruginosa, acting through GPR18 receptors.
Verbenalin's Therapeutic Potential in Acute Lung Injury
In this study, researchers aimed to investigate the pharmacological effects of verbenalin in treating sepsis and IgG immune complex-induced acute lung injury. The results revealed that verbenalin significantly improved the survival rate of cecal ligation and puncture (CLP) mice, a model for sepsis. This observation suggests that verbenalin holds promise as a therapeutic agent for sepsis treatment.
Histopathological analysis of lung tissues from the experimental groups further supported these findings. The CLP group exhibited typical sepsis-induced lung alterations, including alveolar damage and inflammation. In contrast, the CLP + verbenalin group showed less severe pathological changes, indicating the potential of verbenalin in mitigating acute lung injury induced by sepsis.
Verbenalin's Mechanism of Action
Sepsis-induced acute pulmonary inflammation is both a valuable model for studying acute inflammation and a complex clinical syndrome to manage. Immune complexes, when deposited in tissues, contribute to the inflammatory response and tissue damage seen in ALI and ARDS. Verbenalin, through its ability to activate the GPR18 receptor, has shown promising anti-inflammatory effects. By selectively targeting GPR18, verbenalin may facilitate inflammation regression, offering a potential breakthrough in acute lung injury treatment.
Furthermore, this study uncovered a signaling axis involving C/EBP-δ, GSDMD, and GSDME, which plays a pivotal role in IgG immune complex-induced alveolar macrophage pyroptosis. Simultaneously, IgG immune complexes were found to stimulate the formation of neutrophil extracellular traps (NETs), contributing to pulmonary macrophage pyroptosis. Verbenalin's ability to inhibit these processes underscores its potential in preserving lung tissue and preventing inflammation-induced damage.
Conclusion
The study discussed herein provides compelling evidence for the therapeutic potential of verbenalin in the treatment of acute lung injury. Through its selective activation of the GPR18 receptor, verbenalin promotes inflammation regression, offering hope for patients suffering from ALI and sepsis. Additionally, the study sheds light on the intricate C/EBP-δ/GSDMD/GSDME signaling axis and its role in ALI, further expanding our understanding of the disease. Verbenalin, derived from Verbena officinalis, may indeed be a game-changer in the field of acute lung injury therapy, providing a much-needed solution for patients battling this life-threatening condition.
The study findings were published in the peer reviewed journal: Cellular Signalling.
https://www.sciencedirect.com/science/article/abs/pii/S0898656823001821
For the latest on
Herbs And Phytochemicals
, keep on logging to Thailand Medical News.
Read Also:
Verbenalin - Overview
https://www.sciencedirect.com/topics/pharmacology-toxicology-and-pharmaceutical-science/verbenalin
Verbenalin Reduces Amyloid-Beta Peptide Generation in Cellular and Animal Models of Alzheimer's Disease
https://www.mdpi.com/1420-3049/27/24/8678
Antidepressive potential of aqueous extract of common vervain (V. officinalis L. Verbenaceae) and molecular docking studies of its main components as potential antidepressive agents
https://www.elsevier.es/en-revista-porto-biomedical-journal-445-articulo-antidepressive-potential-aqueous-extract-common-S244486641730212X
The Evaluation of the Acute Toxicity and Safety of Verbenalin in ICR Mice
https://doaj.org/article/a12af0198be14461883f9c66de8b7c5a
Hastatoside and verbenalin are sleep-promoting components in Verbena officinalis
https://onlinelibrary.wiley.com/doi/abs/10.1111/j.1479-8425.2009.00405.x
Bioactive constituents of Verbena officinalis alleviate inflammation and enhance killing efficiency of natural killer cells
https://www.biorxiv.org/content/10.1101/2021.10.22.465498v4
Bioactive Constituents of
Verbena officinalis
Alleviate Inflammation and Enhance Killing Efficiency of Natural Killer Cells
https://www.mdpi.com/1422-0067/24/8/7144
Hepatoprotective activity of verbenalin on experimental liver damage in rodent
https://hero.epa.gov/hero/index.cfm/reference/details/reference_id/2918875