The Deadly Mystery: Australia's Shocking Surge In Excess Deaths Sparks Wild Theories And Demands For Inquiry
Excess Deaths
: In a horrifying turn of events, Australia experienced a staggering 15% surge in excess deaths in 2022, sparking an avalanche of wild theories and a growing demand for a government-led inquiry. This chilling increase, which saw 25,000 more Australians perish compared to historical averages, has left the nation in turmoil as people scramble for answers.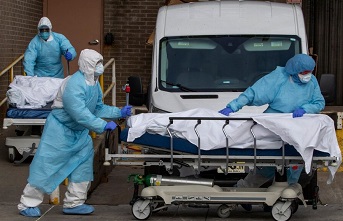 Australia's death rate soared past 190,000 last year, a shocking 15% increase in excess mortality compared to the typical 1-2% variation. As the nation grapples with this chilling reality, the federal government's refusal to launch an inquiry has left critics accusing politicians of turning a blind eye to the crisis.
As theories swirl, some argue that the increase in deaths points to a need for stricter COVID-19 restrictions, while others claim that vaccines are to blame. Amid this chaos, the question on everyone's lips is: what is truly causing Australia's excess deaths?
According to data from the Australian Bureau of Statistics (ABS), the majority of excess deaths in 2022 were due to COVID-19. The deadly virus claimed over 10,000 lives, while another 3,000 people died "with" the disease. Deaths from cancer, dementia, and diabetes also saw a concerning increase, with diabetes-related fatalities skyrocketing by a harrowing 19%.
https://www.actuaries.digital/2023/04/06/covid-19-mortality-working-group-confirmation-of-20000-excess-deaths-for-2022-in-australia/
This grim reality was forewarned by health professionals as Australia emerged from lockdown in 2021. A report from Cancer Australia noted a significant drop in biopsies, scans, and surgeries, leading to a potential 20,000 missed early-stage cancer cases.
Meanwhile, the age-standardized mortality rate revealed a less dire picture, with a 5.8% increase in deaths per 100,000 people. The ABS attributed some of the higher mortality in 2022 to a "mortality deficit" - the concept that deaths expected to happen in 2020 were pushed into 2021 or 2022 due to Covid-19 prevention measures.
Despite the ABS's explanations, many Australians are still demanding a government-led inquiry. A Senate motion to hold an inquiry, sponsored by Victorian United Australia Party Senator Ralph Babet, was recently voted down, fueling conspiracy theories and further dividing the nation.
As prominent figures like infectious disease researcher Brendan Crabb and radio host Ben Fordham join the call for a probe, the government's refusal to investigate the surge in deaths is fanning the flames of speculation. Fordham warns that without an inquiry, the issue of
Excess Deaths
will be "weaponized," fueling debates over the need for COVID-19 restrictions and the safety of vaccines.
While the Therapeutic Goods Administration (TGA) has examined over 900 reported post-vaccination deaths, they determined only 14 were linked to the COVID-19 vaccine. However, critics like Fordham argue that the TGA lacks transparency on this issue, further feeding the frenzy of conspiracy theories.
https://www.tga.gov.au/news/covid-19-vaccine-safety-reports/covid-19-vaccine-safety-report-12-01-23
In 2022, COVID-19 became Australia's third leading cause of death, after ischemic heart disease and dementia.
https://www.bmj.com/content/381/bmj.p842
According to an analysis by the Actuaries Institute, the nation experienced 20,200 more deaths than expected if the pandemic had not occurred, with a total excess mortality of 12% for the year.
The Actuaries Institute's COVID-19 Mortality Working Group's analysis revealed that most excess deaths occurred in people over 65, with excess mortality reaching at least 5% in all age groups. Of the 20,200 excess deaths, half were from COVID-19, 15% were related to COVID-19, and the remaining 34% had no mention of the virus on the death certificate.
The non-COVID-19 excess deaths are believed to be caused by factors such as the impact of COVID-19 on subsequent mortality risk, delays in emergency and routine care, and disrupted prescriptions for those with chronic heart disease. Other potential reasons include mortality displacement, undiagnosed COVID-19, mental health issues, and unhealthy pandemic-influenced lifestyle changes.
Experts from Australia's Burnet Institute are urging politicians to acknowledge that the pandemic is far from over and to implement measures like high-quality masks, and improved indoor air quality. They also stress the importance of adopting new knowledge and technology, such as nasal spray vaccines and antiviral drugs.
The Australian public's demand for answers and the need for greater transparency from the government and health organizations cannot be ignored. With a clear understanding of the factors contributing to this tragic surge in excess deaths, informed policies can be put in place to mitigate further loss of life and alleviate the public's concerns.
Ultimately, the nation must come together to address the pressing health crisis, implement evidence-based strategies, and provide comprehensive support to those affected by the pandemic. This may include ramping up mental health services, increasing funding for medical research, and ensuring timely access to healthcare for all Australians. By taking these steps, Australia can hope to turn the tide and emerge from this dark period stronger and more united than ever before.
For the latest news about
Excess Deaths
, keep on logging to Thailand Medical News.