BREAKING NEWS! Plant-Based Compound Dicoumarol Emerges as Promising Post-Exposure Prophylactic For Omicron Variant Of SARS-CoV-2
COVID-19 News
: In a significant breakthrough against the ongoing COVID-19 pandemic, researchers at the Guangzhou Institute of Respiratory Health-China, The First Affiliated Hospital of Guangzhou Medical University-China, and Guangzhou Medical University-China have discovered that dicoumarol, a naturally occurring plant-based compound, demonstrates remarkable efficacy as a post-exposure prophylactic for SARS-CoV-2 Omicron variant infection in human airway epithelium.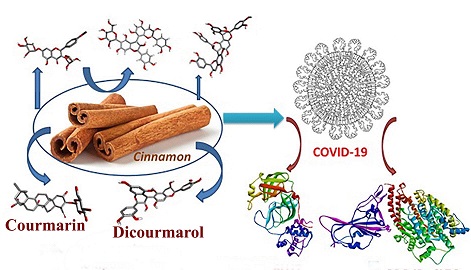 Dicoumarol or dicumarol is a naturally occurring anticoagulant drug that depletes stores of vitamin K (similar to warfarin). It is also used in biochemical pathways as an inhibitor of reductases. Dicoumarol is a natural chemical substance of combined plant and fungal origin. It is a derivative of coumarin), a bitter-tasting but sweet-smelling substance made by plants that does not itself affect coagulation, but which is transformed in mouldy feeds or silages by a number of species of fungi, into active dicoumarol. Dicoumarol does affect coagulation, and was discovered in mouldy wet sweet-clover hay, as the cause of a naturally occurring bleeding disease in cattle. Sources of courmarin and dicoumarol include cinnamon, tonka bean and sweet clover.
The Omicron variant, which emerged in South Africa in November 2021, has posed a formidable challenge due to its highly transmissible nature and reduced immune protection conferred by previous infections. Scientists worldwide have been tirelessly exploring potential drugs to combat SARS-CoV-2, and the repurposing of existing medications has proven to be an expedited approach to finding effective therapies for the rapidly evolving variants.
Dicoumarol, a naturally derived anticoagulant with a long history of clinical use, has already demonstrated broad-spectrum antiviral properties against hepatitis B virus (HBV) and human immunodeficiency virus (HIV). However, its inhibitory effects and mechanisms of action against SARS-CoV-2, particularly in the context of the Omicron variant, have remained unknown until now.
In this groundbreaking study, the study team employed air-liquid interface culture of primary human airway epithelial cells (AECs) to investigate the antiviral activity of dicoumarol against multiple Omicron variants, including BA.1, BQ.1, and XBB.1. The results were nothing short of remarkable. Early treatment with dicoumarol after viral absorption led to a significant suppression of Omicron replication in AECs. It was however found that dicoumarol did not impact viral absorption, exocytosis, spread, or directly eliminate viruses.
To understand the underlying mechanisms, the study conducted single-cell sequencing analysis and immunofluorescence staining, revealing that the expression of NAD(P)H quinone oxidoreductase 1 (NQO1), a known target of dicoumarol, was predominantly localized in ciliated AECs. Intriguingly, the study found a positive correlation between NQO1 expression levels, disease severity in COVID-19 patients, and viral copy levels in cultured AECs. Furthermore, dicoumarol treatment downregulated NQO1 expression and disrupted signaling pathways associated with SARS-CoV-2 disease outcomes.
These study findings have far-reaching implications for the treatment of COVID-19 patients. Dicoumarol's effectiveness as a post-exposure prophylactic for SARS-CoV-2 infection in human AECs opens up new possibilities for physicians in formulating novel treatment strategies. Importantly, dico umarol's established safety profile as a widely used anticoagulant and its cost-effectiveness make it an attractive option for repurposing in the fight against COVID-19.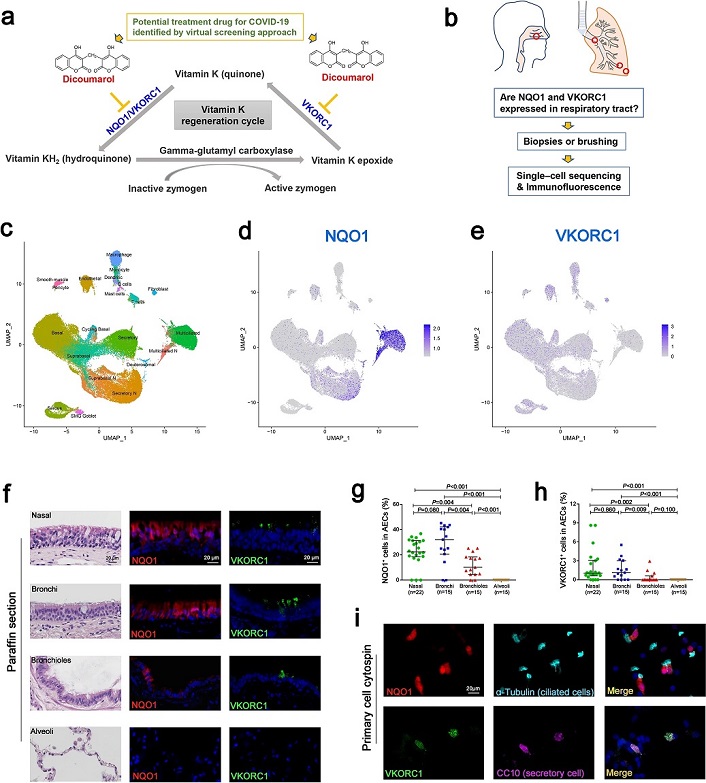 Dicoumarol (DCM)'s targets were expressed in ciliated cells and secretory cells within airways. The chemical structure of DCM and the roles of DCM's recognized targets (NQO1 and VKORC1) in the recycling of vitamin K (a). Airway samples from distinct regions were collected (b) for detecting the RNA and protein expression patterns of NQO1 and VKORC1 by using single-cell sequencing analysis (c–e) and immunofluorescence staining (f–i), respectively. Data are represented as median (1st, 3rd quartile)
Corresponding author, Dr Nan-shan Zhon, lead researcher and professor at Guangzhou Institute of Respiratory Health, told
COVID-19 News
reporters at TMN, "Our study demonstrates the potent antiviral activity of dicoumarol against the Omicron variant in human airway epithelium. These study findings not only provide valuable insights into the mechanisms of action but also pave the way for the development of dicoumarol as a post-exposure therapeutic or early-phase treatment for SARS-CoV-2 infection. We are excited about the potential of dicoumarol to make a significant impact in the fight against COVID-19, particularly against the highly transmissible Omicron variant."
Dr Zhon continued, "Further preclinical and clinical studies are warranted to evaluate the safety, efficacy, and optimal dosage regimens of dicoumarol in human subjects. Our team is actively collaborating with regulatory authorities and pharmaceutical companies to expedite the development and availability of dicoumarol-based treatments."
The researchers envision several potential applications for dicoumarol in the management of COVID-19. As a post-exposure prophylactic, dicoumarol could be administered to individuals who have been in close contact with a confirmed COVID-19 case, helping to prevent or minimize the severity of infection.
Additionally, early-phase treatment with dicoumarol following a positive COVID-19 diagnosis could limit viral replication and reduce disease progression.
It is important to note that while these findings are promising, further research is needed to fully understand dicoumarol's efficacy and safety profile in the context of SARS-CoV-2 infection. Clinical trials involving a larger sample size and diverse population groups will be crucial to validate the results observed in this study.
The study findings were published in the peer reviewed journal: Signal Transduction and Targeted Therapy
https://www.nature.com/articles/s41392-023-01511-7
For the latest
COVID-19 News
, keep on logging to Thailand Medical News.
Read Also:
https://www.thailandmedical.news/news/covid-19-herbs-german-american-study-shows-that-cinnamaldehyde-from-cinnamon-is-a-good-supplement-with-dexamethasone-for-treating-covid-19
https://www.thailandmedical.news/news/cinnamon-the-natural-remedy-for-flu-infections-and-beyond
Check Out:
https://www.thailandmedical.news/articles/covid-19-herbs