COVID-19 News: Canadian Study Reveals Unexpected Vulnerability To COVID-19 Reinfections Among Elderly Individuals With Previous Omicron Infections!
Contrary to fallacies promoted by some 'experts' and manipulated studies, prior infections do not prevent SARS-CoV-2 reinfections!
COVID-19 News
: In the ongoing battle against the SARS-CoV-2 virus, the emergence of new variants has led to a complex landscape of immunity and protection. A recent study conducted at McMaster University in Canada challenges prevailing assumptions about the relationship between prior COVID-19 infections and susceptibility to reinfection. Contrary to earlier beliefs and
COVID-19 News
reports featuring charlatans and online 'experts' claiming that previous infections helped in preventing reinfections, the study found that elderly individuals who had been infected with Omicron variants were actually more susceptible to reinfections, rather than being protected against them. This unexpected discovery carries important implications for vaccination strategies and underscores the need for continuous research as the virus evolves.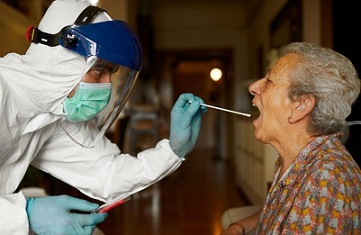 Pic Credit: Tempura/Getty Images
Unveiling a Surprising Vulnerability
The McMaster University study delved into the vulnerability of elderly individuals to COVID-19 reinfections. This investigation stood out due to its focus on retirement and long-term care home residents, a group that has consistently been identified as particularly vulnerable to severe COVID-19 outcomes. The researchers studied a cohort of 750 vaccinated residents in Ontario retirement and long-term care homes, tracking their infection patterns and immune responses over a specific time period from the rise of Omicron variants to their dominance.
Challenging Prevailing Wisdom
One of the most striking findings of the study was its challenge to conventional wisdom regarding the protective effects of prior infections. The general assumption even among many in the medical community, had been that individuals who had previously been infected with COVID-19, especially with the emergence of new variants, would develop a certain degree of immunity that would shield them from subsequent reinfections. However, the McMaster study defied this notion, revealing that elderly individuals who had contracted Omicron variants were actually at a significantly higher risk of being reinfected.
Immunological Enigma
The study findings showed that 133 of 750 participants (17.7%) had a PCR-confirmed Omicron infection during the observation period. Increased infection risk was associated with prior Omicron infection (at 9–29 days: 47.67 [23.73–95.76]), and this was not attributed to days since fourth vaccination (1.00 [1.00–1.01]) or residence outbreaks (>6 compared to ≤6: 0.95 [0.37–2.41]). Instead, reinfected participants had lower serum neutralizing antibodies to ancestral and Omicron BA.1 SARS-CoV-2, and lower anti-RBD IgG and IgA antibodies, after their initial Omicron infection.
Counterintuitively, SARS-CoV-2 Omicron infection was associated wi th increased risk of Omicron reinfection in residents of long-term care and retirement homes. Less robust humoral hybrid immune responses in older adults may contribute to risk of Omicron reinfection.
The study's results raised pressing questions about the underlying reasons for this surprising vulnerability. The researchers explored various potential factors that might explain the increased susceptibility to reinfections among this specific group. These factors included the use of immunosuppressant medications, living in congregant settings such as retirement and long-term care homes, and age-related frailty. However, after careful elimination of these possibilities, the researchers concluded that the most significant factor contributing to the increased susceptibility to reinfection was the occurrence of a recent infection with an Omicron variant.
Implications for Vaccination Strategies
The implications of this study are far-reaching, particularly in the context of vaccination strategies. The assumption that previous infections confer some level of immunity has informed vaccination prioritization and timing. However, the McMaster study suggests that, at least for certain variants like Omicron, this assumption might not hold true, especially for elderly individuals. Dr Dawn Bowdish, an immunologist at McMaster University and a co-author of the study, emphasized the importance of considering these findings when determining the optimal timing for vaccinations, especially as new variants continue to emerge.
Dr Bowdish commented. "The study findings are important because our vaccine strategy is based on the assumption that once you've had an infection, you're going to be a little bit more protected so you don't need to get vaccinated right away."
Heterogeneous Immune Responses
The study also shed light on the complexity of immune responses in older adults. While some participants exhibited strong immune responses after their initial infection, others did not, displaying low levels of protective antibodies. This variability in immune responses highlights the need for a more nuanced understanding of immunity in the elderly population, especially when it comes to navigating reinfection risks.
Omicron Variants: A Moving Target
Another crucial aspect illuminated by this study is the dynamic nature of the SARS-CoV-2 virus and its variants. The emergence of new variants, like the transition from BA.1 and BA.2 Omicron variants to the dominance of the BA.5 variant, has a direct impact on the effectiveness of immunity. The study underscored the importance of considering the specific variant that an individual was infected with, as well as the timing of the infections, when assessing immunity and susceptibility to reinfection.
Future Directions and Public Health Surveillance
In light of these findings, the study emphasizes the necessity of ongoing public health surveillance and research. The landscape of COVID-19 immunity is continuously evolving, and understanding how immunity wanes, changes, or is impacted by new variants is paramount. As new variants of concern continue to emerge, researchers and health authorities must remain vigilant in assessing the longevity of immune responses, the efficacy of hybrid immunity (combining vaccination and prior infection), and the potential need for updated vaccination strategies.
Dr Bodish added, "Our study results suggest that the generation of protective humoral hybrid immunity is influenced by the heterogeneity of immune aging as well as the specific SARS-CoV-2 variant of infection. Many residents of long-term care and retirement homes do not experience a period of enhanced post-infection protection against subsequent infection, which highlights the importance of maintaining high coverage of booster vaccinations in older adults in both congregate care facilities and in the community."
Conclusion
The McMaster University study has illuminated a previously unrecognized vulnerability in elderly individuals who had been previously infected with Omicron variants. The unexpected finding challenges assumptions about the protective effects of prior infections and highlights the complexity of immune responses in older adults. As the virus continues to evolve, it is clear that a dynamic and adaptable approach to vaccination and immunity is essential. The study underscores the need for continued research, vigilance, and a willingness to revise strategies in response to emerging evidence in the ongoing fight against COVID-19.
The study findings were published in the peer reviewed journal eClinicalMedicine.
https://www.thelancet.com/journals/eclinm/article/PIIS2589-5370(23)00325-5/fulltext
For the latest
COVID-19 News
, keep on logging in to Thailadn Medical News.