BREAKING! Novel Forms Of N-Acetylneuraminic Acid Glycoclusters Discovered As Broad-Spectrum Antivirals For Influenza And Coronavirus Viruses!
Medical News
: In a groundbreaking development, researchers from Peking University in China, the Ufa Institute of Chemistry UFRC RAS in the Russian Federation, and Sorbonne Université in France have uncovered a new avenue in the fight against viral infections. Their recent study has unveiled the potential of novel forms of N-Acetylneuraminic Acid (Neu5Ac) glycoclusters as broad-spectrum entry inhibitors for both influenza and coronavirus infections. This discovery marks a significant stride towards developing effective antiviral therapies with far-reaching implications.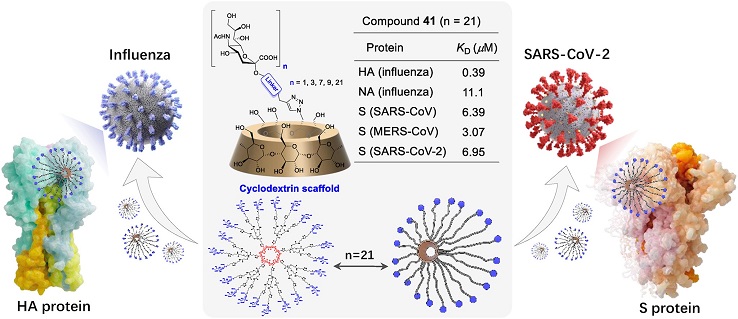 Graphical Abstract
Sialic acids, a class of α-keto acidic nine-carbon sugars, serve as vital receptors for numerous viruses, enabling their attachment and entry into host cells. Among these, N-Acetylneuraminic Acid (Neu5Ac) stands out as a key player. Researchers embarked on a mission to explore the design, synthesis, and biological evaluation of Neu5Ac derivatives based on a cyclodextrin (CD) scaffold, with the aim of targeting membrane proteins of influenza and coronavirus.
Thailand
Medical News
had previously covered about the usage of N-Acetylneuraminic Acid to prevent adverse effects from COVID-19 infections or even from COVID-19 vaccines as early as July 2021 and in some of our own observational studies we have found in to be effective in both uses.
https://www.thailandmedical.news/news/breaking-study-finds-that-n-acetylneuraminic-acid-and-its-analogs-can-be-used-to-prevent-adverse-reactions-due-to-covid-19-infection-or-vaccines
Influenza and coronaviruses have posed persistent threats to global health, causing significant morbidity and mortality. Influenza viruses utilize hemagglutinin (HA) proteins to recognize sialic acids on host cell surfaces, initiating infection.
Similarly, human coronaviruses employ sialic acid-based interactions for binding and entry into host cells, with the spike glycoprotein playing a crucial role.
The research team's innovative approach hinged on the concept of multivalency, leveraging the potential of multiple Neu5Ac ligands on a CD scaffold to simultaneously occupy viral attachment protein binding sites. This strategic blockade aimed to prevent viral interactions with host cells, effectively inhibiting infection. The study delved into the synthesis of a range of sialylated α- and β-CD derivatives of differ ent valencies, conformations, and spacer lengths, meticulously assessing their interactions with influenza and coronavirus proteins.
The results of the study demonstrated the remarkable efficacy of these Neu5Ac glycoclusters as entry inhibitors. Specifically, multivalent Neu5Ac derivatives exhibited a staggering 1788-fold increase in binding affinity inhibition for influenza virus HA compared to free Neu5Ac molecules. Moreover, the derivatives displayed strong binding affinity to the spike proteins of three human coronaviruses: severe acute respiratory syndrome coronavirus (SARS-CoV), Middle East respiratory syndrome coronavirus (MERS-CoV), and severe acute respiratory syndrome coronavirus 2 (SARS-CoV-2).
It's important to note that the binding affinity of these multivalent sialylated CD derivatives, while slightly weaker than that of HA, holds immense promise for combating a broad spectrum of viral infections. By targeting the Neu5Ac receptors on host cells, these derivatives act as decoy molecules, intercepting viral attachment and thwarting the initial stages of infection.
The synthesis process itself was a marvel of modern chemical ingenuity. Azide-functionalized CD building blocks were meticulously prepared, forming the basis for the subsequent assembly of Neu5Ac glycoclusters. The strategy involved a series of carefully orchestrated steps, resulting in structurally well-defined Neu5Ac glycoclusters of varying valencies and conformations.
In conclusion, the study findings herald a new era in antiviral research. The discovery of novel forms of N-Acetylneuraminic Acid (Neu5Ac) glycoclusters as potent entry inhibitors for influenza and coronavirus infections holds immense therapeutic potential. These multivalent sialylated CD derivatives present a promising avenue for the development of broad-spectrum antiviral agents, capable of combating a wide range of RNA viruses.
The implications of this research extend beyond the laboratory, promising a future where viral outbreaks can be met with effective and targeted interventions. While further studies and clinical trials are necessary to fully realize the potential of these Neu5Ac glycoclusters, this breakthrough undoubtedly paves the way for innovative antiviral therapies that could save countless lives and reshape the landscape of infectious disease management.
With SARS-CoV-2 rapidly evolving and spawning many worrisome sub-lineages with unique mutations and the impending H5N1 outbreak among humans, the discovery of N-Acetylneuraminic Acid (Neu5Ac) glycoclusters as broad-spectrum entry inhibitors for both influenza and coronavirus infections comes at the right time.
The study findings were published in the peer reviewed European Journal of Medicinal Chemistry.
https://www.sciencedirect.com/science/article/abs/pii/S0223523423006906
For the latest
Medical News
, keep on logging to Thailand Medical News