COVID-19 News: East Asian Variants BF.7.14, BF.7.15, BF.5.2, BA.5.2.48, BA.5.2.49. BA.5.2.50 Continue To Wreak Havoc In China And Japan! Deaths Rising!
COVID-19 News
: The SARS-CoV-2 East Asian variants BF.7.14, BF.7.15, BF.5.1, BF.5.2, BA.5.2.48, BA.5.2.49 and the latest BA.5.2.50 are continuing to wreak havoc not in China and Japan but have also started new rise of infections in Taiwan, South Korea and Hong Kong and it its expected that many South East Asia countries especially those promoting their countries as tourist destinations to the Chinese vectors are expected to be hit hard next.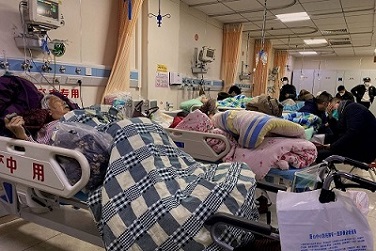 China reported that there were at least another 12,600 COVID-19 deaths in the week just before Chinese New Year which falls on the 22
nd
of January 2023. However once again, international experts and local Chinese health care workers are disputing the figures, claiming that there is huge underreporting and that at least the actual number of deaths for the week preceding Chinese New Year could be as high as ten to twelve-fold!
The same goes for figures for COVID-19 hospitalizations that were reported by official Chinese
COVID-19 News
coverages claiming that there were only 471,739 COVID-19-related patients in hospitals nationwide on Jan. 19, including 51,683 in critical condition.
Chinese healthcare workers are claiming that the actual figures could be an astronomical figure of about 4.2 million people with more than half a million in critical condition! Already almost all hospitals nationwide are reporting lack of hospital beds and also staff shortages, drug and medical equipment shortages.
In Japan, the situation is just as bad with 398 COVId-19 deaths reported in the last 24 hours and more than 628,000 people hospitalized due to COVID-19!
https://mainichi.jp/english/covid19
https://covid19.mhlw.go.jp/extensions/public/en/index.html
Strangely, not many mainstream media in Japan or even in the West are reporting about the catastrophic situation unfolding in Japan since the last 8 weeks that has one of the highest rates of vaccinated and boostered individuals in the world.
It is estimated that more than 17,000 Japanese have died from COVID-19 since the 1st Of December 2022 till now! But at the same time, excess deaths rates are also shooting up at an exponential phase according to local Japanese health experts as mortality rates within 30 days of acute COVID-19 infections are also rising with many dying due to strokes heart failures, sepsis and organ failures!
Meanwhile it was reported that Japan will downgrade the legal classification of COVID-19 this spring, bringing an end to quarantine guidelines for COVID-19 patients and review border controls and mask recommendations, Prime Minister Fumio Kishida announced Friday, marking a major policy change nearly three years since the start of the pandemic.
Although, the exact timing has yet to be decided, the government will downgrade COVID-19 from the current Class II to Class V under the Infectious Diseases Control Law, putting it on par with the seasonal flu.
The Japanese government will decide how to lift a range of pandemic mea sures after consulting a panel of medical experts under the health ministry, the prime minister told a news conference after meeting with ministers involved in the nation's COVID-19 response.
Japanese chief cabinet secretary Hirokazu Matsuno said, without going into details, that border controls will also be reviewed with the impending classification change. This may mean that travelers from mainland China and Macao would no longer be required to show a negative PCR test or be asked to quarantine if they test positive on arrival.
Interestingly how Japan transitions to a post-pandemic normalcy remains uncertain, as it continues to see hundreds of daily deaths from COVID-19 and hospitals are packed with patients amid an eighth wave of infections.
At present, Japan recommends the use of masks indoors, except when people are able to keep a distance of at least 2 meters from one another or there's no conversation. Outdoors, people are only encouraged to wear masks in crowds, according to the health ministry.
This new e review comes long after many Western countries removed mask mandates and recommendations over the past year, though some have periodically recommended masking indoors when cases spike. Japanese officials have so far refrained from announcing an end to indoor masking entirely, given the unpredictability of the virus and the constantly mutating and highly contagious subvariants of the omicron strain.
There seems to a concerted effort by Western virologists, variant trackers, researchers and medical experts (many of who are either linked to institutions that frequently received funding from the vaccine manufacturers or are themselves receiving financial support from these vaccine manufacturers) to downplay the seriousness of the new East Asian variants and very little research have even been initiated on these new East Asian variants.
The coming weeks should prove to be interesting with millions of Chinese vectors already travelling to various parts of the globe to help spread these new SARS-CoV-2 subvariants and sub-lineages!
For the latest
COVID-19 News
, keep on logging to Thailand Medical News.