University of Texas Researchers Discover Protein Reelin's Role in Acute COVID-19 Infection And Also In Long COVID
Study Find Yet Another Host's Protein That Plays A Role In COVID-19 Disease Severity And Increased Hyperinflammatory States
COVID-19 News
: The COVID-19 pandemic continues to pose a global health threat, with thromboembolic complications and excessive inflammation leading to long-lasting symptoms known as long COVID. In an effort to better understand the mechanisms behind these conditions, researchers from the University of Texas (UT) Southwestern Medical Center-USA, the University of Texas Medical Branch (UTMB) Health-USA, the National Institutes of Health (NIH-)USA), Tel-Aviv University-Israel, and Reelin Therapeutics Inc-USA, have made a significant discovery. They have found that a protein called Reelin promotes inflammation and modulates disease activity in both acute and long COVID-19 cases.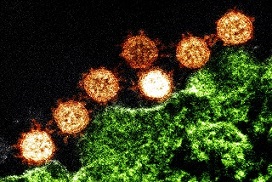 Reelin, encoded by the RELN gene, is a large secreted extracellular matrix glycoprotein that helps regulate processes of neuronal migration and positioning in the developing brain by controlling cell–cell interactions. Besides this important role in early development, reelin continues to work in the adult brain. It modulates synaptic plasticity by enhancing the induction and maintenance of long-term potentiation. It also stimulates dendrite and dendritic spine development and regulates the continuing migration of neuroblasts generated in adult neurogenesis sites like the subventricular and subgranular zones. It is found not only in the brain but also in the liver, thyroid gland, adrenal gland, Fallopian tube, breast and in comparatively lower levels across a range of anatomical regions.
However, the study team aimed to investigate the role of Reelin in endothelial dysfunction and hyperinflammation during COVID-19.
The study findings showed increased levels of Reelin in COVID-19 patients, and these levels correlated with disease activity. Notably, patients with severe COVID-19 exhibited a hyperinflammatory state, characterized by elevated concentrations of cytokines (IL-1α, IL-4, IL-6, IL-10, and IL-17A), chemokines (IP-10 and MIP-1β), and adhesion markers (E-selectin and ICAM-1). The level of Reelin was strongly correlated with several of these inflammatory markers, suggesting a specific role for Reelin in the progression of COVID-19.
Interestingly, the study also revealed that Reelin levels returned to normal in a cohort of patients with long COVID, indicating that the hyperinflammatory state resolved in these individuals.
This is the first study to identify that the protein Reelin plays a role in SARS-CoV-2 pathogenesis and has not been covered in any other
COVID-19 News
reports so far.
To further investigate the impact of Reelin on COVID-19, the study team conducted experiments using an anti-Reelin antibody called CR-50 in mice infected with SARS-CoV-2. The prophylactic treatment with CR-50 resulted in reduced mortality and disease severity in the mice, providing evidence for the direct proinflammatory function of Reelin in COVID-19 and highlighting its potential as a therapeutic target.
The findings of this study have important implications for the understanding and treatment of COVID-19. The study team noted that Reelin could serve as a biomarker for disease severity and progression. Its elevation in patients with severe COVID-19 suggests that it may contribute to the thromboembolic complications and excessive inflammation observed in these cases. By targeting Reelin, it may be possible to intervene and mitigate the progression of the disease.
While the study provides valuable insights, the researchers acknowledge some limitations. The size of the human and animal cohorts was relatively small, and further studies with larger cohorts are needed to confirm the results. Additionally, the use of animal models to study a human disease has its limitations, and future research should aim to address these limitations and delve deeper into the underlying mechanisms by which Reelin influences COVID-19 severity.
In conclusion, the discovery of Reelin's involvement in inflammation and disease activity in acute and long COVID-19 cases adds a new dimension to our understanding of the disease. The identification of Reelin as a potential biomarker and therapeutic target opens up possibilities for the development of targeted interventions to mitigate the severe outcomes associated with COVID-19 and other inflammatory diseases. As research continues, scientists hope to uncover further insights into the role of Reelin and its potential applications in clinical settings.
The study findings were published in the peer reviewed journal: Frontiers In Immunology.
https://www.frontiersin.org/articles/10.3389/fimmu.2023.1185748/full
For the latest
COVID-19 News
, keep on logging to Thailand Medical News.