Study Finds That SARS-CoV-2 Activates Ancient Retroviral Genes And Inflammatory HERV-W Envelope Protein in COVID-19 Patients!
COVID-19 News
: The COVID-19 disease caused by the SARS-CoV-2 coronavirus, leads to diverse symptoms and syndromes in patients, from benign to severe forms. The dysregulation of innate and adaptive immunity plays a critical role in the clinical outcome of COVID-19 patients, driving severe evolution of the disease.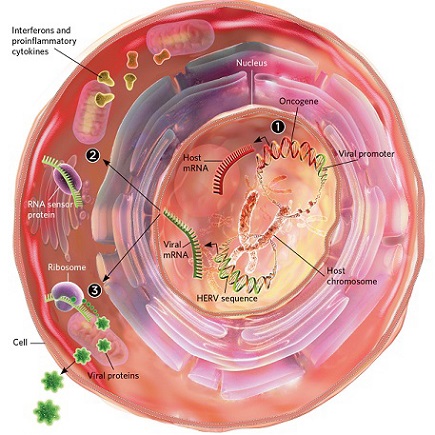 A new international study investigated whether SARS-CoV-2 could activate endogenous retroviral elements (HERVs), specifically focusing on the HERV-W and HERV-K families known to be involved in human diseases.
Interestingly, the study found that In vitro exposure to SARS-CoV-2 activated the expression of the human endogenous retrovirus (HERV) HERV-W proinflammatory envelope protein (ENV) in peripheral blood mononuclear cells from a subset of healthy donors. Plasma and/or sera of 221 COVID-19 patients infected with various SARS-CoV-2 variants, including Omicron, showed detectable HERV-W ENV. The expression correlated with ENV expression in T-lymphocytes and peaked with disease severity.
In a simple language, we could say that the conditions arising COVID-19 disease could actually be due to two pathogens ie the SARS-CoV-2 coronavirus and the human endogenous retrovirus type W (HERV-W) envelope (ENV) protein which also acts as an antigen that triggers both the innate and adaptive immunity!
The discovery could also help explain certain manifestations seen in Long COVID as well.
HERV-W ENV was also found in post-mortem tissues of lungs, heart, gastrointestinal tract, brain olfactory bulb, and nasal mucosa from COVID-19 patients.
The study findings demonstrate that SARS-CoV-2 could induce HERV-W envelope protein expression, suggesting its involvement in the immunopathogenesis of certain COVID-19-associated syndromes. This finding is relevant to the development of personalized treatments for patients.
Past
COVID-19 News
coverages has also covered studies that showed SARs-CoV-2 could modulates Human Endogenous Retrovirus (HERV) transcriptome during infection and could also activate endogenous retroviruses of the LTR69 subfamily!
https://www.thailandmedical.news/news/breaking-covid-19-news-study-discovers-that-sars-cov-2-modulates-human-endogenous-retrovirus-herv-transcriptome-during-infection
https://www.thailandmedical.news/news/covid-19-news-researchers-discover-that-sars-cov-2-infection-activates-endogenous-retroviruses-of-the-ltr69-subfamily
The COVID-19 pandemic has raised many questions about the pathophysiological mechanisms that could explain numerous symptoms and syndromes associated with SARS-CoV-2 infection.
Some infectious agents have been shown to activate pathological processes via receptor-coupled signaling pathways, impairing the epigenetic contr ol or directly activating HERVs present in the human genome.
HERVs represent about 8% of human chromosomal sequences and comprise around 22 families independently acquired during evolution from exogenous retroviruses via an infection of germ line cells. In certain conditions of activation, the production of endogenous proteins of retroviral origin with pathogenic effects may generate clinical symptoms corresponding to the organ, tissue, or cells in which they are expressed according to the specific tropism of the triggering infectious agent.
The study findings validated that SARS-CoV-2 can activate the production of HERV-W ENV in cultured blood mononuclear cells from a subset of healthy donors. HERV-W ENV is expressed on T-lymphocytes from COVID-19 patients, and the antigen is detected in all tested plasma or serum samples from severe cases in intensive care units. The prevalence of HERV-W ENV increases with disease severity regardless of the infecting SARS-CoV-2 variant.
These results strongly suggest that HERV-W ENV may be involved in immunopathogenic pathways associated with acute and post-acute COVID, emphasizing the importance of further addressing its role as a biomarker and potential target for personalized treatment of COVID-19 patients.
The study findings were published in the peer reviewed journal: iScience.
https://www.cell.com/iscience/fulltext/S2589-0042(23)00681-8
COVID-19 continues to pose a significant global health threat, even with advances in basic and translational science. The disease presents heterogeneous clinical profiles, including acute and post-acute symptoms that are not directly related to the viral infection.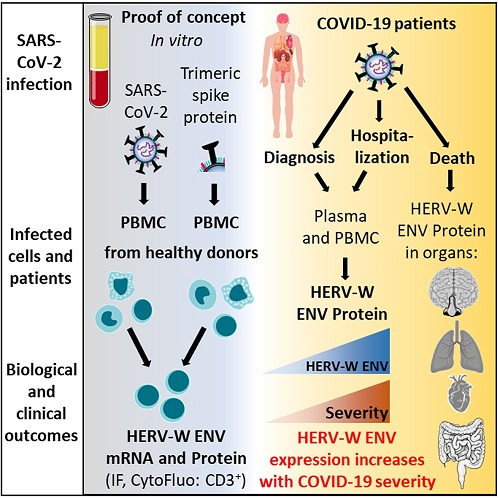 Graphical Abstract
This study investigated the induction of Human Endogenous Retrovirus (HERV) expression during COVID-19.
Initial in vitro results revealed that a single exposure to SARS-CoV-2 virus triggered HERV-W and HERV-K ENV RNA transcription, although only HERV-W ENV protein expression was observed in short-term PBMC cultures from about 30% of healthy donors.
This suggests heterogeneity in the healthy population's response to SARS-CoV-2-induced HERV activation.
Recombinant wild-type SARS-CoV-2 spike protein trimer induced IL-6 production in PBMC from all donors, but this was not responsible for HERV-W ENV expression induction. Cytofluorometry analysis confirmed that HERV-W ENV protein in vitro early expression was predominantly and strongly induced in CD3low T-lymphocytes within the CD3+ T-cell population.
The study found that HERV activation occurred without signs of lymphocyte infection by SARS-CoV-2.
In hospitalized individuals with varying severity status, HERV-W ENV protein was confirmed to be expressed in a significant proportion of both CD3low and CD3high T cells. Additionally, HERV-W ENV+ /CD19+ B lymphocytes were most prevalent in patients infected with more recent SARS-CoV-2 variants, Delta and Omicron, possibly due to their specific properties.
HERV-W ENV expression was also found in tissues obtained at autopsy from patients who died from acute COVID-19. It was strongly expressed in various tissues, including lymphoid infiltrates surrounding lung alveola, nasal or intestinal mucosa, and endothelial cells from blood vessels of all tissues, including the CNS parenchyma. Additionally, HERV-W ENV expression was observed in microglia within the CNS.
These study findings suggest that HERV-W ENV does not simply act as a biomarker of COVID-19 severity or evolution but may also contribute to the disease severity and inter-individual variability in COVID-19 manifestations.
Furthermore, it may play a role in the clinical evolution and long-term pathology observed in the emerging post-COVID secondary pandemic, affecting millions of patients with various symptoms and disabling conditions.
In acute primary infection, the pathogenic effects of HERV-W ENV on immune cells need further exploration to better understand COVID-19 immunopathogenesis. HERV-W ENV production may result in hyperactivation of the innate immunity via TLR4 activation and possibly contribute to the frequently observed lymphopenia and adaptive immune defect. Additionally, HERV-W ENV has been shown to induce autoimmune manifestations and modulate innate immunity.
Overall, this study strongly suggests HERV-W ENV as a marker of severity and a potential therapeutic target for personalized medical approaches in COVID-19-associated syndromes. Further investigation is needed to fully understand the role of HERV-W ENV in COVID-19 pathology and to develop targeted therapies for affected individuals.
The European study team comprised of scientists and researchers from:
-GeNeuro Innovation-France
-Université de Lyon, Université Claude Bernard Lyon France
-Université Paul Sabatier-France
-Instituto Aragonés de Ciencias de la Salud (IACS)-Spain
-Instituto Nacional de Enfermedades Respiratorias Ismael Cosio Villegas-Mexico
-Heinrich-Heine-University-Germany
-National Institute of Neurology and Neurosurgery-Mexico
-Instituto Nacional de Enfermedades, Respiratorias Ismael Cosío Villegas-México
-Instituto Aragonés de Ciencias de la Salud (IACS)-Spain
-GeNeuro, Plan les Ouates-Switzerland
For the latest
COVID-19 News
, keep on logging to Thailand Medical News.