COVID-19 News: After Lying For Weeks, China Now Says There Were Just 59,936 COVID-19 Deaths From 8th December To 12th January 2023. Do You Believe Them?
COVID-19 News
: Only stupids and dimwits would believe anything that originates from Chinese health or government agencies! They have lost any credibility since the SARS-CoV-2 crisis first started as they have never been truthful about anything. But the again they are not much different from the health and government authorities from countries like the United States, United Kingdom, Australia, New Zealand, Canada, Netherlands, Japan, India and certain South East Asian countries that use dictatorial law to suppress media freedom and with all local media in their countries state owned or else all editorial content controlled by government financial sponsorships or ads.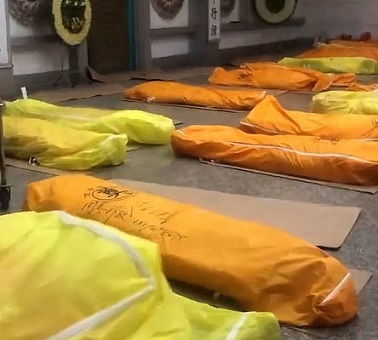 After weeks of denying massive amounts of deaths, China's National Health Commission (NHC) officials said on Saturday that China had recorded 59,938 COVID-related deaths between 8
th
December 2022 to 12
th
January 2023. The figure refers only to deaths at medical facilities, with the total number likely to be higher.
Many western mainstream media were quick to accept these figures as the truth in their
COVID-19 News
coverages in the last 24 hours and never questioned as to why China had been concealing these data for weeks now.
Many Chinese doctors and experts are saying that the real figure could be as high as five to six-fold not including excess deaths and that these figures are rising exponentially day by day and will be more as mortality within 30 days of infection is expected to be very high considering the dangers associated with the new variants in circulation in China which are now being termed as the East Asian cluster ie BF.7.14, BF.7.15, BF.5.1, BF.5.2, BA.5.2.48 and BA.5.2.49.
A rise in severe COVID-19 associated pneumonia, ARDs and also lung damage is being seen in many infected with these new East Asian sub-variants and sub-lineages that are also driving deaths and hospitalizations in Japan.
https://www.thailandmedical.news/news/covid-19-news-new-sars-cov-2-variants-in-china-bf-7-14-and-ba-5-2-48-found-to-driving-pneumonia-and-ards-but-fake-virologist-claiming-they-are-mild
https://www.thailandmedical.news/news/covid-19-news-covid-19-deaths-continue-to-rise-in-japan-503-deaths-in-last-24-hours-and-740,256-japanese-are-currently-hospitalized-due-to-covid-19
There are also believed to be other new concerning variants circulating in China originating from the BF and BA.5.2 sub-lineages including one just discovered a few days back that involved a new BA.5.2 sub-lineage with ORF1b:1050N mutation that is defined by the mutations ORF1a:T3284I,then ORF1a:R207C, ORF1a:S2488F and ORF1a:P1727L.
https://github.com/cov-lineages/pango-designation/issues/1542
& amp;nbsp;
While some ignorant virologists claim that the BF and BA.5.2 sub-lineages have been around for a while now including in many other countries and are not associated with disease severity, these East Asian variants are new and spot interesting mutations in the ORF and N proteins that control immune responses in the host including the triggering of cytokine storms and also are more pathogenic.
It is also interesting that many Western virologists, biostatisticians and variant trackers are so gullible and are simply trusting that the few hundred genomic sequences that China that has been uploaded in recent weeks reflects the true picture of what variants are circulating in China and how virus evolution is taking shape in the country of 1.4 billion people!
Also interesting is what China has published in its standard treatment guidelines and what is actually being used in recent days across hospitals in Beijing, Shanghai, Sanya, Chongqing and Guangzhou that is totally kept secret even from doctors and nurses administering those medications!
It shows that China is not only being non-transparent to the international community but also to its own healthcare professionals and researchers.
With Chinese New Year around the corner and massive movements across China and also millions of Chinese travelers now acting as human vectors to help spread the new East Asian variants to countries desperate for their monies, we can expect cases and deaths to also continue to rise not just in China but also elsewhere soon.
For the latest
COVID-19 News
, keep on logging to Thailand Medical News.