BREAKING! Omicron Causes Severe Condition In Man Who Was Fully Vaccinated And Had Received Booster Shot In Iceland! Finland Finds Omicron
Omicron Updates
:
The Omicron Variant Causes Severe COVID-19 Disease Conditions In Man Who Was Fully Vaccinated And Had Also Received Booster Dose!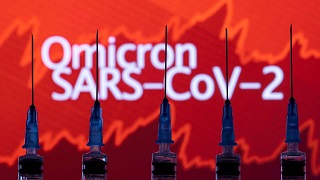 Iceland's national broadcaster RÚV reported that a man currently in the coronavirus ward of Landspítali hospital in Reykjavík-Iceland, with the Omicron variant is fully vaccinated and had recently received a booster dose.
He reportedly developed disease severity and had to be hospitalized.
Iceland reported the man's diagnosis, the country's first Omicron case, on Wednesday. It has not yet been determined whether his infection is linked to travel.
https://www.ruv.is/frett/2021/12/02/fjorir-thribolusettir-a-landspitala-med-covid-19
The case is worrying many doctors and researchers around the world as it indicates that the new variant is capable of immune evasion and is most probably resistant to the current vaccines as it is not only causing breakthrough infections among the vaccinated but there is also risk of increased disease severity and mortality among the fully vaccinated including those with booster shots.
This observed occurrence also contradicts many stupid country leaders in Europe and America, moronic health authorities, stupid doctors and garbage American and British mainstream media that are saying the current vaccines can at least prevent disease severity and mortality risk from the Omicron variant.
Let's pray that some of these same individuals in the EU and in America contract the Omicron variant and simply die. We do predict that a famous world leader would contract the new Omicron variant and die before the end of February 2022.
Omicron Updates

: Variant Found Also In Finland
The first case of the Omicron variant of the SARS-Cov-2 coronavirus has been discovered in Finland, the Finnish Health Institute said on a few hours ago.
The Omicron variant was found in a person who had travelled to Finland from Sweden, the institute added and said it was still investigating samples from other people travelling in the same group that now were sick with Covid-19.
This brings a total of 26 countries outside of the African continent that has the omicron variant including Austria, Australia, Belgium, Brazil, Canada, Czech Republic, Denmark, Finland, France, Germany, Greece, Hong Kong, Japan, India, Israel, Italy, Netherlands, Norway, Portugal, Spain, Saudi Arabia, Singapore, Sweden, UAE, United Kingdom and the United States.
In the African continent, a total of 9 countries have Omicron variant including South Africa, Botswana, Nigeria, Namibia, Zambia, Angola, Cameroon, Congo and Malawi with another 23 out of the 54 countries in the African continent having suspected cases!
Omicron cases are also increasing in United Kingdom, Australia, Netherlands, France, India and Norway in the last few hours.
COVID-19 Cases Rising Exponentially In South Korea and Portugal!
South Korea has reported a new daily record in COVID-19 cases with 5,266 cases recorded on Wednesday, the Korea Disease Control and Prevention Agency (KDCA).
It was also reported that hospitals are now overflowing and many South Koreans are still waiting to be tested.
The wave of COVID-19 infections in Portugal is expected to worsen and new daily cases could double to around 9,000 during the Christmas period, the health authority DGS chief Graca Freitas told media.
Please help to sustain this site and also all our research and community initiatives by making a donation. Your help means a lot and helps saves lives directly and indirectly and we desperately also need financial help now.
https://www.thailandmedical.news/p/sponsorship
For the latest
Omicron Updates
, keep on logging to Thailand Medical news.