COVID-19 News: Japan Reports A Large Increase In COVID-19 Infections In The Last 24 hours With 17,349 New COVID-19 Infections And 29 Deaths
COVID-19 News
: Scientist's predictions that we will not see big seasonal COVID-19 waves but rather continuous wavelets of infections driven by a constant line of emerging SARS-CoV-2 variants that are more transmissible and immune evasive seems to be holding true and we are currently seeing such scenarios being played out in various countries across the world.
https://www.thailandmedical.news/news/covid-19-s-wavelet-era-the-new-normal-of-mini-waves-and-relentless-variants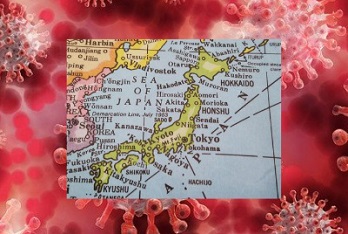 Japan is no exception and having witnessed a COVID-19 onslaught in April, it is starting to see once again the start of yet another wavelet.
In the last 24 hours, Japan reported a sudden rise of new COVID-19 infections with 17,349 new infections and 29 COVID-19 deaths.Hospitalizations and ICU admissions are also starting to rise again.
https://www.nippon.com/en/japan-data/h00901/
It is very difficult to determine what actual variants could be driving this new onslaught as there has been very little genomic sequencing being conducted in Japan at the moment.
https://cov-spectrum.org/explore/Japan/AllSamples/Past6M/sequencing-coverage
Unlikely other countries where the XBB sub-lineages were driving the COVID-19 onslaught in April, Japan had various BA.5 and BQ sub-lineages driving the wavelets in April.
https://cov-spectrum.org/explore/Japan/AllSamples/Past6M/variants?variantQuery=nextcladePangoLineage%3Aba.5*+%26+%21nextcladepangolineage%3Abq.1*&
https://cov-spectrum.org/explore/Japan/AllSamples/Past6M/variants?nextcladePangoLineage=bq.1*&
It is likely that either spawns from the XBB.1.16 or XBB.2.3 could be driving the new wavelet in Japan or it could be some newer BA.5 sub-lineage.
Meanwhile, Japan's capital: Tokyo confirmed 2,604 new cases of COVID-19 on Tuesday, up by about 700 from a week before.
Daily COVID-19 infections in the capital topped 2,000 mark for the first time since February 14
th
2023, with cases on an uptrend nationwide.
Medical experts are warning of yet another infection wave, just as COVID-19 is scheduled to be downgraded to the same level as seasonal flu next week.
It was also noted that the seven-day average of new cases came to 1,621.9, compared with 1,357.0 a week earlier.
However, the number of severe cases fell by one from Monday to six, while two deaths in the capital linked to the virus were confirmed Tuesday. On Monday, Japan confirmed 5,041 new cases, about 1,000 more than a week earlier.
According to local Japanese
es/coronavirus">COVID-19 News
coverages, it was also reported that across the country, 22 new fatalities linked to COVID-19 were reported on Monday, while the number of severe cases rose by four from the previous day to 55.
Japan recently lifted all its border controls meaning that all travelers to the country need not present proof of vaccination nor need a negative coronavirus test.
Japan also ended COVID-19 border control measures specifically targeting visitors from China, effective last Saturday, chief cabinet secretary Hirokazu Matsuno told a media conference last week.
All passengers on direct flights from China to Japan were previously subject to random testing on their arrival, a measure Japan put in place after coronavirus cases surged in China early this year.
It was also reported that with effect from the 8th of May, Japan will start a new genomic surveillance program at Haneda, Narita and three other major airports, under which entrants with symptoms including fever are asked to undergo a voluntary test to detect any new infectious diseases.
For the latest
COVID-19 News
, keep on logging to Thailand Medical News.