BREAKING NEWS! Parts Of United States Hit By Tornado Outbreak With 21 States At Risk Of Devastating Weather Patterns The Next 14 Days!
A rare and destructive tornado season is currently unfolding across parts of the United States, with millions of people facing the threat of violent, long-track tornadoes, large hail, and damaging winds.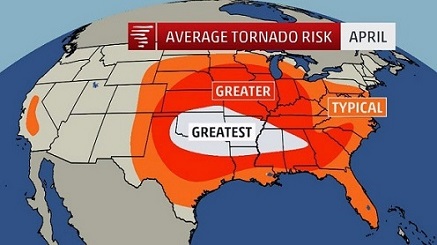 The National Weather Service's Storm Prediction Center has issued high-risk storm alerts for several regions, including parts of Arkansas, Mississippi, Tennessee, Iowa, Illinois, and Missouri. Such high-risk days are exceedingly rare and indicate the potential for numerous violent tornadoes and other severe weather events.
One of the most recent tornadoes tore through Little Rock, Arkansas in the last 24 hours, causing extensive damage to homes, businesses, and vehicles. The twister began its path in the west of the city, ripping through neighborhoods and a small shopping center before crossing the Arkansas River and hitting North Little Rock and surrounding areas. The city's main trauma center, the University of Arkansas for Medical Sciences Medical Center, reported that it was expecting at least 15 to 20 patients.
A state of emergency has been declared in Arkansas, with Governor Sarah Huckabee Sanders deploying the National Guard to help with relief efforts.
In addition to the tornadoes, other severe weather events have affected the country.
Golf ball-sized hail fell in Illinois, damaging car windows, while high winds in Oklahoma downed power lines, sparking grass fires and leaving thousands without electricity. These events have affected nearly 90 million people across 21 states.
The hazardous forecast is a result of strong southerly winds transporting moisture from the Gulf of Mexico northward, where it interacts with a strengthening storm system. Experts warn that such "intense supercell thunderstorms" are likely to become more common in the Southern United States as global temperatures continue to rise.
This year's tornado season follows a devastating tornado in Mississippi just last week, which claimed 26 lives, injured dozens, and damaged or destroyed around 2,000 homes. The conditions that led to this deadly storm are similar to those currently present in the affected areas of the United States, prompting concern for more destruction in the coming days.
Weather experts are urging people to stay vigilant and take the necessary precautions to protect themselves and their property.
The first 14 days of April are expected to be particularly rough, with another batch of intense storms predicted for next Tuesday in the same general area as the previous week.
Medical services, hospital emergency rooms, emergency rescue teams, ambulances services and healthcare professional professionals are all told to be on standby for the next two weeks.
As the United States grapples with this rare and devastating
tornado season
, local authorities and emergency services are working tirelessly to respond to the destruction and assist affected communities. Rescue operations and debris removal are ongoing in impacted areas, such as Little Rock, Arkansas, where the National Guard has been deployed to provide support.
Apart from the tornado-stricken areas, the severe weather system has also caused power outages in several states, including Kansas, Missouri, and Texas.
According to poweroutage.us, nearly 70,000 customers in Arkansas and 32,000 in Oklahoma were without electricity. Crews are working around the clock to restore power and provide relief to affected residents.
Moreover, the severe weather conditions have prompted numerous closures and cancellations across the affected regions. In Iowa City, the University of Iowa canceled a watch party for the women's basketball Final Four game against South Carolina. In South Dakota, Governor Kristi Noem ordered state executive branch offices to be closed due to freezing rain, snow, and high winds.
To prepare for the possibility of further severe storms, residents in affected areas are advised to stay informed about weather updates and alerts, have an emergency plan in place, and keep essential supplies on hand. It is crucial for communities to work together and support each other during this challenging time.
Despite the destruction and loss caused by these rare and severe weather events, the resilience of the American people is evident as communities come together to rebuild and recover. The continued vigilance and preparedness of those living in at-risk areas will be vital in minimizing the impact of future storms and ensuring the safety and well-being of residents throughout the tornado season.
In the face of this destructive tornado and weather season, it is crucial for people to remain weather-aware and prepared for the possibility of further severe storms. The United States continues to brace itself for the impact of these rare and devastating weather events
For the latest U.S. Tornado And Weather News, keep on logging to Thailand Medical News.