LATEST! COVID-19 Infections Increasing In The United States! Data From 32 Out Of 50 States Shows 104,258 New Infections And 877 Deaths In The Last 24 Hours!
U.S. COVID-19 News
: Latest data coming out of only 32 out of 50 states in America shows that there have been 104,258 new daily COVID-19 infections in the last 24 hours and a total of 877 COVID-19 deaths.
https://twitter.com/BNOFeed/status/1585830117510627329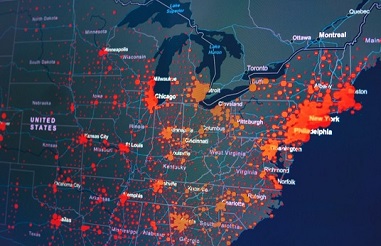 Local physicians and epidemiologists are reporting that the actual numbers could be as high as 2 to 3-fold as there is lack of testing coupled with the fact that many hospitals and also states are not reporting COVID-19 statistics as there seems to be concerted effort by the current administration to downplay the seriousness of any COVID-19 surges.
This is not unique as many countries around the world based on directives from those controlling the COVID-19 narratives are also concealing actual COVID-19 statistics and even the mainstream media that depends on direct or indirect fundings from governments are not allowed to report such news anymore unless it is scripted by the health authorities to portray an optimistic outlook!
Interestingly, there are more than 196 new Omicron variants and sub-lineages circulating around the United States at the moment!
https://public.tableau.com/app/profile/raj.rajnarayanan/viz/USAVariantDB/VariantDashboard
Although the BA.5.2.1, BA.5.2 and BA.5.1 And BA.5 variants make up about 33.48 percent of all the variants circulating around the United States at the moment, the BQ variant and the rest of its sub-lineages are gradually increasing and at the moment make up about 12.27 percent of all the circulating variants. These BQ sub-lineages included BQ.1.1, BQ.1, BQ.1.3, BQ.1.2, BQ.1.11, BQ.1.14, BQ.1.1.5, BQ.1.1.4, BQ.1.13, BQ.1.6, BQ.1.1.3, BQ.1.3, BQ.1.10, BQ.1.10.1, BQ.1.12, BQ.1.15, BQ.1.8, BQ.1.1.1 and BQ.1.1.7
Although hospitalizations and ICU admission are gradually increasing, it is still too early to tell if these newer variants and sub-lineages are causing any increase in disease severity or increased mortality rates.
Based on reported data from 32 out of 50 states, there are currently 26,983 COVID-19 hospitalizations and 3203 individuals in ICU due to COVID-19.
Ironically, many county hospitals are reporting high case loads and New York is reported to be one of the worse COVID-19 infected state again.
https://www.nytimes.com/2022/10/27/nyregion/nyc-hospitalizations-covid-flu-rsv.html
Thailand Medical News warns that Americans should not expect to get any reliable data in this coming Winter surge as none or the
U.S. COVID-19 News
outlets will be reporting the true actual scenarios.
However, one concerning development in the United States at the moment is that there has been reports of an increase of pediatric hospitalizations not only for COVID-19 but also for RSV and also Flu infections and also a variety of other respiratory ailments.
ws/health/nyc-kids-are-visiting-emergency-rooms-at-omicron-like-rates-top-doc-says/3923905/">https://www.nbcnewyork.com/news/health/nyc-kids-are-visiting-emergency-rooms-at-omicron-like-rates-top-doc-says/3923905/
Thailand Medical News had earlier warned that previous exposure to the SARS-CoV-2 virus is wreaking havoc on the robust innate immune systems of children despite they might have only incurred asymptomatic or mild symptomatic infections and they will end up being more susceptible to the newer Omicron variants and sub-lineages and also to other pathogens.
https://www.thailandmedical.news/news/warning-newer-sars-cov-2-variants-have-evolved-to-overcome-the-robust-innate-immune-system-of-children-infants-and-children-are-more-vulnerable-now
Americans will have to fend fนพ themselves in this coming winter surge and its best that they start doing their own due diligence on updates of what are the latest repurposed drugs, supplements and herbs and phytochemicals that can act as prophylactics and also as therapeutics against the newer variants. (Please do not depend on entities like the FLCCC etc that have no clue about the characteristics of the newer variants and sub-lineages and many of their treatment protocols are outdated and no longer effective)
For those planning to get their elderly relatives the boosters, do some due diligence first and consult a reliable medical doctor first.
https://www.thailandmedical.news/news/breaking-cambridge-study-claims-that-booster-shots-in-the-aged-leads-to-impaired-sars-cov-2-neutralization,-impaired-t-cells-and-also-atypical-b-cells
For the latest
U.S. COVID-19 News
, keep on logging to Thailand
Medical News
.