U.S. COVID-19 News: Weekly COVID Hospitalizations In America Surge Past 20,000! COVID-19 Spreads At Harvard. Free COVID-19 Test Kits For Americans
U.S. COVID-19 News
: In the midst of the fall semester's commencement, a surge in COVID-19 hospitalizations is gripping the United States, sparking concerns about the healthcare system's capacity and the potential impact of co-circulating viruses like flu and RSV. Meanwhile, Harvard University students are grappling with the challenges of navigating the pandemic as they return to campus, raising questions about the effectiveness of current guidelines. Amid these developments, the Biden administration is taking proactive steps to combat potential testing shortages with a $600 million funding initiative.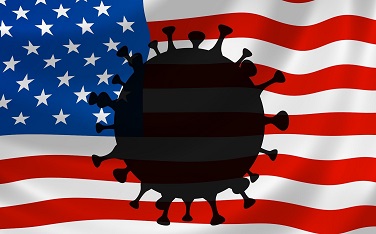 COVID Hospitalizations Reach 20,000: A Concerning Milestone
The latest data from the Centers for Disease Control and Prevention (CDC) reveals a worrisome trend in the United States as weekly COVID-19 hospitalizations surpass the 20,000 mark for the first time since mid-March. In the week ending on September 9, hospitalizations increased by 7.7%, rising from 19,068 to 20,538 cases per week.
https://covid.cdc.gov/covid-data-tracker/#hospitalizations-landing
Although this is a significant escalation, it's essential to recognize that these figures remain substantially lower than the peak of the omicron wave in the winter of 2021-22 when weekly hospitalizations soared to a staggering 150,674 during the week of January 15, 2022.
Comparatively, the current number of weekly hospitalizations is notably lower than in previous years. During the same period in the pandemic's earlier stages, weekly hospitalizations stood at 24,504 in 2020, 80,166 in 2021, and 31,571 in 2022. Dr Peter Chin-Hong, an infectious diseases specialist at the University of California, San Francisco, notes that while the increase is concerning, the healthcare system is not yet overwhelmed, as it was during the peak of previous waves.
Dr Chin-Hong also raises concerns about the upcoming fall and winter months, where an uptick in flu, RSV, and other respiratory illnesses is expected. A surge in COVID-19 cases, coupled with these seasonal viruses, could place an enormous strain on the healthcare system, making it difficult for patients with various conditions to access necessary care.
Additionally, CDC data reveals that 2.3% of all deaths in the United States last week were attributed to COVID-19. Although deaths have risen in recent weeks, they still remain at their lowest levels since the pandemic began.
https://covid.cdc.gov/covid-data-tracker/#maps_percent-covid-deaths
Harvard Students Navigate COVID Challenges
As the fall semester unfolds at Harvard University, students are confronting the reality of rising COVID-19 cases in the Greater Boston area. Despite the institution's efforts to reduce COVID-19 restrictions, local
U.S. COVID-19 News
coverages highlight the virus's disruptive impact on the beginning of the semester cannot be ignored.
">https://www.thecrimson.com/article/2023/9/19/fall-2023-covid-uptick/
Harvard University Health Services Executive Director Giang T. Nguyen issued guidance to affiliates in late August, encouraging pre-arrival testing and adherence to CDC guidelines. However, students have reported difficulties in maintaining social distance in campus living spaces. Umaama Hussain, a freshman, shared her experience of testing positive for COVID-19 during orientation and struggling to socially distance in cramped quarters. She also expressed a desire for more support in obtaining essential supplies during her self-isolation.
Mirika Jambudi, another freshman, faced similar challenges, citing small dorm rooms and a lack of clear procedures for dealing with suitemate contact. Despite student criticisms, Harvard University Health Services reiterated the importance of adhering to public health precautions, emphasizing the ongoing circulation of COVID-19.
Elizabeth S. Pollard, a freshman who tested positive during a pre-orientation program, highlighted the missed opportunities and activities due to isolation. While some students acknowledge the effectiveness of current guidelines, others express frustration over the handling of the surge in cases by administrators and faculty, with concerns about support and understanding from their academic institutions.
Biden Administration's US$600 Million Initiative to Tackle Testing Shortages
Amid concerns about the rise in COVID-19 cases and the upcoming fall and winter season, the Biden administration has taken proactive steps to address potential testing shortages. The Department of Health and Human Services (HHS) announced a US$600 million funding initiative to produce new at-home COVID-19 tests and is reopening a website for Americans to order up to four free tests per household.
Starting on September 25, orders can be placed at COVIDTests.gov, with the United States Postal Service delivering the tests for free. Twelve manufacturers in seven states have been awarded funding to produce 200 million over-the-counter tests for both government use and public demand. This initiative aims to safeguard against supply chain issues that have led to shortages in the past.
Dawn O'Connell, assistant secretary for preparedness and response at HHS, emphasized the importance of maintaining the website through the holiday season to ensure accessibility to free tests for all Americans. These tests are designed to detect current COVID variants and are expected to be available for use by the end of the year.
HHS Secretary Xavier Becerra highlighted the administration's commitment to strengthening domestic production of at-home COVID-19 tests to mitigate the spread of the virus and reduce reliance on overseas manufacturing.
In conclusion, the United States is grappling with a resurgence of COVID-19 hospitalizations, prompting concerns about the healthcare system's capacity as the fall and winter seasons approach. Harvard University students are navigating the challenges of returning to campus amid rising cases, with varying opinions on the effectiveness of current guidelines. Meanwhile, the Biden administration is taking proactive steps to combat potential testing shortages, aiming to provide free tests to households and bolster domestic production to prepare for the upcoming season of uncertainty.
For the Latest
U.S. COVID-19 News
, keep on logging to Thailand Medical News.