COVID-19 News: Scientists Warn SARS-CoV-2 Is Mutating To Escape All Known Clinical Protease Inhibitors. Multi-Drug Approach Recommended
COVID-19 News
: Research led by scientist from the University of Minnesota-USA has found that the SARS-CoV-2 coronavirus is evolving to escape all known clinical protease inhibitors. As drug resistance becomes a major issue in the coming CVID-19 onslaughts, a strategy of using a combination of antivirals like that in HIV treatment protocols might be a better solution.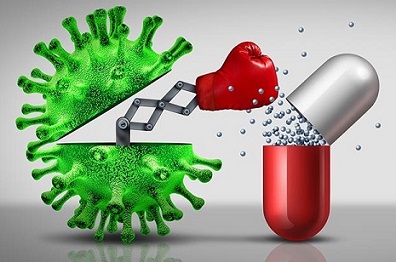 The study also comprised of researchers from Medical University of Innsbruck, Innsbruck-Austria, Zagazig University-Egypt, Baylor College of Medicine, Houston-USA, University of California, San Diego-USA and Texas Biomedical Research Institute-USA.
Antivirals have helped reduce disease severity and blunt the spread of the SARS-CoV-2 virus, the causative pathogen for the COVID-19 disease.
However, ongoing virus transmission, continuous evolution, and increasing selective pressures have the potential to yield viral variants capable of resisting these interventions.
The study team investigated the susceptibility of natural variants of the main protease [Mpro; 3C-like protease (3CLpro)] of SARS-CoV-2 to protease inhibitors.
Multiple single amino acid changes in Mpro confer resistance to nirmatrelvir (the active component of Paxlovid). An additional clinical-stage inhibitor, ensitrelvir (Xocova), shows a different resistance mutation profile. Importantly, phylogenetic analyses indicate that several of these resistant variants have pre-existed the introduction of these drugs into the human population and are capable of spreading.
The study findings encourage the monitoring of resistance variants and the development of additional protease inhibitors and other antiviral drugs with different mechanisms of action and resistance profiles for combinatorial therapy.
Drug resistance to Paxlovid is already evident among viral SARS-CoV-2 variants currently circulating globally, indicating that this stand-alone drug known as a protease inhibitor could soon become less effective in treating COVID-19 infections.
The study findings were published in the peer reviewed journal: Science Advances.
https://www.science.org/doi/full/10.1126/sciadv.ade8778
The study conducted by the Midwest Antiviral Drug Discovery (AViDD) Center showed that drug-resistant variants have appeared multiple times independently in different parts of the world, with regional clusters providing evidence for person-to-person transmission.
Besides showing resistance to the protease inhibitor nirmatrelvir, the active component of Paxlovid, the study found that a different set of mutations currently in circulation can transfer resistance to ensitrelvir (Xocova), a protease inhibitor now approved in Japan.
The study findings indicate that even simple single amino acid changes in SARS-CoV-2 main protease could severely undermine efficacy of these antiviral drugs.
Dr Reuben Harris, Ph.D., co-director of the Midwest AViDD Center told
COVID-19 News
reporters at Thailand Medical News, "Although our study dem onstrates the existence of natural circulating SARS-CoV-2 variants with resistance to two different drugs, the good news is that their resistance profiles are distinct. This means that if one of these drugs fails due to emergence of resistance in viral variants, the other drug may still work."
Urgent research is warranted to develop additional next-generation protease inhibitors with different resistance profiles, as well as drugs that target different viral processes such as replication or cell entry.
However, a combo or multi-drug approach like that used in existing therapies for HIV and Hepatitis C virus could further help to protect against resistance and cure SARS-CoV-2-infected individuals in the meanwhile.
In order to lower the risk of resistance, the study team says protease inhibitors must be carefully designed to avoid simple resistance mutations.
Co-author of the study Dr S. Arad Moghadasi, a University of Minnesota Medical School graduate student commented, "Despite Paxlovid's proven success in blunting COVID-19 symptoms, the long-term consequences of its widespread use in speeding up resistance are unknown. Drugs with the highest barriers to resistance are likely to prove more effective and have longer-term durability."
Dr Harris, a professor and chair of biochemistry and structural biology at the University of Texas Health Science Center at San Antonio and a Midwest AViDD Center partner, and an investigator of the Howard Hughes Medical Institute added, "We are optimistic that ongoing studies will develop additional compounds to avoid cross-resistance and help combat the current COVID-19 pandemic and future coronavirus outbreaks."
Drug resistance mutations pose a risk to current antiviral therapies for COVID-19. The study team identified several naturally occurring Mpro variants that already show resistance to nirmatrelvir and ensitrelvir.
The highest levels of resistance are caused by single amino acid substitutions A173V for nirmatrelvir (11.6-fold) and M49L for ensitrelvir (25.4-fold).
Phylogenetic analyses indicate that these variants have emerged multiple times independently in different regions.
Nirmatrelvir and ensitrelvir display distinct mechanisms of action, leading to at least partially nonoverlapping resistance profiles. For instance, A173V selectively resists nirmatrelvir, while M49I and M49L resist ensitrelvir.
In comparison, the ∆P168 mutation appears to have a broader resistance phenotype.
The study findings with recombinant SARS-CoV-2 corroborate that the ∆P168/A173V virus exhibits strong resistance to nirmatrelvir with little change in ensitrelvir susceptibility. Additional variations in amino acid residues may lead to unique resistance patterns when present individually or in combination.
For example, T45I and D48Y show mild preferential resistance to ensitrelvir as single changes, but when combined with ∆P168, D48Y displays strong resistance to both inhibitors, and T45I impairs enzyme activity.
Multiple newer studies reported Mpro mutants resistant to nirmatrelvir, with A173V emerging as a resistance hotspot.
The current study's biochemical data reveal a lower affinity for nirmatrelvir in the A173V mutant, evidenced by a 50-fold increase in Ki with little change in catalytic efficiency. Although resistance mutations may need to confer substantial Ki increases to cause large shifts in antiviral EC50, the study findings with the ∆P168 mutant support this interpretation.
As ensitrelvir resistance becomes increasingly important to understand, the current study findings with M49L and D48G support the idea that the Mpro region 45-49 has the potential to become a hotspot for ensitrelvir resistance development.
Using a live-cell gain-of-signal assay and sequence, and structure-informed mutation identification, the study team has been able to identify multiple Mpro changes that confer varying degrees of resistance to nirmatrelvir and/or ensitrelvir.
The naturally occurring SARS-CoV-2 Mpro variants described here may serve as evolutionary stepping stones for intermediate levels of resistance and provide an environment that enables the selection of secondary mutations that confer full drug resistance.
Genetic surveillance of these variants may be beneficial, and strategies should be developed to minimize the widespread development of resistance. Designing Mpro inhibitor drugs with different resistance profiles, is an encouraging approach.
For the latest
COVID-19 News
, keep on logging to Thailand Medical News.