U.S. Medical News: U.S. CDC Forecasts That COVID-19 Hospitalizations In America Can Rise Up To 7,500 Admissions Per Day By 18th Of September 2023!
U.S. Medical News
: The United States Centers for Disease Control and Prevention (CDC) Agency is predicting a gloomy forecast just before the start of fall with daily hospitalizations to reach between 1,100 up to 7,500 admissions per day by the 18
th
of September 2023.
https://www.cdc.gov/coronavirus/2019-ncov/science/forecasting/hospitalizations-forecasts.html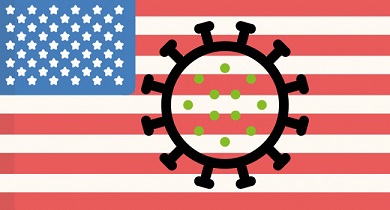 Presently existing SARS-CoV-2 sub-lineages like the XBB 1.16, FL.1.5.1, XBB.1.16.6, EG.5.1.1, EG.5.1 ad many others are driving the start of the surge in the United States.
https://twitter.com/RajlabN/status/1694932224943009930/photo/1
However, the emergence of various more transmissible and immune evasive spawns of the EG.5.1 variants such as HK.1 aka EG.5.1.1.1, HK.2 aka 5.1.1.2, HK.3 aka 5.1.1.3 and HK.3.1 aka EG.5.1.1.3.1 along with other newer sub-lineages that are bearing better viral fitness along with enhanced transmissibility and immune evasiveness are likely to supersede all the current predominant sub-lineages in current weeks and cause an exponential rise in daily COVID-19 infections.
https://cov-spectrum.org/explore/World/AllSamples/Past6M/variants?nextcladePangoLineage=HK.1*
https://cov-spectrum.org/explore/World/AllSamples/Past6M/variants?nextcladePangoLineage=HK.2*
https://cov-spectrum.org/explore/World/AllSamples/Past6M/variants?nextcladePangoLineage=HK.3*
https://cov-spectrum.org/explore/World/AllSamples/Past6M/variants?aaMutations=S%3AF157L&nextcladePangoLineage=HK.3*
It is already being anticipated that this coming Autumn and Winter of 2023 is expected in United States and also in many other countries as the SARS-CoV-2 virus is rapidly evolving to evade all kinds of immunity and even antivirals etc. Also, the chances of more pathogenic variants and disease severity causing variants likely to emerge are very high.
Also, the Autumn and Winter seasons are likely to also see the rise of other respiratory diseases as well including Flu infections, RSV infections, Adenovirus infections etc.
In the week leading up to August 12, there were a total of 12,613 hospital admissions of patients who tested positive for COVID-19 in the United States.
https://covid.cdc.gov/covid-data-tracker/#maps_new-admissions-rate-county
However, this number was just slightly over a third of the admissions observed during the same period last year, which amounted to approximately 40,000 admissions per week.
Regarding fatalities, the numbers have remained relatively stable. In the latest available data from the week ending on July 22, there were 479 reported deaths compared to 484 in the previous seven-day period.
https://covid.cdc.gov/covid-data-tracker/#deaths-landing
Medical professionals working on the frontlines have remarked that the current wave of COVID-19 cases is resulting in milder illness among patients compared to earlier phases of the pandemic.
Nevertheless, concerns related to the emergence of new variants have prompted a resurgence in the usage of masks in everyday life.
Notably, two prominent hospitals, namely Kaiser Permanente in Santa Rosa, California, and Upstate Community Hospital in Syracuse, New York, collectively serving a substantial number of Americans, have reintroduced mandates for the wearing of masks by doctors, nurses, patients, and visitors.
The requirement for wearing masks has been introduced due to an increase in hospital personnel falling ill with COVID-19.
Dr Stephen Thomas, the Director of Global Health at Upstate, stated that while the figures are dynamic, there is a noticeable rise in COVID-related hospital admissions within our locality. He told
U.S. Medical News
reporters from TMN, "Although we are not yet at the levels observed during the peak of the pandemic, the number of patients presently exceeds that of a month ago. Fortunately, our ability to tend to all our patients remains comfortably within our capacity."
The U.S. CDC recommends that certain high-risk individuals, including older adults, individuals with specific medical conditions, and pregnant individuals, should wear masks. Additionally, it advises mask usage in regions where there are 20 or more COVID-19 hospitalizations per 100,000 people.
https://www.cdc.gov/coronavirus/2019-ncov/prevent-getting-sick/about-face-coverings.html
Dr Robert Wachter, who leads the medical department at the University of San Francisco, mentioned, "While hospitalizations haven't yet doubled, it's highly likely they will, given that there's typically a lag of a couple of weeks in the numbers. The risk of getting infected now is considerably higher than it was a month or two ago - probably twice as high. If you're aiming to take precautions, it's a good time to reintroduce the use of masks."
Mask mandates are being reintroduced gradually due to the rise in COVID-19 hospitalizations in many other places as well. The extent of this reintroduction remains uncertain due to the polarized nature of the measure. In recent weeks, several businesses and schools in the U.S. have reinstated mask mandates in response to the growing number of COVID-19 hospitalizations.
Reports suggest that Lionsgate, a movie studio, is also enforcing a mask requirement again at its Santa Monica headquarters.
In Georgia, a small liberal arts college has made it mandatory for students to wear masks for a period of two weeks as COVID-19 cases increase among the student body. Morris Brown College has additionally placed restrictions on campus events.
The college stated, "Over the next two weeks, there will be no parties or large student events on campus." The future implementation of mask mandates in various institutions remains uncertain due to the contentious views surrounding the measure. These developments coincide with a continuous fifth-week surge in COVID-19 hospitalizations, as indicated by data from the Centers for Disease Control and Prevention.
The tracking of daily COVID-19 infections in America is no longer being carried out by the U.S. CDC. However, researchers indicate that the rise in hospitalizations suggests a likely significant spread of the virus. Although there hasn't been a corresponding increase in deaths yet, which usually follows after hospitalizations rise.
In recent days, the U.S. CDC has released an evaluation of risk concerning a novel and highly mutated subvariant of the omicron variant, designated as BA.2.86.
https://www.cdc.gov/respiratory-viruses/whats-new/covid-19-variant.html
The CDC's assessment suggests that this new subvariant probably isn't the main cause behind the current surge in COVID-19 hospitalizations. Nonetheless, it's too early to ascertain the transmissibility and severity of this new strain.
Nonetheless, experts are optimistic that the updated iteration of the COVID-19 vaccine, expected to be introduced next month, will remain effective against the BA.2.86 subvariant. The risk assessment from the CDC states, "Based on current evaluation, it is anticipated that this updated vaccine will effectively mitigate severe illness and the need for hospitalization."
Despite its possession of more than 30 mutations, the prevalence of this strain hasn't reached a level where it would be included in the CDC's list of monitored variants. Nevertheless, it has been identified in small numbers in multiple countries including the U.S., the U.K., Denmark, Israel, South Africa, Switzerland and Thailand.
https://www.thailandmedical.news/news/breaking-thailand-news-sars-cov-2-ba-2-86-variant-detected-in-waste-water-samples-in-thailand-according-to-local-expert
https://www.thailandmedical.news/news/ba-2-86-news-swiss-scientists-confirm-that-sars-cov-2-ba-2-86-variant-detected-in-waste-water-samples-collected-from-laupen;-canton-bern,-switzerland
https://www.thailandmedical.news/news/breaking-covid-19-news-two-genomic-sequences-of-ba-2-86-detected-in-south-africa-total-number-of-ba-2-86-cases-stands-at-9-across-5-countries
The World Health Organization recently elevated its status to that of a "variant under monitoring."
For the latest
U.S. Medical News
, keep on logging to Thailand Medical News.