University of Washington's IHME Forecasts That Daily COVID-19 Infections Will Rise To 18.7 Million Globally By January 2023 With Daily Deaths Of 2,750!
COVID-19 News
: The Institute for Health Metrics and Evaluation at the University of Washington - USA have predicted based on their existing modeling platform and taking into considerations that current Omicron variants and sub-lineages that has emerged including the BQ.1, BQ.1.1 and XBB variants and their emerging sub-lineages, that daily COVID-19 infections globally could rise to about 18.7 million from the 25th of January 2023 while daily COVID-19 deaths could be approximately about 2,750 from the 1st of February 2023.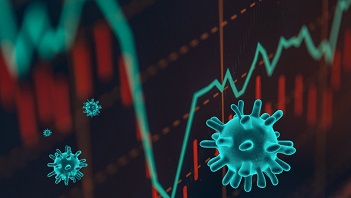 The current average daily COVID-19 infections is about 16.7 million globally despite very little testing and proper reporting from health authorities around the world and literally no mainstream media coverage. From an optimistic perspective, there are about 1,660 reported COVID-19 deaths per day at the moment globally.
Most governments across the world based on directives from those controlling the COVID-19 narratives are trying to conceal the true impact of the COVID-19 disease in the current surges and even the seriousness of Long COVID.
The public must come to terms that they basically have to fend for themselves and those in the vulnerable groups ie the aged, the young, the obese, those immunocompromised, those with existing comorbidities and those with certain genetic makeups are going to be susceptible in the ongoing and coming surges despite whatever prophylactic measures being promoted by the various governments.
The researchers at IHME said that despite daily infections going up by an additional two million by February, it will only be a fraction of the number recorded last winter.
Last winter when the Omicron was predominant, the estimated daily infections were about 80 million. It should be noted the true daily infection last winter was never properly disclosed by most governments as they were trying to conceal such data as they do not want the impact of long COVID to become a key issue. No such data was also ever covered by the
COVID-19 News

sections
of most mainstream media on the actual number of daily infections with the exception of estimates or data that was reported.
The IHME team also said that the coming increase in daily affections is not expected to expected to cause a big increase in deaths and that average daily COVID-19 deaths will rise from about 1,660 now to 2,748 on 1 February 2023.
Meanwhile, the IHME team said that COVID infections in the United States are predicted to rise by a third to more than a million per day over the same period, driven by factors such as people being inside more over the winter.
They also reported that a surge in Germany has already peaked and expect cases there to fall by more than a third to about 190,000.
The researchers suggest the recent rise in cases and hospitalizations in Germany could be down to Omicron subvariants BQ.1 or BQ.1.1, and that it might spread to other parts of Europe in the coming weeks.
Another Omicron subvariant called XBB is also driving a surge in hospital admissions in other countries but the team noted that the XXB variant is more transmissible but less severe.
They said that the threat f rom XBB is expected to be diminished by the fact that people previously infected with the BA.5 Omicron subvariant are likely to have immunity against it.
However, other scientists are warning that the predicted scenario can change very quickly as all the current Omicron variants and sub-lineages are evolving at an unprecedented rate and even the XBB and BQ.1 and BQ.1.1 variant are spawning newer sub-lineages that are even more immune evasive and are aggressively fighting against protection by previous infections or by the inoculation programs and some are even more pathogenic. It is only a matter of time before more worrisome and possibly lethal variants or sub-lineages emerge.
The IHME forecast was published on the 21
st
of October.
https://www.healthdata.org/sites/default/files/files/Projects/COVID/2022/1_briefing_Global_10.pdf
Meanwhile, in the United Kingdom, latest COVID-19 data published last week showed cases were continuing to rise but could be nearing a peak.
According to data from the Office for National Statistics, an estimated two million people had the virus in the UK in the week ending 10 October. That's about one in 30 people and a rise of 15.4% on the week before.
In the week ending 14 October 2022 (Week 41), 11,699 deaths were registered in England and Wales; 565 of these deaths mentioned "novel coronavirus (COVID-19)", accounting for 4.8% of all deaths. (Interesting to note that no mainstream were also covering the death rates in the UK!)
This is an increase compared with the week ending 7 October 2022 (Week 40), when the number of all-cause deaths registered was 11,207; COVID-19 accounted for 400 of these deaths (3.6%), which was a lower proportion than the latest week.
https://www.ons.gov.uk/peoplepopulationandcommunity/birthsdeathsandmarriages/deaths/bulletins/deathsregisteredweeklyinenglandandwalesprovisional/weekending14october2022
However, there were hints that the spread was beginning to slow in many parts of England which accounts for the bulk of cases.
The coming weeks and months will be interesting as despite government concealments and mainstream media not covering on the actual COVID-19 situation and also despite whatever optimism such modelling platforms might predict, the sudden rapid evolution of the SARS-CoV-2 viruses and the emergence of more than 500 new SARS-CoV-2 variants and sub-lineages, (some can be found in this link
https://cov-spectrum.org/collections/24
) is bound to generate a few variants that will shift predicted trajectories into unchartered scenarios. As mentioned before, reinfections, co-infections, immune imprinting, ADE and never emerging variants and sub-lineages will play a key role in the next few weeks and months along with interesting increases in excess death rates.
For the latest
COVID-19 News
, keep on logging to Thailand
Medical News
.