Health News: Pecans - A Powerful Natural Solution to Combat Obesity, Diabetes, and Inflammation
Health News
: In today's fast-paced world, the rise in obesity and related health issues, such as diabetes and fatty liver disease, is a growing concern. High-fat diets, sedentary lifestyles, and genetic predispositions are contributing factors to this global epidemic as covered in past
Health News
reports. However, recent research conducted by scientists at Texas A&M AgriLife has uncovered a potential solution that lies in an unexpected source - pecans (Carya illinoinensis).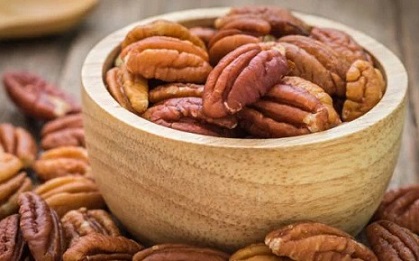 This collaborative study sheds light on how daily consumption of pecans can prevent obesity and its associated complications, providing hope for individuals seeking effective natural approaches to improve their health.
Understanding the Research
Led by Dr Luis Cisneros-Zevallos, a professor of horticulture and food science, the study explores the potential health benefits of pecans. The study highlights the positive impact of pecans on metabolic health.
Incorporating pecans into the diet proved to be a powerful intervention in preventing obesity and related health issues. The research involved feeding mice a high-fat diet supplemented with whole pecans or a pecan polyphenol (PP) extract. The results were striking - both whole pecans and pecan polyphenols exhibited a significant reduction in fat mass, serum cholesterol, insulin resistance, and inflammation. Moreover, they enhanced glucose tolerance and energy expenditure, key factors in preventing obesity and metabolic disorders.
The Pecan's Superfood Potential
Pecans have long been valued for their unique chemistry, including their high content of polyunsaturated fatty acids, dietary fiber, and polyphenols. These nutritional attributes position pecans as a functional food, offering more than just basic sustenance. Dr Amit Dhingra, head of the Department of Horticultural Sciences - Texas A&M University, emphasizes that the research provides scientific evidence that supports the traditional knowledge of pecans as a highly nutritious food source.
This newfound understanding of pecans' health benefits highlights their potential as a superfood. Pecans can be easily incorporated into daily diets, either consumed directly or as ingredients in functional foods and dietary supplements.
The recommended daily consumption of approximately 22 to 25 pecans for an individual weighing around 130 pounds provides a feasible and practical way to harness the benefits of this natural remedy.
Unveiling the Mechanisms
The research not only confirmed the positive effects of pecans but also delved into the mechanisms underlying their health-promoting properties. Pecans were found to modulate adipose tissue lipolysis and mitochondrial oxidative metabolism in both the liver and skeletal muscle. These actions contribute to the reduction of fat accumulation and inflammation, two critical components in the development of obesity-related health issues.
Furthermore, the study highlighted the anti-inflammatory properties of pecans, which combat chronic low-grade inflammation - a precursor to various preval ent diseases. By reducing inflammation and promoting healthier metabolism, pecans act as agents of preventive healthcare, offering a natural defense against obesity and its associated complications.
Pecans are rich in phenols including tannins and ellagic acid derivatives which prevent obesity, liver steatosis and diabetes by reducing dysbiosis and inflammation, and increasing mitochondrial content and energy expenditure. Results indicated the molecular targets of whole pecans and pecan phenolic extracts based on preventive and intervention strategies on different organ tissues, confirming the multifunctionality of the pecan bioactive phenolics.
Phenolics from pecans showed a pre-biotic effect preventing dysbiosis caused by HF and reducing pro-inflammatory serum LPS. This reduced anti-inflammatory activity was extended to visceral adipose tissue, preventing macrophage recruitment and TNF alpha synthesis and release. Furthermore, pecan polyphenols increased the activation of metabolic nuclear receptors such as PPAR gamma in adipose tissues and PPAR delta in skeletal muscle, in addition to the activation of p-AMPK. The activation of these master transcriptional regulators prevented adipocyte dysfunction and maintained or enhanced skeletal muscle mitochondrial activity despite a high-fat diet. Pecan phenolics also targeted up-regulation of UCP-1 in different adipose tissues that aid in an increase in energy expenditure. Furthermore, pecan phenolics also induced the activation of p-AKT which prevented glucose metabolism dysfunction and prevented pancreas dysfunction due to the attenuation of increased serum glucose levels. Up-regulation of p-AKT and p-AMPK in liver prevented steatosis and normalized cholesterol metabolism. In addition, pecan polyphenols were tested for a 30-day intervention in obese mice which showed a partial weight loss effect, a decrease in insulin resistance and an increase in energy expenditure.
Implications for Future Research
The groundbreaking findings from this collaborative study pave the way for further research and clinical studies aimed at unraveling the full potential of pecans. Dr Cisneros-Zevallos emphasizes the importance of exploring unique functionalities of pecans to create even healthier products. These efforts could lead to novel uses and applications of pecans, fostering economic stability for farmers and contributing to overall public health.
The researchers envision future clinical studies to delve deeper into the multifaceted benefits of pecans, spanning from gut health to metabolic regulation. As the scientific community continues to uncover the intricacies of pecans' mechanisms, individuals may have access to more targeted and personalized approaches to combat obesity and metabolic disorders.
Conclusion
In a world where obesity and metabolic disorders are on the rise, the study conducted by Texas A&M AgriLife scientists offers a glimmer of hope through the humble pecan. The research reveals that daily consumption of pecans can counteract the effects of high-fat diets, prevent obesity, and reduce the risk of diabetes and fatty liver disease. Pecans, with their unique blend of nutritional components, have proven to be a superfood capable of positively impacting metabolic health.
As individuals, communities, and healthcare systems seek effective strategies to address the global obesity epidemic, the role of natural remedies like pecans gains significance. This study underscores the potential of pecans to be integrated into preventive and therapeutic approaches, providing a bridge between traditional wisdom and modern scientific validation. With ongoing research and a deeper understanding of the mechanisms at play, pecans may hold the key to a healthier and more vibrant future for individuals worldwide.
The study findings were published in the peer reviewed journal: Nutrients.
https://www.mdpi.com/2072-6643/15/11/2591
For the latest
Health News
, keep on logging to Thailand Medical News.