COVID-19 Cases Increasing In New Zealand Once More! 4645 New Cases Of COVID In The Last 7 Days Compared To 3615 Cases The Previous Week
COVID-19 News
: Health authorities in New Zealand this morning reported 4645 new cases of Covid-19 in country over the last seven days and 10 COVID-19 deaths.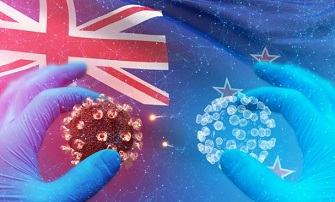 The figures represent a rise in COVID-19 cases once again in New Zealand as last week, the Ministry of Health only reported 3615 new cases and COVID-19 deaths.
Worryingly, it was also reported that almost half of these cases were reinfections. Accordingly, 2304 of these infections were identified as reinfections.
https://www.rnz.co.nz/news/national/495291/covid-19-update-4645-new-cases-10-further-deaths-and-160-in-hospital
In all, the total number of deaths due to the SARS-CoV-2 virus in New Zealand is now 3229.
There were now 160 COVID-19 cases in hospital, with five people in intensive care as of midnight on Sunday.
The
COVID-19 News
report also indicated that the seven-day rolling average of new COVID-19 cases was 659.
Figures for total COVID-19 tests conducted and test positivity rates were not disclosed as usual, indicating that the official figures were not reliable and that the actual number of infections could be far much higher.
Strangely waste water monitoring for SARS-CoV-2 in New Zealand is showing decline in SARS-CoV-2 viral loads over the last 6 weeks, making many to question is the platform is reliable or if data is being manipulated for political reasons.
https://poops.nz/
According to data from New Zealand authorities, the key SARS-CoV-2 sub-lineages that are prevalent in the country include XBB.1.5, XBB.1.16, XBC and FK.1.1.
https://www.esr.cri.nz/assets/CGID_40_Report.pdf
While COVID-19 is still as serious health issue in New Zealand and cases are still rising, it was announced that the COVID-19 mandatory seven-day self-isolation requirement could be relaxed by the end of the coming month!
https://www.odt.co.nz/news/national/covid-mandatory-isolation-period-could-be-relaxed-pm
New Zealand had already removed most COVID-19 restrictions and preventive measures since September 2022 including vaccine mandates, requirements of mask wearing etc.
It should be noted that that the healthcare infrastructure in New Zealand is still under pressure due to high caseloads not just from COVID-19 but also from backlog of many other cases of medical issues and also rising Long COVID problems.
Many local physicians and healthcare professionals are skeptical that the COVID-19 situation in New Zealand would improve. Rather, with the doing away of all preventive measures including shortly the mandatory isolation rule, COVID-19 caseloads are expected to continue increasing and reinfections and serious Post- COVID health issues will become the new norm!
Experts are also calling out for transparency of excess death rates figures in New Zealand and warn that these figures should be carefully monitored.
For the latest
COVID-19 News
, keep on logging to Thailand Medical News.