BREAKING! UK Health Authorities Issue Warnings About Rare Invasive Strep A Infection Outbreak After Six Children Died And More Than 851 Infected!
While COVID-19 Infections, Influenza and also RSV infections are plaguing the United Kingdom and children this time are the ones being badly infected, another worrying disease outbreak has been reported in the country.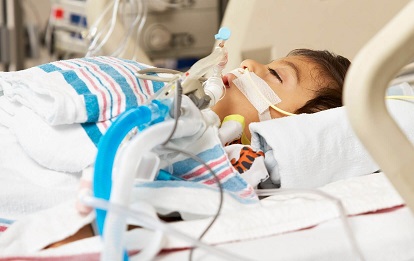 British health officials issued a warning in the last 24 hours about the outbreak of a more serious Group A strep-related illness among children and youngsters after six children died from the disease and more than 851 were infected in the last week. At present about 76 of these infected pediatric cases are in ICU or in critical condition.
Parents are being warned to be alert for scarlet fever symptoms in their children.
The United Kingdom's Health Security Agency (UKHSA) said five under-10s in England and another in Wales had died after being diagnosed with the rare invasive Group A strep (iGAS) illness.
Dr Colin Brown, UKHSA Deputy Director told Thailand
Medical News
, "The United Kingdom is currently witnessing a higher number of cases of Group A strep this year than usual."
He added, "The bacteria usually causes a mild infection producing sore throats or scarlet fever that can be easily treated with antibiotics. However, it is important that parents are on the lookout for symptoms and see a doctor as quickly as possible so that their child can be treated and healthcare professionals can stop the infection becoming serious."
Dr Brown urged parents to immediately see a doctor or visit a hospital if their child showed "signs of deteriorating after a bout of scarlet fever, a sore throat, or a respiratory infection".
Health experts warn that Group A streptococci bacteria can cause respiratory and skin infections, including strep throat, impetigo and scarlet fever and in rare cases, the bacteria can get into the bloodstream and cause serious illness including deaths. This more severe version is known as invasive Group A strep (iGAS).
British health authorities also said there were 851 scarlet fever cases reported in England in the last week alone, compared to an average of 186 for the preceding years.
The UKHSA reported that there has been an "increase" in iGAS cases this year, especially in children under the age of 10. Cases have been rising exponentially in the last 2 weeks.
Five of the six children who died in the last week were from England, and all were under age 10. A girl from Wales, whose age has not been released, also died. As of now, no deaths have been confirmed in the other nations of the U.K.
The UKHSA said that investigators are looking into reports of the recent increase in lower respiratory tract Group A strep infections in children, which have caused severe illness.
Ridiculously, the UKHSA was quick to issue a public statement saying that despite the growing rates of illness, there is "no evidence that a new strain is circulating" and said the increase is "most likely related to high amounts of circulating bacteria and social mixing." This despite that the fact that no studies were conducted yet on the Strep A strains involved.
A similar scenario was seen when RSV infections started affecting children in the last 6 weeks and health authorities around the world were quick to deny that any new RSV variants were at play. However, after an appeal by Thailand
Medical News
for researchers to look into it, research evidence emerged proving that a new RSV variant was indeed causing the current surges.
https://www.thailandmedical.news/news/warning-adults-can-also-contract-rsv-infections-and-its-usually-severe-in-the-aged-is-the-current-rvs-wave-due-to-newly-emerged-strains
https://www.thailandmedical.news/news/breaking-scientists-discover-new-circulating-rsv-virus-variants-that-is-causing-prolong-infection-especially-among-infants-and-young-children
The United Kingdom is going through a unprecedented health crisis as not only is the country facing continued COVID-19 surges and Long COVID is becoming a major burden on the already overstretched public healthcare infrastructure, but the country is also plagued with RSV and also Influenza infections while the Conservative lead government is downplaying and concealing the actual seriousness of the situation.
According to data for the Zoe app, there were more than 147, 980 symptomatic COVID-19 infections in the last 24 hours.
https://health-study.joinzoe.com/data
In the past 2 weeks alone, daily new symptomatic COVID-19 cases have hovered above the 120,000 mark!
According to the ONS, more than 2.2 million people in the United Kingdom are currently inflicted with Long COVID issues!
https://www.ons.gov.uk/peoplepopulationandcommunity/healthandsocialcare/conditionsanddiseases/articles/coronaviruscovid19latestinsights/infections
RSV infections are also rising exponentially in Europe including in the United Kingdom and causing a burden to hospitals.
https://www.ecdc.europa.eu/en/news-events/rsv-virus-expected-add-pressure-hospitals-many-eueea-countries-season
Flu infections are also rising exponentially in the United Kingdom and again hospitals are being stressed out.
https://www.england.nhs.uk/2022/11/hundreds-of-beds-taken-up-by-flu-patients-every-day-ahead-of-winter/
There is an anticipation that either a new more virulent form of SARS-CoV-2 or a new strain of pathogen hailing from the African continent would hit the United Kingdom within the next 8 weeks due to the lack of travel health screenings and easy access between both the UK and the African continent coupled with the lack of preventive COVID-19 measures in the UK and the general lack of hygiene standards among the white and black British nationals.
A constant onslaugh of COVID-19 infections caused by the emergence of hundreds of new variants and sub-lineages alonside new recombinant variants that are more immune evasive and able to cause breakthrough infections and reinfections will take it toll eventually on the UK population. The changed immune landscape of the general population will also be fertile grounds for secondary opportunistic infections and the rise of new pathogen strains as a result of induced evolution.
https://www.thailandmedical.news/news/sars-cov-2-variant-soup-means-no-more-waves-or-surges-but-rather-constant-onslaught-and-reinfections-china-reports-record-covid-19-infections
For the latest UK
Medical News
, keep on logging to Thailand
Medical News
.
Read Also:
https://www.gov.uk/government/publications/group-a-streptococcal-infections-activity-during-the-2022-to-2023-season