BREAKING COVID-19 News: Researchers Warn That Molnupiravir Is Driving Rapid Evolution Of SARS-CoV-2 Variants And Causing Mutations!
COVID-19 News
: When Thailand Medical News in September 2021 warned about the dangers of the US FDA approved drug Molnupiravir to treat COVID-19, our news coverage was not taken seriously as most Westerners always think that only the media in their own countries that is funded by crooked politicians, unethical billionaires, greedy pharma giants and those controlling the COVID-19 narratives are the best sources for information coupled with the fact that certain young garbage 'researchers' in Canada, United Kingdom, Switzerland and the United States cannot tolerate our direct and often sarcastic forms of editorial and tend to disrepute our site despite the fact we can dare claim based on the date and time stamp markings, we are the site that typically releases first most of the issues about the COVID-19 developments that is subsequently copied by the Western media!
https://www.thailandmedical.news/news/molnupiravir--what-wrong-with-america-why-is-the-american-government-and-agencies-funding-and-pushing-potentially-toxic-drugs-to-treat-covid-19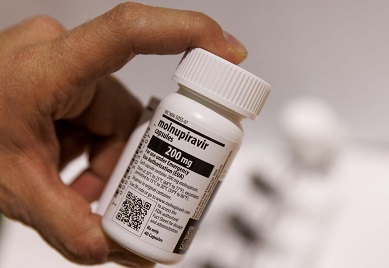 We at Thailand Medical News also covered various
COVID-19 News
coverages detailing the dangers of Molnupiravir and also its inefficacy in treating COVID-19.
https://www.thailandmedical.news/news/much-touted-merck-s-covid-19-drug-molnupiravir-shown-to-be-less-effective-in-new-analysis-experts-question-its-efficacy-against-the-omicron-variant
https://www.thailandmedical.news/news/georgia-state-university-researchers-try-to-peddle-mutagenic-drug-molnupiravir-as-possible-covid-19-therapeutic-after-study-on-ferrets
https://www.thailandmedical.news/news/first-published-case-report-links-usage-of-molnupiravir-to-treat-covid-19-to-acute-renal-failure
Readers should also note Thailand Medical News unlike other medical websites, refuses to take any monies from any Pharma companies that wishes to control our editorial content and style! We are not anti-pharma as many pharma companies have contributed greatly in the field of medicine and treatments but we will not hesitate to expose any adverse effects, issues or scams with any pharmaceutical, herbal or supplement product.
Coming back to Molnupiravir, certain independent researchers who have contributed greatly in terms of identifying new emerging SARS-CoV-2 variants and sub-lineages and also in terms of studying the evolution trends of these variants and sub-lineages are now also sounding the same warnings that we made in Se ptember of 2021.
One particular independent researcher who has contributed greatly in the field of identifying emerging SARS-CoV-2 variants ad sub-lineages that are concerning is even stressing the need for Molnupiravir to be taken off the list of approved drugs to treat COVID-19 and his call is gradually being endorsed by many other researchers in the field as well.
https://twitter.com/LongDesertTrain/status/1597353291868155906
The researcher has gathered evidence detailing how in the case of certain Omicron sub-lineages, the usage of molnupiravir has spurred the acquisition of over 72 mutations in a period less than two months! The sub-lineage in this case was related to the BM.2 variant.
Another independent researcher has also warned that the usage of Molnupiravir does not kill mutant viruses that arise in in an infected individual but rather will add mutations to the viral genome of the predominant sub-lineage in that infected host.
https://twitter.com/michaelzlin/status/1485795429522436096
Despite the fact that molnupiravir is a mutagenic agent, the US FDA never conducted any follow studies to monitor effects of the drug on the genetics of the human host or the virus itself!
We at a very dangerous stage of the COVID-19 pandemic as considering the kinetics of the situation where millions of individuals are being infected on a daily basis with no preventive measures in place and no proper travel screenings and coupled with the fact that we have more than 300 different types of SARS-CoV-2 variants and sub-lineages in circulation and literally no effective drugs or antivirals left.
https://cov-spectrum.org/collections/24
With even wildlife and domesticated pets contracting the newer Omicron variants while being reservoirs for other coronaviruses and other concerning viruses, the high risk of recombinant or reassortant events taking place and possible reverse zoonotic transmissions remains high and are potential contributing factors to the emergence of more lethal strains.
Having a drug that has no efficacy but instead is contributing to the rapid evolution of the SARS-CoV-2 virus and generation of more mutations is the last thing needed right now.
There is an urgent need for more research teams to study the negative effects of Molnupiravir especially on virus evolution and get them published fasts and also for the rest of the medical and research community to lobby the US. FDA and other regulatory bodies across the world to stop the usage of Molnupiravir to treat COVID-19.
Also, while more detailed studies are being conducted for molnupiravir and how it is driving the virus evolution and mutations, there should also be an inclusion of the drug favipiravir that is still being used by certain stupid health authorities. We are very confident that the effects of favipiravir on virus evolution and also on alterations in human genetics will be very interesting.
https://www.thailandmedical.news/news/breaking-stanford-study-confirms-favipiravir-use-in-mild-or-asymptomatic-covid-19-patients-has-no-efficacy-doctors-should-be-sued-for-prescribing-it
For the latest
COVID-19 News
, keep on logging to Thailand Medical News.