France Reports 400,851 New COVID-19 Cases And 233 Deaths In Last 24 Hours! What's Really At Play…..Omicron BA.1, BA.2, B.1.640 or B.1.640.2?
France COVID-19 News
: France health authorities reported a total 400,851 new COVID-19 cases and 233 deaths in the last 24 hours and in the last 4 days the daily new cases have always been above the 400,000 mark coupled with the fact that daily death rates are hovering between 350 to 200 in the past week. Local physicians are reporting that the health authorities are deliberately under-reporting death rates and that the excess death rates in the last 6 weeks have risen exponentially.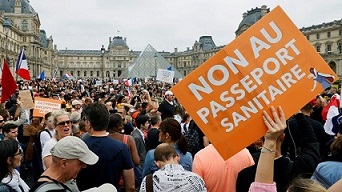 Hospitals are overcrowded and the public healthcare system is almost on the verge of collapse.
As of 21st January 2022, a total of 26,479 patients are currently hospitalized for COVID-19 and another 3,855 patients are in ICU wards!
https://www.google.com/search?q=covid+hospitalization+rates+in+france&oq=covid+hospitalization+rates+in+france&aqs=chrome..69i57j0i22i30l2j0i390i395l2.11910j1j15&sourceid=chrome&ie=UTF-8
75.6 percent of the population in France are fully vaccinated and another 44.5% have received booster doses while almost 80 percent of the population has received at least one dose. Majority who have yet to have been vaccinated are basically children.
Local physicians are saying that about 72 percent of those hospitalized and about 63 percent of all those in the ICUs are all those that were fully vaccinated!
According to local
France COVID-19 News
, the France health authorities are claiming that Omicron BA.1 variant is the dominant variant and is responsible for the current surges.
With claims by so called 'experts' that Omicron is mild, the current scenario in France does not make any sense especially with increasing hospitalization rates and manifestations of disease severity in many who were fully vaccinated.
Data from Nextstrain and GISAID shows that the Omicron BA.1 variant being dominant and a few Delta new sub-variants are still causing cluster outbreaks in the country. But it should be noted that both platforms can no longer be trusted as data on these sites are now being controlled by the WHO, ECDC, U.S CDC and other key players who are controlling the COVID-19 narratives.
https://www.thailandmedical.news/news/are-all-sars-cov-2-genomic-data-being-manipulated-and-controlled-u-s-cdc-and-south-korea-finally-admit-b-1-619-and-b-1-620-variants-predominant-in-sou
There are strong suspicions that the new Omicron BA.2 variant and other newer Omicron sub-lineages and also the B.1.640 and B.1.640.2 variants are at play along with other newer sub-lineages from the B.1.640 strain.
There seems to be a concerted effort of a cover up as the vaccines including booster shots are not the least protective against these newer strains and maybe there is a possibil ity that these new variants are bringing out the ADE phenomena in those that were vaccinated as we are seeing more disease severity among those who were fully vaccinated!
https://www.thailandmedical.news/news/breaking-were-b-1-640-and-b-1-640-2-outbreaks-in-france-covered-up-because-of-strong-ade-manifestations-b-1-640-now-finally-declared-a-voi
The coverups are also possibly due to the fact that it is believed that it would embarrass the uncouth president Macron who has been on a inhumane mission to make lives miserable for the unvaccinated despite the fact that there is a very high possibility that the current vaccines are totally ineffective against some of the newer emerging variants.
There is to date no published scientific proof that the unvaccinated are causing the emergence of new SARS-CoV-2 variants. We do have cases studies showing that immunocompromised patients like those with HIV, cancer and other autoimmune diseases upon contracting the SARS-CoV-2 virus are able to generate newer variants despite their vaccination status!
There is even some experts who believe that the variants are actually evolving in vaccinated individuals who upon contracting breakthrough SARS-CoV-2 infections are actually generating these variants as the virus fights the antibodies induced by the vaccines.
Perhaps Macron should start culling all those who are immunocompromised and also all those vaccinated who display breakthrough infections!
But what is more important at the moment are real experts out there that need to determine as to what is really happening countries like France, Denmark, Israel and Japan and very soon what we will expect to see in UKand US as well.
Already a French scientist has issued warnings that the newer Omicron BA.2 variant with an additional 25 mutations found on it compared to the Omicron BA.1 could cause a new surge and also the antibodies and immune protection produced by the earlier Omicron BA.1 variant might offer no help!
https://www.thailandmedical.news/news/breaking-scientist-warns-that-new-omicron-sublineage-ba-2-will-cause-new-surge-and-reinfections-globally-as-previous-omicron-infection-may-offer-no-pr
There is also a high possibility that newer more potent Omicron sub-lineages and also newer B.1.640 sub-lineages could be at play in France and elsewhere in Europe including Denmark.
Then again there is yet another possibility that newer more concerning Delta sub-variants like AY.57 and AY.122.3 that is already been found in Denmark and also France and else in Europe could have spawned a newer more concerning offspring.
Thailand Medical News will be providing more
France COVID-19 News
updates in coming days.