Japan Expected To Witness A Ninth Wave That Could Be More Worse Than The Previous Surges.
COVID-19 News
: In a startling turn of events, Japan finds itself on the brink of a potential ninth wave of COVID-19, just a month after downgrading the virus's status to that of seasonal flu. Recent statistics released by the health ministry indicate that the number of new infections has nearly doubled since the downgrade, raising concerns about the country's ability to contain the spread.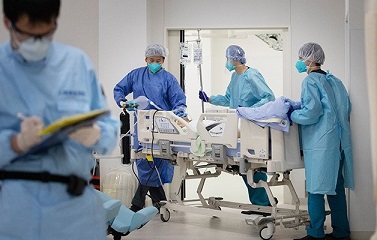 According to the ministry's weekly report, approximately 25,163 new patients were reported in the week from June 5 to June 11, averaging around 5.11 patients per medical facility. This represents a significant increase from the previous week's average of 4.55, and an alarming rise from the 2.63 average reported between May 8 and May 14.
The surge in cases is particularly pronounced in Okinawa Prefecture, where the average number of new patients per facility skyrocketed to 18.41 during the week in question, compared to just 6.07 four weeks prior. Other regions experiencing a significant rise in reported infections per facility include Kagoshima (7.37), Ishikawa (6.58), Saitama (6.51), and Hokkaido (6.47).
Hospitalizations have also increased, with 4,330 new hospitalizations reported nationwide during the week, up from 4,122 the previous week. Additionally, the seven-day average for patients in intensive care units rose to 79.
Amidst these troubling developments, Dr Shigeru Omi, the nation's top coronavirus adviser, has warned that Japan may be entering its ninth wave of coronavirus infections. However, Dr Takaji Wakita, chair of the coronavirus advisory board under the health ministry, remains cautious about declaring the start of a new wave. He emphasizes the challenges of predicting the scale of infection growth but acknowledges the need to monitor potential trends, as seen in past waves, where infections start among young people and gradually spread to older age groups.
Recent localized outbreaks in schools have also raised concerns about the virus's spread. Kasukabe High School in Saitama Prefecture was temporarily closed after 114 students, constituting 10% of the student body, and two teachers tested positive for COVID-19. The closure followed a two-day school festival that attracted approximately 10,000 visitors, potentially contributing to the virus's transmission.
In Tokyo, the situation is equally worrying. According to local
COVID-19 News
reports, the number of new COVID-19 patients reported from designated hospitals in the capital has increased more than fourfold, with an average of 5.99 people per facility, compared to 1.41 patients per facility five weeks earlier. Hospitalizations in Tokyo rose from 983 to 1,032 in just one week, indicating growing pressure on the healthcare system.
The latest surge in infections can be attributed to subtypes of XBB, a heavily mutated version of the omicron variant. XBB subtypes, including XBB.1.16, XBB.1.9.1, and XBB.1.5, accounted for over 90% of all genome-sequenced cases in Tokyo.
https://cov-spectrum.org/explore/Japan/AllSamples/Past6M/variants?nextcladePangoLineage=xbb*&
While XBB is highly infectious and can evade immunity from past infections or vaccines, it has not been confirmed to cause more severe symptoms than other omicron sublineages, as stated by the National Institute of Infectious Diseases.
Given the concerning developments, the health ministry's coronavirus expert panel convened on June 16 and warned of a potential increase in infections during the summer. The panel based its assessment on the observed gradual rise in cases since April and past patterns of summer outbreaks. The chairman of the advisory board, Takaji Wakita, stressed the importance of vaccinating elderly individuals and those with underlying health conditions to mitigate the ongoing upward trend.
As Japan braces for the possibility of a ninth wave, experts warn that this coming surge could be far worse than the previous waves due to relaxations of all COVID-19 preventives measures coupled with the fact that many are now complacent and have been 'brainwashed' by the mainstream media and certain unethical authorities with the misleading information that SARS-CoV-2 is now mild!
For the latest
COVID-19 News
, keep on logging to Thailand Medical News.