COVID-19 News: As EG.5.1 And Other EG.5 Sub-Lineages Take Hold In The UK, People Are Getting More Sick With Rashes, Conjunctivitis, Fevers And Coughs
COVID-19 News
: EG.5.2 sub-lineages and other sub-lineages from the EG.5 are fast becoming the domain SARS-CoV-2 strains in the United Kingdom.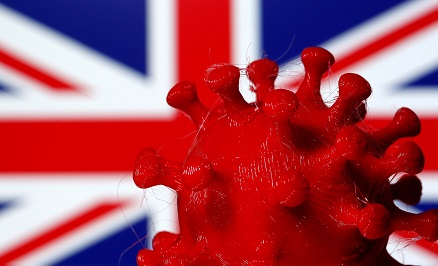 According to the latest UK Health Security Agency (UKHSA) data, the EG.5.1 variant is now the second most prevalent variant making up 11.8% of UK cases as of 27 July. As of 4 August, it represented one in seven UK infections.
https://www.gov.uk/government/publications/sars-cov-2-genome-sequence-prevalence-and-growth-rate/sars-cov-2-genome-sequence-prevalence-and-growth-rate-update-2-august-2023
According to data from the Zoe COVID-19 platform, there were 64,151 new symptomatic COVID-19 infections for the 10
th
of August 2023.
https://covid-webflow.joinzoe.com/
In all, data from the Zoe platform estimates that there are currently about 840,000 active symptomatic COVID-19 infections in the United Kingdom at present!
What is worrisome however is that while many are claiming that the EG.5.1 does not increase disease severity, doctors and healthcare professionals in the United Kingdom are witnessing that many of the infected are now getting much more sick and are exhibiting symptoms and conditions midway between mild and severe!
Many are developing fevers, bad coughs that linger, breathing problems and immense fatigue, headaches and body pains. Numerous cases of pink eye or conjunctivitis are also being reported. A new anomaly that has materialized is that many are also developing unexplained rashes in various parts of their bodies.
Hospitalizations are gradually increasing and doctors are worried about those in the vulnerable groups ie the aged, those obese or with existing comorbidities and also those who are immunocompromised and with certain genetic makeups.
Also, babies and young children are also facing the brunt in this current wave with many getting and displaying moderate to severe conditions.
At present, EG.5.1 has not been categorized as a variant of concern by the UK Health Security Agency (UKHSA) although the WHO has classified it a variant of interest (VOI); nonetheless, the organization is actively monitoring this strain. Yet, maintaining precise oversight of this variant proves to be challenging, as indicated by insights from various
COVID-19 News
media outlets.
Unlike the comprehensive testing and reporting systems established during the initial waves of the coronavirus, there currently exists no widespread mechanism in place. Consequently, comprehending the extent of EG.5.2 or Eris's prevalence in the United Kingdom Greater is a formidable task, according to sources with a significant level of medical expertise.
Dr Mary Ramsay, who holds the position of Head of Immunization at the UKHSA, conveyed, "In this week's report, we observe a continued increase in Covid-19 cases. Furthermore, there has been a m inor upswing in hospital admission rates across various age groups, particularly affecting the elderly."
She added, "Admission rates on the whole continue to remain exceptionally low, and there is no ongoing trend of a comparable rise in ICU admissions at the moment. Vigilant monitoring of these rates will persist. Frequent and meticulous handwashing serves as a safeguard against COVID-19 and various other pathogens. Should you experience symptoms of a respiratory ailment, it is advisable to minimize contact with others. In the autumn of 2023, the NHS will reach out to individuals eligible for the seasonal vaccine based on health conditions or age. We strongly encourage all those offered the vaccine to accept it when the opportunity arises."
The coming weeks should indicate if the EG5.1 is truly mild or will be an increased in death rates in UK.
For the latest
COVID-19 News
, keep on logging to Thailand Medical News.