COVID-19 Cases Have Not Really Gone Down In Australia Rather COVID-19 Testing Has Possibly Decreased!
COVID-19 News
: Is Australia experiencing a true decline in COVID-19 cases, or is it just a created illusion? The latest data reveals a surprising trend that challenges the conventional narrative.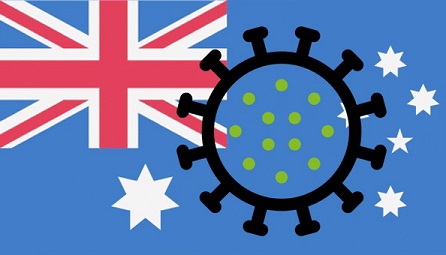 As the world continues to grapple with the COVID-19 pandemic, Australia has been no exception to the ups and downs of case numbers. However, a closer look at the recent data from different states and territories suggests that the decline in reported COVID-19 cases might not be as significant as initially thought. The reason behind this surprising revelation lies in the change of COVID-19 testing practices.
In the early days of the pandemic, daily updates flooded the news, providing minute-by-minute statistics on case numbers, hospitalizations, and fatalities. Now, as of August 4, 2023, the Australian states and territories have shifted their focus from daily updates to weekly reporting, offering a broader view of the situation. But this change in reporting frequency also conceals a crucial aspect of the data - the decrease in testing. COVID-19 testing details are being concealed from the public and media!
New South Wales, the most populous state in Australia, reported 1,978 new COVID-19 cases this week, a slight increase from the previous week's total of 1,949. While the increase is marginal, it does not reflect the entire picture. The state also saw a decline in the number of COVID-19 tests conducted in recent weeks. As testing rates dropped, it is conceivable that some positive cases might go unreported, leading to an apparent decrease in cases. There are 725 cases in hospital with the virus, 17 of those in intensive care. There were 20 new deaths recorded.
https://www.abc.net.au/news/2023-08-04/covid-19-july-case-numbers-from-australia-states-and-territories/102687898
Furthermore, just like many other countries across the world, COVID-19 rapid test kits are interestingly in short supply in New South Wales and other Australian states with prices going up in various stores.
Similarly, Queensland has adopted a new reporting process using a seven-day rolling average system. As of August 1, the state recorded an average of 192 daily cases, down from the previous week's average of 209. This apparent decline in cases should be taken with caution, as the data doesn't account for the fluctuations in testing rates. It's vital to acknowledge that changes in testing practices can significantly impact the accuracy of reported case numbers. It was reported that there were 133 patients in hospital with the virus, and two people in intensive care.
South Australia recorded 526 new COVID-19 cases, indicating a rise from last week's total. There were 48 patients and five people in intensive care as of August 2.
According to local
COVID-19 News
, Western Australia reported a total of 517 new cases in the past week, indicating a concerning trend. As at 4pm yesterday, there were a total of 61 people with COVID-19 in hospital, with two in ICU. Total PCR tests for the timeframe were 4,440. Total positive PCR tests for the timeframe were 103. Total positive rapid antigen tests (RATs) in this period were 414. The testing rates marked a significant decrease over the previous week.
https://www.nationaltribune.com.au/western-australia-covid-update-as-at-4-august-2023/
The Northern Territory state had recorded 89 new COVID-19 cases this fortnight.
There are two cases in hospital with the virus.
In contrast to the other states and territories, the Australian Capital Territory, Tasmania, and Victoria have not provided recent COVID-19 data. While this could be due to various administrative reasons, it also raises questions about the transparency of reporting practices.
It should be noted that even genomic sequencing has declined in Australia.
https://cov-spectrum.org/explore/Australia/AllSamples/Past6M/sequencing-coverage
The decline in testing rates is a matter of concern for public health experts. As the focus shifts to vaccination efforts and returning to normalcy, testing has taken a back seat. However, accurate testing and surveillance are vital to understanding the true extent of COVID-19 transmission and making informed decisions about public health measures.
It's crucial for Australians to remain vigilant and continue to prioritize testing, especially if they experience symptoms or suspect exposure to the virus.
Increased testing not only helps in early detection and containment of outbreaks but also provides accurate data for policymakers to shape effective responses.
In conclusion, the decline in reported COVID-19 cases in Australia may not necessarily indicate a real reduction in transmission. Instead, it could be a consequence of decreased testing rates. To effectively combat the pandemic and protect public health, authorities must ensure consistent and widespread testing across the country. Only with accurate data can Australia navigate through these challenging times and work towards a safer and healthier future.
It will be extremely interesting to monitor the true excess death rates in the country over the last 6 weeks!
For the latest
COVID-19 News
, keep on logging to Thailand Medical News.