Thailand COVID-19 Surge This Time Is Going To Be Devastating While Everyone Is Focused On Economic Recovery, Removal Of Restrictions And Tourism
In the last 24 hours Thailand reported a total of 18,883 New COVID-19 cases and 32 new COVID-19 deaths, bringing the total number of people who have been infected with the SARS-CoV-2 coronavirus since the start of the pandemic to more than 2.73 million people and a total of only 22,659 deaths out of a total population of about 70 million people.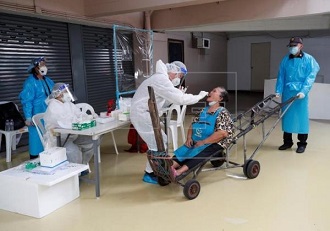 Compared to most countries, the figures do not seem bad but the only problem is that these figures are unlikely to be an accurate depiction of what is really happening in reality.
In the last three consecutive days in Thailand, the daily infections were reported as being hovering just above the 18,000 mark but below 19,000.
In numerous provinces upcountry however, local health authorities are reporting that both public and private hospitals are overflowing with no more beds available and in some provinces, there is not only a backlog of PCR tests at many provincial laboratories that are still being processed but there is also already a shortage of PCR test kits.
This has been verified in many provinces where patients are not tested despite showing symptoms and in some cases ATK tests are used.
However, despite testing positive with ATK tests, many are not followed up with a PCR tests but instead patients with mild symptoms are basic medications like NSAIDs, cough meds and steroids and asked to rest at home!
The positive ATK test results are not even included in the daily reports and according to certain rural physicians, the realistic figures could be as high as about 30,000 to 40,000 cases daily at the moment.
When it comes to death rates, again there are speculations that excess death rates in the last 18 months have shot up exponentially with heart failures, strokes and organ failures accounting for a large proportion. In most these cases, it is related to the SARS-CoV-2 infections but the local medical community is refusing to acknowledge this!
It was reported that at the moment, the more pathogenic and fusogenic Omicron BA.2 variant only accounts for about 18.5 percent of all local SARS-CoV-2 infections.
Japanese studies and also other emerging studies are warning that the BA.2 variant is much more severe and in fact is totally unlike the Omicron BA.1 variant.
https://www.thailandmedical.news/news/breaking-japanese-study-alarmingly-reveals-that-omicron-ba-2-variant-is-a-major-health-threat-as-it-is-more-fusogenic,-pathogenic-and-causes-severe-ou
The more transmissible BA.2 variant could start being the dominant variant by the end of the month and the country could see more severe cases and also death rates increasing.
Local Thais are getting complacent as they assume that the current COVID-19 vaccines can protect them from the BA.2 variant. Little are they aware that in countries like Denmark, Norway, Israel and elsewhere, even young healthy individuals with no existing comorbidities are still either suffering disease severity or ending up dead upon infection with the BA.2 variant despite being fully vaccinated and even given boosted shots!
Even more worrisome is the fact that studies that are underway are indicating that people previously infected with the other SARS-CoV-2 variants including the Omicron BA.1 variant, upon getting re-infected with the BA.2 variant, are likely to develop more severe conditions.
Also, though not yet published, and despite no actual clinical data yet, computational studies are indicating that the BA.2 variant is not only adapt at evading both natural and vaccine induced immunity but is also adapted for viral persistence in the human host and is also more likely to slowly attack the various cells, tissues and organs, resulting in slow but more serious long term medical and health conditions!
With its guard down, Thailand is not even properly prepared for the BA.2 variant surge as it has been too complacent and just like the rest of the world, is assuming that all Omicron variants are mild.
Another aspect that most researchers are not even taking note is that the Omicron is evolving and mutating rapidly and in different geolocations it is still picking up unique mutations like in Denmark with the H78Y mutation in the ORF3a region of the genome.
https://www.thailandmedical.news/news/breaking-omicron-ba-1-and-ba-2-variants-spawning-newer-sub-lineages-denmark-reports-new-ba-2-sub-lineage-with-h78y-mutation-in-orf3a
There is a hypothesis by
Thailand Medical
News that Thailand will also bear witness to its own unique BA.2 variant with two unique mutations on its genome and that this new variant will cause more severe disease and also more severe long COVID issues especially targeting the lungs, heart, brain, CNS, gastrointestinal tract and liver but not the kidneys nor male gonads.
The next few months will tell whether this is true or simply some garbage!
In the meanwhile, the situation in Nakhon Ratchasima, Khonkaen, Surin, Chiangmai, NongKhai, Trat, Nakhon Si Thammarat provinces have been described as worrisome and hospital beds are gradually running out.
However local health authorities are down playing the seriousness of the surge and this will definitely have a devasting effect in the coming weeks.
For the latest on the
BA.2 Surge In Thailand
, keep on logging to Thailand Medical News.