Breaking! Omicron Detected In the United States. Experts Predict That Omicron Will Displace The Delta Variant Globally In Two Months
Omicron Updates
: Health officials in California have confirmed the first known case of the Omicron coronavirus variant in the United States and are warning that they could be hundreds of such cases all over the country that have yet to be identified.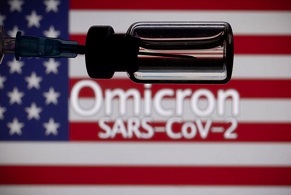 The U.S. Centers for Disease Control and Prevention said in a few hours ago that the infected individual had recently returned from South Africa.
The patient had been fully vaccinated, has displayed mild symptoms so far and is currently self-isolating, the CDC said.
Dr Anthony Fauci, Joe Biden's chief medical adviser said to media, "We knew it was just a matter of time before the first case of Omicron would be detected in the United States."
To date, the Omicron variant has been identified in a total of 21 countries outside of the African continent including Austria, Australia, Belgium, Brazil, Canada, Czech Republic, Denmark, France, Germany, Hong Kong, Japan, India, Israel, Italy, Netherlands, Portugal, Spain, Saudi Arabia, Sweden, United Kingdom and now the United States.
In the African continent, a total of 8 countries have Omicron variant including South Africa, Botswana, Nigeria, Namibia, Zambia, Angola, Cameroon and Malawi with another 24 out of the 54 countries in the African continent having suspected cases!
America plans to impose fresh travel restrictions over the new variant.
All international passengers are expected to soon be required to provide a negative test result from within 24 hours of their departure, US media reports have said.
It is expected that President Joe Biden will announce the stricter testing requirement and possible additional measures in the next few hours.
The president on Monday said he believes the new variant is "not a cause for panic", adding that it was unlikely to result in domestic lockdowns.
However emerging data is showing otherwise and even World Health Organization (WHO) have deemed Omicron a "Very High Risk Threat".
Omicron Updates
report that preliminary data is showing that transmission risk is higher and that the new variant is capable of evading immunity including the vaccines.
However more concerning is to whether the new variant could trigger ADE (antibody dependent enhancement) in those that had been inoculated or have been previously infected with earlier strains.
To date, most of those infected had been fully vaccinated (As per the previous criteria ie two shots with the exception of Johnson and Johnson vaccine)
America and other countries have already imposed a ban on travel from eight African countries: South Africa, Botswana, Zimbabwe, Namibia, Lesotho, Eswatini, Mozambique and Malawi.
However, such travel bans would be no little use as countries need to shut down their borders and impose inbound and outbound flight bans and lockdowns to better control the spread.
New reports suggest the Omicron variant may have already been spreading through western Europe when scienti sts in South Africa detected it last week.
Based on the South African scenario where the Omicron variant has displaced the Delta variant in less than a month, experts predict that the enhanced transmissibility and replication rate of the new variant would enable it to displace the Delta variant globally in less than two months!
As of the last 24 hours, up to 81 percent of all genomic sequencings in South Africa is turning up the new Omicron variant.
More preliminary research data should be available by this coming weekend from 19 different research teams across the United States, Europe and South
Africa.
Please help to sustain this site and also all our research and community initiatives by making a donation. Your help means a lot and helps saves lives directly and indirectly and we desperately also need financial help now.
https://www.thailandmedical.news/p/sponsorship
Keep on logging to Thailand Medical News for more
Omicron Updates
.