WARNING! Incidences Of Acute Pancreatitis As A Result Of SARS-CoV-2 Infections Rising!
COVID-19 News
: Thailand Medical News is highlighting a medical condition that the medical community is failing to recognize, which is increasing as a result of individuals being exposed to the SARS-CoV-2 virus and also due to the issue of SARS-CoV-2 viral persistence.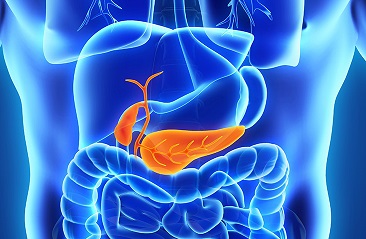 To date, there has been more than two hundred documented cases studies published by researchers and clinicians detailing the incidences of acute pancreatitis following SARS-CoV-2 infections. (Please refer to links below for some of the selected case studies.) Incidences of acute pancreatitis following exposure to the SARS-CoV-2 virus is increasing at a worrisome rate with implications for more serious long term complications.
Pancreatitis is inflammation of the pancreas. The pancreas is a long, flat gland that sits tucked behind the stomach in the upper abdomen. The pancreas produces enzymes that help digestion and hormones that help regulate the way as to how the body processes sugar (glucose).
Acute pancreatitis is a serious condition where the pancreas becomes inflamed over a short period of time.
Typically, most individuals with acute pancreatitis improve within a week and experience no further problems, but severe cases can have serious complications and can even be fatal.
The main symptom of acute pancreatitis is a severe, dull pain around the top of the stomach that develops suddenly.
This aching pain often gets steadily worse and can travel along your back or below your left shoulder blade. Eating or drinking may also make one feel worse very quickly, especially fatty foods.
Leaning forward or curling into a ball may help to relieve the pain, but lying flat on your back often increases the pain.
Other symptoms of acute pancreatitis signs and symptoms may include:
-Tenderness when touching the abdomen
-Fever
-Rapid pulse
-Nausea
-Vomiting
-Diarrhoea
-Indigestion
-Jaundice
As the ACE2 receptors have been found in the pancreas, some researchers suggest that direct viral infection and viral persistence is involved in the emergence of acute pancreatitis.
https://www.thailandmedical.news/news/coronavirus-news-cedars-sinai-medical-center-study-confirms-that-the-sars-cov-2-virus-infects-the-pancreas-directly
https://pubmed.ncbi.nlm.nih.gov/32334082/
https://www.ncbi.nlm.nih.gov/pmc/articles/PMC8646749/
https://www.frontiersin.org/articles/10.3389/fendo.2020.596898/full
https://www.biorxiv.org/content/10.1101/2020.07.23.208041v2
https://www.nature.c om/articles/s41467-021-23886-3
The ability of the SARS-CoV-2 virus to infect the pancreas cells and tissues is also what is driving the onset of diabetes in many Post COVID individuals. This has been covered in numerous studies and previous
COVID-19 News
reports.
https://www.thailandmedical.news/news/breaking-sars-cov-2-directly-infects-the-pancreatic-islets-and-causes-pancreatic-inflammation-that-can-lead-to-post-covid-hyperglycemia-and-other-issu
https://www.thailandmedical.news/news/covid-19-research-cases-of-covid-19-patients-developing-diabetes-for-first-time-can-be-due-to-high-ace2-expression-in-pancreatic-islet-cells-during-in
https://pubmed.ncbi.nlm.nih.gov/34241597/
https://www.ncbi.nlm.nih.gov/pmc/articles/PMC8772979/
https://www.mdpi.com/2077-0383/12/3/1159
https://academic.oup.com/jcem/advance-article/doi/10.1210/clinem/dgad165/7084314
However, what is more worrying is that SARS-CoV-2 infiltration into the pancreas can lead serious organ damage and ultimately organ failure.
https://www.cghjournal.org/article/S1542-3565(20)30537-1/fulltext
https://www.mdpi.com/1422-0067/23/2/864
https://www.hkmj.org/abstracts/v27n2/157.htm
https://www.ncbi.nlm.nih.gov/pmc/articles/PMC8776154/
Studies have also indicated that the pancreas can also serve as a reservoir for the SARS-CoV-2 virus during viral persistence.
https://www.nature.com/articles/s42255-021-00347-1
https://pubmed.ncbi.nlm.nih.gov/36672197/
https://elifesciences.org/articles/78200
https://assets.researchsquare.com/files/rs-1139035/v1_covered.pdf?c=1640020576
What is interesting however is that most Post COVID individuals who go on to develop diabetes or suffer pancreas damage and even pancreatic cancer typically develop acute pancreatitis first!
If the medical community could initiate early health screenings and develop treatment protocols to not only treat the pancreatic inflammation but also to deal with the virus and viral persistence, then a lot of cases of new onset diabetes and conditions associated with pancreatic damage and failure can be nipped in the bud in the early stages.
This is one area of research that needs to be addressed urgently as the incidences of new onset of diabetes after COVID-19 infections is rising exponentially along with incidences of pancreatic damage and organ failure and also pancreatic cancer. (We are coming up with a separate article as to how SARS-CoV-2 is contributing to the rise of pancreatic cancers!)
But most importantly, early diagnosis and early intervention coupled with identifying proper therapeutics to deal with SARS-CoV-2 presence and viral persistence in the pancreas is crucial at this stage.
For the latest
COVID-19 News
, keep on logging to Thailand Medical News.
Some of the many case reports and studies on COVID-19 associated acute pancreatitis.
https://journals.sagepub.com/doi/full/10.1177/2050313X231175288
https://www.mdpi.com/2036-7503/13/4/65
https://www.hindawi.com/journals/grp/2021/5579795/
https://academic.oup.com/bjs/article/107/10/e379/6139395?login=false
https://onlinelibrary.wiley.com/doi/10.1002/jmv.26440
https://www.sciencedirect.com/science/article/pii/S1413867020301392?via%3Dihub
https://www.reed.es/sars-cov-2-and-acute-pancreatitis-a-new-etiological-agent5461
https://www.sciencedirect.com/science/article/pii/S1424390320301885
https://www.ejcrim.com/index.php/EJCRIM/article/view/2712
https://www.jstage.jst.go.jp/article/internalmedicine/60/13/60_7400-21/_article
https://www.sciencedirect.com/science/article/pii/S0025775320303547
https://www.cureus.com/articles/38297-acute-pancreatitis-in-mild-covid-19-infection#!/
https://www.ncbi.nlm.nih.gov/research/coronavirus/publication/36185634
https://www.sciencedirect.com/science/article/pii/S1424390322000096
https://www.ncbi.nlm.nih.gov/research/coronavirus/publication/33547182
https://www.sciencedirect.com/science/article/pii/S0025775321000257?via%3Dihub
https://www.cureus.com/articles/79293-acute-pancreatitis-due-to-covid-19-active-infection#!/
https://www.sciencedirect.com/science/article/pii/S1876034122000089
https://www.wjgnet.com/1007-9327/full/v28/i19/2034.htm
https://www.wjgnet.com/1948-9366/full/v13/i6/548.htm
https://amjcaserep.com/abstract/full/idArt/927076
https://jcpsp.pk/article-detail/can-covid19-cause-pancreatitis-a-rare-complication-of-sarscov2-infection
https://www.journalmc.org/index.php/JMC/article/view/3766
https://jmedicalcasereports.biomedcentral.com/articles/10.1186/s13256-021-03026-7
https://www.cghjournal.org/article/S1542-3565(21)00523-1/fulltext
https://caspjim.com/article-1-2467-en.html
https://onlinelibrary.wiley.com/doi/10.1002/ccr3.6628