Outbreak News: Taiwan Facing A Deluge Multiple Enterovirus Strains At Epidemic Proportions!
Outbreak News
: Taiwan's CDC's Epidemic Intelligence Center director, Dr Kuo Hung-Wei told media that country is facing a deluge of a variety of enterovirus strains that is starting to cause a strain on healthcare staff and facilities.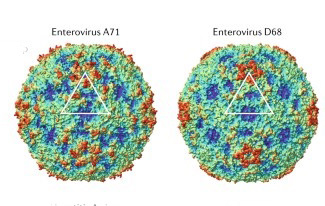 Accordingly, circulating strains of enteroviruses in the country includes the enterovirus A71, enterovirus D68, coxsackievirus A4, coxsackievirus A6, echovirus 11 and echovirus 21 according to data released by various laboratories contracted to Taiwan's Ministry of Health.
At present, various serotypes of the Coxsackie A virus accounted for the vast majority of enterovirus infections in the country cases with about 71.8 percent identified as Coxsackievirus A4. However, preliminary data and signs are indicating that the enterovirus 71 and enterovirus D68 strains are also starting to rise in various parts of the country.
These multiple strains are also posing the threat of individuals getting reinfected with a different strain after an initial infection.
The deputy director for Taiwan's CDC Epidemic Intelligence, Dr Lee Chia-Lin said there were 11,252 hospital visits due to enteroviruses last week, exceeding the epidemic threshold of 11,000 weekly visits.
An epidemic period is defined as the weekly number of outpatients and visits to emergency rooms exceeding 11,000 for two consecutive weeks, according to the CDC.
The current hospitalizations figures for enterovirus also represents an increase of 10 percent compared with the week before when there were 10,066 hospitalizations. Worryingly, the increasing trend seems to be continuing. The present caseloads have also exceeded recorded figures registered the last time the country had experienced an enterovirus crisis in 2017 as reported in various past
Outbreak News
coverages.
According to health officials, Taiwan recorded three cases of enterovirus infection with severe complications, ending in fatal outcome, respectively, associated with enterovirus D68, coxsackievirus A6, and echovirus 21.
Another eight people infected with enterovirus 71 had developed complications and are in ICU.
Accordingly, the latest severe case involves a boy whose lips turned blue, known as cyanosis, and developed slowness, a symptom of neurological disease, and was admitted to an intensive care unit and confirmed as having complications of echovirus 21.
Echovirus 21 is different from echovirus 11, which emerged as a predominant enterovirus strain and was associated with neonatal mortalities in Taiwan in 2018.
Echovirus can affect individuals of all ages, clusters of transmissions primarily occur among newborn babies.
What Are Enteroviruses?
The enterovirus is a genus of positive-sense single-stranded RNA viruses associated with several human diseases. Enteroviruses are named by their transmission-route through the intestine ('enteric' meaning intestinal).
Enteroviruses are often found in the respiratory secretions (e.g., saliva, sputum, or nasal mucus) and stool of an infected person. Historically, poliomyelitis was th e most significant disease caused by an enterovirus, namely poliovirus. There are 81 non-polio and 3 polio enteroviruses that can cause disease in humans. Of the 81 non-polio types, there are 22 Coxsackie A viruses, 6 Coxsackie B viruses, 28 echoviruses, and 25 other enteroviruses.
Enteroviruses such as the Poliovirus, as well as coxsackie and echovirus, are spread through the fecal–oral route. Infection can result in a wide variety of symptoms, including those of: mild respiratory illness (the common cold), hand, foot and mouth disease, acute hemorrhagic conjunctivitis, aseptic meningitis, myocarditis, severe neonatal sepsis-like disease, acute flaccid paralysis, and the related acute flaccid myelitis.
Most individuals who contract enterovirus have mild symptoms lasting about a week. Those with higher risk may have more complications, sometimes becoming fatal. The most common sign of enterovirus is a common cold. More intense symptoms of enterovirus include hypoxia, aseptic meningitis, conjunctivitis, hand, foot and mouth disease, and paralysis.
Coxsackievirus A4 (CVA4) is one of the most prevalent pathogens associated with hand, foot and mouth disease (HFMD), an acute febrile illness in children, and is also associated with acute localized exanthema, myocarditis, hepatitis and pancreatitis.
Coxsackievirus A6 is an increasingly more common cause of hand-foot-and-mouth disease (HFMD), often with atypical presentation, more severe disease, and association with HFMD in adults.
Enterovirus A71 (EV71), is a virus notable for its role in causing epidemics of severe neurological disease and hand, foot, and mouth disease in Enterovirus 71 infrequently causes polio-like syndrome permanent paralysis.
Enterovirus D68 (EV-D68) is suspected of causing a polio-like disorder called acute flaccid myelitis (AFM). EV-D68 almost exclusively causes respiratory illness, which varies from mild to severe, but can cause a range of symptoms, from none at all, to subtle flu-like symptoms, to debilitating respiratory illness and a suspected rare involvement in a syndrome with polio-like symptoms. Like all enteroviruses, it can cause variable rashes, abdominal pain and soft stools. Initial symptoms are similar to those for the common cold, including a runny nose, sore throat, cough, and fever. As the disease progresses, more serious symptoms may occur, including difficulty breathing as in pneumonia, reduced alertness, a reduction in urine production, and dehydration, and may lead to respiratory failure.
Echovirus 11 (ECHO 11) can cause severe inflammatory illnesses in neonates, including severe acute hepatitis with coagulopathy.
Echovirus 21 (E21) typically causes more disease severity and is frequently associated with acute flaccid paralysis.
There are speculations that Post COVID associated immune dysfunctions and also COVID-19 induced immunodeficiencies are behind the rise in opportunistic infections including those by enteroviruses.
For the latest
Outbreak News
, keep on logging to Thailand Medical News.