UK COVID-19 News: Weekly COVID-19 Hospitalizations In United Kingdom Rises By 20 Percent! 2,171 COVID-19 Hospitalizations Despite Claims EG5.1 Is Mild!
COVID-19 News
: Latest data released by the UK government shows that weekly COVID-19 hospitalizations are continuing to rise despite claims by many so called 'experts' that the predominant SARS-CoV-2 variant is circulation i.e. EG.5.1 only causes mild infection!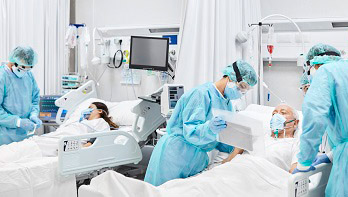 Date released in the last few hours showed an increase of 20 percent in term of weekly COVID-19 hospitalizations with 2,171 new hospitalizations over the past week!
https://coronavirus.data.gov.uk/details/healthcare?areaType=nation&areaName=England
What is worrying is that many the data shows that any young adults are also now experiencing disease severity, requiring hospitalization and not just the old and aged!
Data from the Zoe app shows that there were 67, 830 new symptomatic COVID-19 infections reported for just the 16
th
of August.
https://health-study.joinzoe.com/data
It should be noted that the data form the Zoe app is merely a rough figure and that actual caseloads could be much higher.
It also being reported in local
COVID-19 News
coverages that COVID-19 testing is at a very miniscule level in the United Kingdom at present. According to a report in the Mirror, "There were a total of just 32,336 tests taken in England in the seven days leading up to 5
th
of August 2023, according to the government's figures - compared to 4.8 million at the same point in 2021."
https://www.mirror.co.uk/news/uk-news/interactive-covid-map-reveals-cases-30727420
The UK government has removed al free COVID-19 testing facilities and individuals have to pay for COVID-19 testing either at hospitals or clinics or procure COVID-19 test kits at their own cost.
This puts many people off from getting a test done. Hence it can be assumed that the actual COVID-19 caseloads could be much higher than being reported.
Also, asymptomatic cases and reinfections are not being properly tracked in the country.
At present, there are few ways to track the prevalence of COVID-19 in England since the UK authorities put an end of wastewater monitoring last March, the end of Office for National Statistics COVID-19 survey in March this year, and gradual reduction of testing in hospitals.
It was reported that around 7th July 2023, cases were thought to have fallen to their lowest since the summer of 2020. However, since the start of August, daily hospital admissions have risen, and on 4
th
of August were more than double the figure four weeks earlier.
Experts are warning that protection from previous COVID-19 infections will also be waning in the absence of a large wave for several months. Hence, It is likely that this wave involving the EG.5.1 and other new SARS-CoV-2 s ub-lineages is hitting a more susceptible population than the last few, and this might be enough to drive a large wave this September when coupled with return to school and work and more time spent inside, where the virus spreads most easily.
It should also be noted that COVID-19 Infections are also not harmless simply because they are causing fewer hospital admissions than previous surges – the issue of Long COVID remains an ongoing significant problem and threat, damaging people's lives (eg through persistent fatigue or cognitive issues, pains etc), as well as taking them out of the workforce.
For the latest UK
COVID-19 News
, keep on logging to Thailand Medical News.