Dengue News: Cambodia Records 21,568 Dengue Fever Cases In The First Nine Months Of 2023, A 184 Percent Rise Over The Same Period Last Year!
Dengue News
: Dengue fever has surged dramatically in Cambodia, with a staggering 184 percent rise in cases during the first nine months of 2023 compared to the same period in the previous year. Health officials are sounding the alarm as the disease claims lives and poses a significant public health challenge in the country.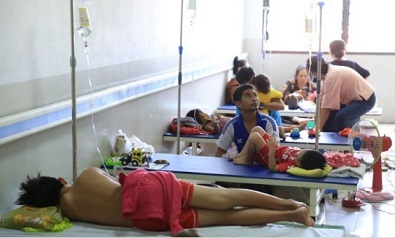 According to Leang Rithea, the National Dengue Program manager and deputy director of the National Centre for Parasitology and Malaria Control, Cambodia reported a total of 21,568 cases of dengue fever from January to September 2023, up from 7,597 cases during the same period in 2022. Tragically, the disease has claimed the lives of 38 individuals during this period, a marked increase from the 14 deaths recorded in the previous year.
In response to this alarming trend, the Ministry of Health has taken proactive measures to combat the spread of dengue fever. Health Minister Chheang Ra has instructed provincial health departments across the country to distribute Abate, a chemical substance used to eliminate mosquito larvae from water pots, and to conduct widespread insecticide spraying since August. The collaborative effort with development partners and organizations aims to curtail the outbreak of dengue fever and mitigate its impact on the population.
Dengue fever is a viral illness transmitted through the bite of the Aedes mosquito, known for its day-biting habits. Common symptoms of dengue fever include severe headache, high fever reaching up to 40 degrees Celsius, fatigue, intense muscle and joint pain, swollen glands, vomiting, and skin rash. Timely medical attention is crucial, and parents are strongly advised to seek medical care for their children within 48 hours if they suspect dengue infection.
Additionally, authorities have called upon households to eliminate potential breeding sites for mosquitoes by filling in puddles and stagnant water around their homes. These stagnant water sources are breeding grounds for Aedes mosquitoes, contributing to the rapid spread of the disease.
The seasonal nature of dengue fever in Cambodia is well-documented, with the peak of the epidemic typically occurring during the rainy season, from May to October. During this period, the Aedes mosquito population thrives, making it imperative for citizens to remain vigilant and take preventive measures.
The Ministry of Health has also reissued its warning via various local
Dengue News
media outlets, emphasizing that dengue fever is on the rise and that the population should take immediate steps to prevent a large-scale outbreak of the disease. Cambodia is currently in a five-to-six-year cycle of the disease, when the population's immunity weakens, making them more susceptible to dengue infection.
To mitigate the risk of dengue fever, the Ministry recommends adhering to five key principles and measures:
-Regularly destroy mosquito larvae by treating water storage areas with pesticides.
-Maintain cleanliness and proper maintenance of construction sites, especially water tanks and reservoirs.
-Ensure that discarded car tires do not become breeding grounds for mosquitoes.
-Maintain clean and well-lit homes, eliminate mosquito breeding site s, wear protective clothing during the day, and use mosquito nets while sleeping.
-Seek immediate medical attention if symptoms of dengue fever appear.
This year, the highest number of dengue cases has been reported in Phnom Penh, as well as in the provinces of Kandal, Tboung Khmum, Banteay Meanchey, and Siem Reap. As Cambodia grapples with this alarming surge in dengue fever cases, public awareness and concerted efforts to eliminate mosquito breeding sites remain crucial in the fight against this deadly disease.
For the latest
Dengue News
, keep on logging to Thailand Medical News.