Amazing! WHO Has Been Reporting About COVID-19 Cases And Deaths In Brazil But No Mainstream Media In Brazil Has Been Mentioning It!
COVID-19 News
: In the last two of WHO's weekly epidemiological updates on COVID-19, Brazil has been mentioned as being among the countries with a high number of COVID-19 infections and COVID-19 deaths.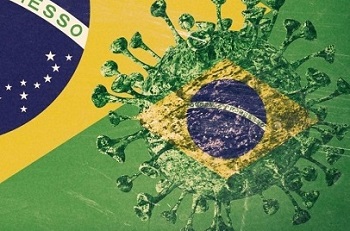 It was reported in the last WHO'S update that in the last 28 days, there were 45, 642 new COVID-19 cases and 695 COVID-19 deaths in Brazil!
https://www.who.int/publications/m/item/weekly-epidemiological-update-on-covid-19---3-august-2023
The week before, there were Brazil 48 548 new cases, and 769 COVID-19 deaths for the 28-day period!
https://www.who.int/publications/m/item/weekly-epidemiological-update-on-covid-19---27-july-2023
As a result of COVID-19 testing rates being extremely low, the official COVID-19 figures on Brazil by the WHO might not reflect the actual magnitude of the COVID-19 crisis in the country as caseloads could actually be much higher.
There is miniscule genomic sequencing being done in Brazil in the last 3 months!
https://cov-spectrum.org/explore/Brazil/AllSamples/Past6M/sequencing-coverage
Interestingly, none of local main mainstream media or
COVID-19 News
outlets in Brazil are covering the COVID-19 situation in the country and neither are any of the international wire agencies.
It is as if a total media blackout with regards to COVID-19 has been imposed for Brazil.
To people outside the country, it is as if there are no COVID-19 cases Brazil and even interesting is that the mysterious outbreak of a respiratory illness that was affecting many children and also adults in Paraiba, Bahia and Amapa in Brazil that was also killing many was suddenly silenced!
https://www.thailandmedical.news/news/breaking-news-parts-of-brazil-runs-out-of-oxygen-supplies-as-new-sars-cov-2-and-flu-onslaught-is-wreaking-havoc-and-killing-many-especially-children
https://www.thailandmedical.news/news/what-s-really-brewing-in-brazil-independent-news-outlets-reporting-about-catastrophic-covid-19,-rsv-and-flu-situation-in-paraiba,-bahia,-amapa
It is as if everything was resolved despite the fact that we are hearing reports from doctors that the situation has actually grown worse!
Even reports about other respiratory outbreaks in Chile and Argentina etc are all being silenced including about possible H5N1 infections involving human to human transmissions in Chile.
If the stories, speculations or claims of these outbreaks were false, there could at least have been some official statements from the relevant agencies. Instead, there has been no reactions nor media coverages and even the smaller independent news agencies in Brazil and elsewhere in South America who had been covering these incidences initially have now also been silenced with many of their staff scared to make any official comments to other media!
This is the state of things at the moment, entities like the UN, WEF and various governments, mainstream media, social media platforms and international wire agencies are all being controlled by those elites directing the COVID-19 narratives and the ignorant masses are simply unaware of what is really happening in their own countries as well as elsewhere!
We anticipate the impending catastrophic COVID-19 surge in late Autumn and Winter of 2023 along with the possible H2H H5N1 outbreak in the same period to be highly downplayed or concealed.
For the latest
COVID-19 News
, keep on logging to Thailand Medical News.