Australia Bureau of Statistics (ABS) Reports That COVID-19 Is The Third-Leading Cause Of Death In Australia In 2022 With Omicron Being Responsible!
COVID-19 News
: The COVID-19 pandemic has left an indelible mark on societies across the globe, and Australia is no exception. Recent data from the Australia Bureau of Statistics (ABS) paints a stark picture: COVID-19 has emerged as the third-leading cause of death in the country in 2022.
https://www.abs.gov.au/statistics/health/causes-death/causes-death-australia/2022#key-statistics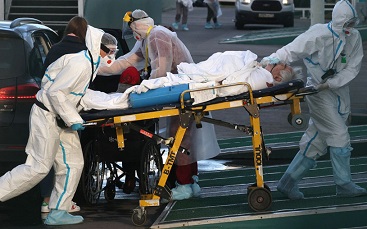 There also seems to be no improvements for 2023 either, with accumulated deaths and excess deaths due to COVID-19 continuing to rise.
Unprecedented Increase in Deaths
The ABS reports reveal a startling surge in the number of deaths in Australia during 2022. A total of 190,939 deaths were registered, which is nearly 20,000 more than the previous year. This increase can be attributed to various factors, but the most prominent among them is the relentless spread of COVID-19.
COVID-19 Takes Center Stage
Perhaps the most concerning revelation from the ABS reports is the rise of COVID-19 as the third-leading cause of death in Australia. With 9,859 deaths attributed to the virus in 2022, it is a chilling reminder of the pandemic's toll on human life.
A further 2,782 people, who died of other causes, had COVID-19 mentioned as a contributory cause of death on their death certificate, the ABS said.
In 2020, the SARS-CoV-2 virus was the 38th leading cause of death, and in 2021, it was 33rd on the list.
It is the first time since 2006 that there has been a change in the top five causes of death.
To put this in perspective, it's worth noting that the last time an infectious disease featured in the top 5 leading causes of death in Australia was in 1970, with influenza and pneumonia.
The rate of death from COVID-19 has increased by 23.7 deaths per 100,000 since 2021 and 24.5 since 2020. In these years it was the 33rd and 38th leading cause of death.
The SARS-CoV-2 virus was responsible for more than one in 20 deaths in 2022 in Australia, making it the third-leading cause of death behind coronary heart disease and dementia.
Ischaemic heart disease, a longstanding health concern, maintained its position as the leading cause of death. However, the emergence of COVID-19 as a significant contributor to mortality rates is a stark departure from the norm.
The five leading causes of death, in order, were: Heart disease, Dementia, including Alzheimer's disease, COVID-19, Cerebrovascular diseases and Lung cancer
The Omicron Variant's Impact
The ABS data underscores the dominant role played by the Omicron variant in 2022. This highly contagious strain of the virus drove multiple waves of infections throughout the year, contributing significantly to the increased mortality rate. New South Wales and Victoria were the hardest-hit regions, with the highest number of COVID-19-related deaths.
It is interesting to note that to this very day, Western experts and
cal.news/articles/coronavirus">COVID-19 News
coverages in Western mainstream media keep on stressing that the Omicron variants and sub-lineage even the ones circulating these days are mild!
Interestingly excess deaths in many countries are simply rising even in 2023!
https://www.mortality.watch/
Aging Population and Excess Mortality
While it is expected that the number of deaths in Australia will increase over time due to an aging population, the age-standardized mortality rate typically decreases due to advancements in medical care and treatments. However, the surge in deaths in 2022 led to Australia experiencing excess mortality, a phenomenon where the actual mortality rate exceeds the expected rate. This is a concerning trend that merits further analysis and attention.
Demographic Insights
The ABS reports provide valuable demographic insights into those who succumbed to COVID-19. The median age of COVID-19-related deaths was 85.8 years, higher than the average age of death from all causes, which was 82.2 years.
More than half were male (5,484 male deaths and 4,375 female deaths). In all presented age groupings below, there were more male deaths in each age group.
Pneumonia was the most common acute disease outcome and was present in 41.7% of COVID-19 deaths in 2022.
Cardiac conditions were the most commonly reported pre-existing conditions and were present in 33.0% of COVID-19 deaths in 2022.
New South Wales (3,608 deaths) and Victoria (2,956 deaths) had the highest number of deaths.
For those who died with COVID-19 as a contributory condition:
The most common underlying cause of death was Dementia, including Alzheimer's disease (489 deaths).
Other Notable Trends
The ABS reports also shed light on other notable trends in causes of death. While heart disease and strokes, two long-standing leading causes of death, have seen a decline in mortality rates over the past decade, deaths due to dementia have increased by a staggering 56%. Diabetes-related deaths also rose by nearly 40%, though it remained the seventh-leading cause over the same period.
Another concerning finding is the increase in alcohol-induced deaths, with the rate of such deaths rising by 9.1% in 2022. This marks the fourth consecutive year of an increase in alcohol-related deaths in Australia, prompting concerns from health experts and organizations.
Conclusion
The ABS reports for 2022 and early 2023 paint a grim picture of the impact of COVID-19 on Australia's mortality landscape. With the virus emerging as the third-leading cause of death and the Omicron variant driving a surge in fatalities, the nation faces a significant public health challenge. The demographic insights provided by the ABS reports highlight the vulnerability of certain populations, particularly those with pre-existing cardiac conditions.
In addition to the COVID-19 pandemic, other concerning trends such as the rise in dementia and diabetes-related deaths, as well as alcohol-induced deaths, warrant attention and action. As Australia continues to grapple with the evolving landscape of public health challenges, it is imperative for policymakers, healthcare professionals, and the community to work collaboratively to mitigate these trends and safeguard the well-being of the population.
For the latest
COVID-19 News
, keep on logging to Thailand Medical News.