Breaking! Spanish Study Shows That Nosocomial COVID-19 Infections Have Worse Outcomes And Higher Mortality Risk That Community-Acquired COVID-19!
COVID-19 News
: Shocking findings from a Spanish study have revealed that nosocomial COVID-19 infections, which occur within healthcare settings, are associated with worse outcomes and higher mortality risks compared to community-acquired cases.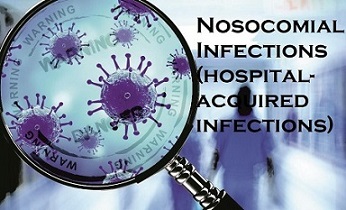 This new groundbreaking research sheds light on the devastating impact of hospital-transmitted COVID-19 infections, highlighting the urgent need for strengthened preventive measures within healthcare facilities including masking, air filtration and disinfection systems etc.
Ironically the study findings come at a time when many governments and health authorities are relaxing COVID-19 preventive measures in hospitals including masking for healthcare staff! Latest
COVID-19 News
reports show that even some states in the America and Canada are even asking healthcare staff to not wear mask except in surgery settings!
https://www.wbur.org/news/2023/05/05/mask-policy-hospitals-covid-massachusetts
https://www.washingtonpost.com/health/2023/05/01/mask-mandate-hospital-covid/
https://www.cbc.ca/news/health/mask-mandates-canada-hospitals-long-term-care-1.6811240
https://www.cbsnews.com/news/covid-19-cdc-says-some-nursing-homes-and-hospitals-no-longer-need-to-require-masks/
https://www.inquirer.com/health/coronavirus/hospital-mask-covid-mandate-philadelphia-new-jersey-20230414.html
The COVID-19 pandemic has wreaked havoc worldwide, with almost 700 million reported infections and 6.8 million deaths. Hospitals have faced immense challenges in dealing with the overwhelming number of cases, and despite efforts to control the spread of the virus, nosocomial infections have been reported.
Nosocomial COVID-19 (NC) infections refer to cases where individuals are admitted to hospitals for non-COVID-19-related illnesses but acquire the virus during their hospital stay.
The Spanish study, conducted from March 2020 to April 2021, aimed to compare the symptoms, outcomes, and risk factors between patients with NC and those with community-acquired COVID-19 (CAC). The nationwide, retrospective, multicenter, observational study analyzed data from 23,219 hospitalized COVID-19 patients across 150 Spanish hospitals.
The study findings revealed stark differences between Nosocomial COVID-19 Infections and Community-Acquired COVID-19 patients. NC patients tended to be older, had more comorbidities, and were less symptomatic compared to CAC patients. Surprisingly, NC patients were also more likely to have normal chest X-rays. However, despite the lower severity of symptoms, NC patients had higher rates of complications such as acute heart failure, sepsis, and readmission.
Shockingly, the case fatality rate was significantly higher among NC patients, with a 39.1% mortality rate compared to 19.2% among CAC patients.
Further detailed analysis showed that NC patients had a higher risk of in-hospital mortality (IHM) even after adjusting for factors such as age, sex, comorbidities, and COVID-19 wave. Risk factors associated with increased IHM among NC patients included age, dependence, malignancy, dyspnea, acute respiratory distress syndrome (ARDS), multiple organ dysfunction syndrome, and shock. Interestingly, odynophagia was associated with lower IHM.
These study findings highlight the urgent need to strengthen hospital strategies to prevent Nosocomial COVID-19 infections.
The study suggests implementing multidimensional approaches, such as establishing dedicated hospital isolation areas, strict monitoring for acute respiratory illness, and universal infection prevention measures like mask usage, hand hygiene, proper ventilation, and regular cleaning and disinfection. The study also recommends considering regular microbiological screening of all patients admitted to non-COVID-19 wards and limiting patient movement between wards and the number of hospital visitors.
The study's large sample size and nationwide design contribute to the robustness of its findings. However, it is important to note the study's limitations, including its observational nature, which prevents establishing causal relationships, and the lack of data on frailty and geriatric syndromes. Additionally, the study's findings may not be applicable to settings with fewer healthcare resources.
However, these findings serve as a wake-up call for healthcare systems worldwide. Preventing nosocomial COVID-19 Infections is crucial not only to reduce the burden on hospitals but also to save lives. By implementing comprehensive infection prevention and control protocols, hospitals can minimize the risk of transmission and protect vulnerable patients from the devastating consequences of nosocomial COVID-19 infections.
The study findings were published in the peer reviewed journal: Gerontology (Karger)
https://karger.com/ger/article/69/6/671/836268/Nosocomial-COVID-19-A-Nationwide-Spanish-Study?searchresult=1
For the latest
COVID-19 News
, keep on logging to Thailand Medical News.
PLEASE HELP SHARE THIS ARTICLE TO AS MANY AS YOU CAN AS PEOPLE NEED TO NOW ABOUT THE RISKS AND DANGERS OF GETTING EXPOSURED TO SARS-COV-2 IN HOSPITALS ESPECIALLY THE ELDERLY!