U.S. News: Tornadoes Ravage the Midwest and South With 5 Dead In Southeastern Missouri, More Bad Weather Expected In Next Few Days
U.S. News
: A series of devastating tornadoes have been tearing through the Midwest and South of the United States, causing widespread destruction, and tragically leaving at least five people dead and many injured in southeastern Missouri.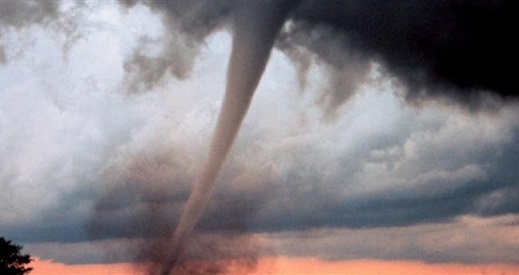 With the early storm season in full swing, forecasters are closely monitoring the situation, warning of the potential for further extreme weather, including more tornadoes, hail, and high winds. Communities across the region are on high alert, with millions of people in major cities like Chicago, Indianapolis, Detroit, and Memphis at risk from these powerful storms.
In the early hours of Wednesday morning, a large tornado tore through rural Bollinger County in southeastern Missouri, with estimated peak wind speeds of 130 mph (228 kph). It uprooted trees, turned homes into piles of splinters, and even flipped one building on its side. The tornado remained on the ground for approximately 15 minutes, traveling an estimated 15-20 miles (24-32 kilometers).
The twister caused significant destruction in and around the small rural communities of Glen Allen and Grassy, separated by a hunting area. At least five people were killed and five others injured, while 87 buildings were damaged, with 12 of them completely destroyed.
This catastrophe has left residents and authorities scrambling to recover and provide assistance to those affected. Over 20 agencies have been actively searching for survivors and victims, with emergency crews sometimes forced to use chainsaws to cut back trees and brush to reach homes. Governor Mike Parson has joined emergency personnel on the ground to assess the damage and determine what resources are needed.
Unfortunately, this is just the latest event in a series of deadly storms that have been battering the nation's heartland over the past two weeks.
So far this year, at least 478 tornadoes have been reported across 25 states, doubling the average for this point in a single year. These twisters have been linked to at least 63 deaths, not including the fatalities in Southeastern Missouri.
Schools in Little Rock, Arkansas, were forced to cancel classes on Wednesday due to the storms, which were expected to move through the area during the morning rush.
In central Illinois, five people were injured, and about 300 homes were left without power after a tornado struck in Fulton County on Tuesday evening. Authorities credited residents for heeding advance warnings and taking shelter, which may have saved lives.
In the wake of these recent storms, officials are urging residents to remain vigilant and prepared. The National Oceanic and Atmospheric Administration's (NOAA) Storm Prediction Center has warned that parts of the Ohio River Valley could see severe weather on Wednesday night, with damaging winds, large hail, and potential tornadoes.
In the meantime, blizzard conditions and wicked winds have been wreaking havoc across the nation from the West Coast to the Southeast.
According to
U.S. News
outlets, high winds in Texas have fueled the "Bent Willow" wildfire near Amarillo, which has grown to 5,000 acres, leading to evacuations. Meteorologists have been particularly concerned about dangerous overnight tornadoes in the central U.S., advising residents to have shelter ready before going to bed.
The threat for severe storms is expected to lessen by Thursday, with only isolated severe storms anticipated for the East Coast. However, as the nation enters a time of year where the potential for severe weather increases, residents across the country are urged to stay alert and prepared for the destructive force of tornadoes and other extreme weather events. The next few days will see more extreme weather patterns across parts of the United States.
For the latest
U.S. Weather News
Updates and Coverages, keep on logging to Thailand Medical News.