The Shocking Truth About Alcohol Being A Carcinogenic Agent! Time for Warning Labels?
Health News
: The Canadian Centre on Substance Use and Addiction (CCSA) has stunned the world by releasing updated guidelines that claim there is no safe level of alcohol consumption.
https://ccsa.ca/sites/default/files/2022-08/CCSA-LRDG-Update-of-Canada%27s-LRDG-Final-report-for-public-consultation-en.pdf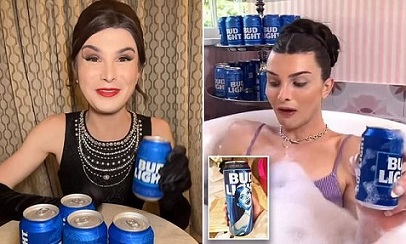 Sadly in America, they even have biological males with mental issues
promoting alcohol consumption to other mentally sick individuals
despite the cancer risk!
The guidelines suggest a maximum consumption of just two alcoholic drinks per week, challenging previous recommendations of 10 drinks per week for women and 15 per week for men.
This controversial statement has not only shaken the foundations of the Canadian health system but also garnered international attention and ignited debate on the necessity of warning labels on alcoholic beverages.
A decade of revolutionary scientific discoveries has shifted the consensus on the health impacts of alcohol. More than 5,000 studies have been reviewed by the CCSA, revealing that even small amounts of alcohol can have detrimental effects on health.
Moderate consumption of three to six drinks per week poses an increased risk of cancer, while seven or more drinks per week escalate the risks for heart disease and stroke. The lifetime risks of alcohol consumption show a steeper increase for women than men, largely due to biological differences.
One study has shown that nearly 4% of cancers diagnosed worldwide in 2020 can be attributed to alcohol consumption. In the United States alone, about 75,000 cancer cases and 19,000 cancer deaths are estimated to be linked to alcohol each year.
https://www.cancer.gov/news-events/cancer-currents-blog/2023/cancer-alcohol-link-public-awareness
https://www.thelancet.com/article/S1470-2045(21)00279-5/fulltext
Many other studies are also validating that alcohol consumption increases cancer risk.
https://www.ncbi.nlm.nih.gov/pmc/articles/PMC6705703/
https://www.ndph.ox.ac.uk/news/new-genetic-study-confirms-that-alcohol-is-a-direct-cause-of-cancer
https://jamanetwork.com/journals/jamanetworkopen/fullarticle/2795595
Despite the mounting evidence, many Canadians and individuals elsewhere around the world remain unaware of the risks associated with alcohol consumption.
https://www.aicr.org/news/most-americans-still- unaware-that-alcohol-is-a-cause-of-cancer/
In Europe, United States and Australia, more than half of those aged 15 and over consume over two drinks per week, while two in five are unaware that alcohol is a carcinogen.
The myth that moderate drinking can be beneficial for heart health persists, even though systematic reviews have debunked this claim.
Both the CCSA and the Canadian Cancer Society are advocating for the federal government to mandate warning labels on alcohol packaging. Such labels would inform consumers about the cancer risks associated with alcohol consumption and provide information about standard drink measurements. The CCSA argues that consumers have a right to clear and accessible information about the health and safety of the products they purchase.
The updated guidelines have provoked international debate, with the BBC referring to them as "drastic" compared to recommendations in other countries.
For instance, Australia and France suggest a maximum of 10 drinks per week, while the United Kingdom advises no more than 14 units or six standard drinks.
The World Health Organization (WHO) however highlights that "light" and "moderate" consumption contributes to half of all alcohol-attributable cancers in Europe.
https://www.who.int/europe/news/item/04-01-2023-no-level-of-alcohol-consumption-is-safe-for-our-health
Dr Carina Ferreira-Borges, a regional advisor for alcohol and illicit drugs at the WHO's European office, states, "We cannot talk about a so-called safe level of alcohol use. The only thing that we can say for sure is that the more you drink, the more harmful it is."
Scientists and experts from the WHO supports the implementation of warning labels on alcohol, noting that it is already classified as a high-risk carcinogen alongside asbestos, radiation, and tobacco.
One real-world study conducted in Yukon liquor stores which had cancer warnings on alcoholic beverages led to a decrease in per capita alcohol sales of over 6% compared to control sites.
https://www.jsad.com/doi/full/10.15288/jsad.2020.81.225
Coauthor of the study, Dr Erin Hobin from Dalla Lana School of Public Health, University of Toronto, told
Health News
media, "What we learned from that study was that the cancer labels grabbed consumer attention. They read the cancer warning very closely. They thought about that message. They talked to their neighbours and friends about that message."
The alcohol industry has met these findings with skepticism, questioning the CCSA's methodology and calling for an independent review of the updated guidelines.
CJ Helie of Beer Canada claims that the industry already voluntarily informs consumers to drink responsibly, negating the need for warning labels. Wine Growers of Canada are developing a QR code that manufacturers can voluntarily place on alcohol containers, directing consumers to information about responsible drinking.
However, some experts argue that these efforts are insufficient to fulfill the industry's legal duty to inform consumers of the risks, particularly if the risks are not widely known. Jacob Shelley, a director of the health ethics, law and policy lab at Western University, asserts that such warnings "are not just critical, they are required under the law," and that a manufacturer's obligation to inform is greater when a product is ingested.
Tobacco warning labels have proven effective in attracting consumer attention and increasing health knowledge, although their impact on behavior can diminish over time and varies depending on the size and design of the warning.
Health Canada appears hesitant to intervene in the matter. While the agency recognizes the serious and complex public health and safety issues presented by alcohol, it has not commented on the possibility of requiring warning labels. Nonetheless, the updated guidelines and the ongoing international debate suggest that the conversation surrounding alcohol consumption and its associated risks is far from over.
As the scientific evidence mounts and awareness of the dangers of alcohol consumption grows, it becomes increasingly urgent for governments and health organizations to take action. The implementation of warning labels on alcohol products may be a crucial step in ensuring consumers are well-informed about the potential risks and can make educated decisions about their consumption habits. As the debate continues, it remains to be seen whether Canada and other countries will adopt such measures to safeguard public health.
The groundbreaking findings from the CCSA, combined with the international debate on alcohol warning labels, have the potential to reshape public perception and policy around alcohol consumption. With so much at stake, it is crucial for governments, health organizations, and the alcohol industry to work together to ensure the safety and well-being of consumers. Will the shocking truth about alcohol consumption lead to widespread changes in the industry and public health guidelines? Only time will tell.
For the latest
Health News
, keep on logging to Thailand Medical News.