BREAKING News: Pope Francis Hospitalized Due To Unknown Respiratory Infection. Gloomy Holy Week And Easter Ahead
Breaking News
: Pope Francis, the 86-year-old pontiff, has been hospitalized with a respiratory infection that doctors have yet to be able to identify the pathogens or conditions causing it, sparking concerns about his health and ability to participate in the upcoming Holy Week events. The Vatican announced that the pope, who has had a history of medical issues, will remain in the Rome hospital for several days of treatment. Despite his breathing difficulties, Pope Francis does not have COVID-19, as confirmed by spokesman Matteo Bruni. (Not sure if it is H5N1 bird flu as Rome is always full of bird droppings especially at this time of the year due to bird migration patterns!)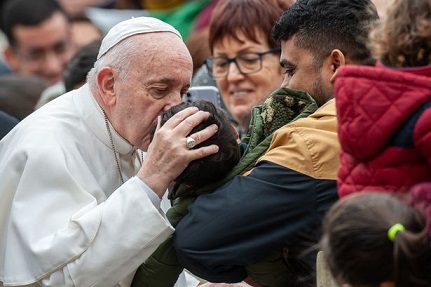 Bruni said Pope Francis had had trouble breathing in recent days and went to the Gemelli hospital Wednesday for tests. "The tests showed a respiratory infection (COVID-19 infection excluded) that will require some days of medical treatment in the hospital," Bruni's statement said. Francis appeared in relatively good form during his regularly scheduled general audience earlier Wednesday, though he grimaced strongly while getting in and out of the "popemobile." He nevertheless rode around the square as usual, kissing babies and greeting the faithful. (No news updates yet if any babies got infected.)
As a young man, Pope Francis had part of one lung removed due to a respiratory infection. He has been using a wheelchair for over a year because of strained ligaments in his right knee and a small knee fracture, and he suffers from diverticulitis, a common condition that can cause inflammation or infection of the colon. In 2021, he had surgery to remove part of his colon, and earlier this year, he reported that the condition had returned.
Pope Francis also has said he resisted having surgery for the knee problems because he didn't respond well to general anesthesia during the 2021 intestinal surgery. He said soon after the surgery that he had recovered fully and could eat normally. But in a January 2023, Pope Francis said his diverticulosis, or bulges in the intestinal wall, had "returned."
The Holy Father's health issues have prompted him to sign a resignation letter to be used in the event of becoming impaired. This letter, signed several years ago, follows the precedent set by past pontiffs, such as Paul VI and Pious XII. Pope Francis' immediate predecessor, Pope Benedict XVI, resigned from his position in 2013, citing advanced age as the reason and surprising the Catholic world.
Despite his health concerns, Pope Francis has remained active in his duties. Earlier this year, he visited the Democratic Republic of Congo and South Sudan, marking the first papal visit since South Sudan gained independence in 2011. (Not sure if he had contracted any new virus from the African continent.)
However, with the recent hospitalization as reported in various
Breaking News
coverages in the last few hours, it remains unclear whether the pope will be able to participate in the Holy Week events, including Palm Sunday, Holy Thursday, Good Friday, the Easter Vigil, and Easter Sunday on April 9.
The pope's hospitalization has led to an outpouring of prayers and well-wishes from people arou nd the world, including President Joe Biden and the Italian bishops conference.
Pope Francis has expressed his gratitude for the support and prayers, and he remains in the care of dedicated medical professionals as he undergoes treatment for his respiratory infection.
As Pope Francis faces this health challenge, the world watches and prays for his speedy recovery. His ongoing commitment to his faith and duties, even amid medical issues, highlights the strength and resilience of the pontiff.
This captivating story of the pope's health and his ongoing dedication to his role will surely capture the attention of millions, potentially going viral and inspiring conversations about faith, health, and perseverance.
For the latest
Breaking News,
keep on logging to Thailand Medical News.