BREAKING! Glasgow Researchers Warn Domestic Cats Are Becoming Viral Reservoirs For SARS-CoV-2 And Could Trigger A Whole New Crisis!
COVID-19 News
: Researchers from MRC-University of Glasgow Centre for Virus Research - Scotland and the School of Biodiversity at the University of Glasgow – Scotland are warning based on their study findings that domestic cats are increasing contracting circulating SARS-CoV-2 variants from human and that they could end up being viral reservoirs that can also lead to the emergence of more worrisome variants or recombinant variants that could be disastrous for humans!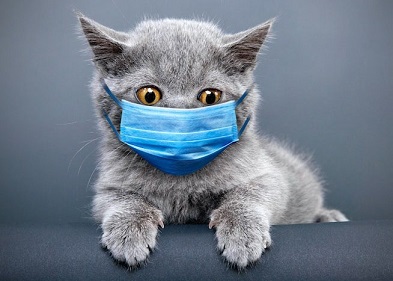 According to the study team, recent evidence confirming cat-to-human SARS-CoV-2 transmission has highlighted the importance of monitoring infection in domestic cats.
While the effects of SARS-CoV-2 infection on feline health are poorly characterized, cats have close contact with humans, and with both domesticated and wild animals.
The study team warns that cats could act as a reservoir of infection, an intermediate host and a source of novel variants.
Already, various
COVID-19 News
coverages are warning of the possibility of a new more virulent novel recombinant or reassortant variant emerging from SARS-CoV-2 infected wildlife or domesticated animals as the virus is now spreading exponentially among these groups.
In order to investigate the spread of the virus in the cat population, serum samples were tested for SARS-CoV-2 antibodies by ELISA and a pseudotype-based virus neutralization assay, designed to detect exposure to variants known to be circulating in the human population.
The study findings showed that overall seroprevalence was 3.2%, peaking at 5.3% in autumn 2021. Variant-specific neutralizing antibody responses were detected with titers waning over time. The variant-specific response in the feline population correlated with and trailed the variants circulating in the human population, indicating multiple ongoing human-to-cat spill-over events.
The study findings were published on a preprint server and are currently being peer reviewed.
https://www.biorxiv.org/content/10.1101/2022.11.18.517046v1
The study findings demonstrated that the seroprevalence of anti-SARS-CoV-2 antibodies in the UK domestic cat population has increased over time, consistent with results ascertained in a survey of 240 cats and dogs recently conducted in Canada and the very low seroprevalence observed in the first and second waves of the pandemic in both Thailand and the UK.
https://pubmed.ncbi.nlm.nih.gov/35608925/
https://www.ncbi.nlm.nih.gov/pmc/articles/PMC8240679/
https://pubmed.ncbi.nlm.nih.gov/34180590/
Accordingly, this may be explained by the persistence of the humoral response over time with a consequent accumulation in the number of seropositives in the population.
Although increased seroprevalence during the later months of the pandemic may mean the likelihood of human-to-cat transmission is greater for newer variants that are more readily transmitted between humans, this has not been experimentally investigated.
Numerous samples collected at later timepoints had their highest titer against the ancestral B.1 or Alpha variants, despite the dominant circulating lineage in humans being either Delta or Omicron at the time.
Interestingly, this may indicate the cats were infected during either the first or second (Alpha) wave of the pandemic and were not re-exposed during the subsequent Delta (third) or Omicron(fourth) waves, which is logical given the generally low overall seroprevalence.
However, a relationship is evident between the proportion of seropositives, with respect to dominant variant, detected at different timepoints and the waves of infection in the UK's human population.
Importantly, the dominant strain detected in cats appears to trail the emergence of each VOC into the human population, indicating repeated cross-species jumps between humans and cats and implicating owner-to-pet transmission as the primary route of infection, consistent with other serosurveys.
Longitudinal samples were available from five seropositive animals in the study. In four cases, neutralizing antibody titers waned over time, similar to findings in studies of both infected and vaccinated humans.
Though a definitive protective threshold antibody level for SARS-CoV-2 has not yet been established, waning neutralizing antibody levels in post-vaccinated human has been associated with re-infection and reduced protection against novel variants.
Increasingly, mucosal immunity and neutralizing IgA are believed to play important roles in the anti-SARS-CoV-2 response, due to the virus infecting hosts via the respiratory tract.
The study team says that further investigation into the feline mucosal immune response against SARS-CoV-2 may paint a clearer picture of the impact of waning serum neutralizing antibody titers on susceptibility.
It was noted that in the absence of sequence data, the variant to which the animal was exposed can only be inferred from serology, however, in some cases, the titer against the dominant variant was many times greater than the next highest titer, providing a strong case for it being the infecting variant.
Interestingly, three distinct patterns of immunity emerged according to which variant was neutralized most effectively, similar to previous findings in humans.
The study team said that it is likely the breadth and potency of variant specific neutralization is influenced primarily by both the antigenicity of the variant, and the viral load post-infection.
The trends observed for cats thought to have been infected with the B.1 variant are similar to the patterns of neutralization reported previously in humans.
Also, it was shown that humans vaccinated with a Wuhan-Hu-1- based vaccine develop lower neutralization titers against the Delta and Omicron variants than against B.1 or Alpha.
The distinct genetic and structural differences in the spike protein of Delta and Omicron could account for these variations in neutralizing antibody titers.
As all samples tested in this study were collected prior to March 2022, none showed Omicron dominant neutralization.
This study finding was as anticipated since only a small proportion of samples were collected after the emergence of Omicron in the UK.
Though seropositivity indicates a cat has previously been infected with SARS-CoV-2, it is possible that a higher proportion of cats could have been infected with the virus but never developed or no longer have detectable neutralizing antibodies.
Past human studies have identified small groups displaying either very low-level antibody responses post-vaccination or no detectable response at all – many of these cases are thought to be correlated with underlying conditions or autoimmunity.
Interestingly, a higher proportion of pedigree cats were seropositive compared to their non-pedigree counterparts - this finding approached statistical significance.
It was however noted that pedigree cats are more likely to be indoor-only and may therefore experience more close contact with their owners, meaning they are more exposed to SARS-CoV-2 if their owners become infected.
Also, it should be noted that the sample population examined in this study, while broadly representative of the UK's feline population, was inherently biased towards clinically sick animals. As all samples tested were remnants from diagnostic submissions, the majority of the animals would either have been showing signs of disease, newly rescued or under observation at the time of sampling. This means certain breeds that might be more susceptible to disease could have been overrepresented. For example, pedigree cats constitute approximately 10% of the UK feline population but made up 31% of the samples included in this study, perhaps reflecting a higher morbidity in pedigree cats or increased willingness of pedigree cat owners to spend money on diagnostic testing.
Also, it is possible that SARS-CoV-2 seroprevalence could be higher in the population sampled, since cats attending veterinary clinics might be more likely to have genetic factors, immunosuppression or comorbidities which affect susceptibility to infection.
The study findings demonstrate the importance of widespread testing of cats, to detect SARS-CoV-2 exposure and better understand the morbidity and mortality associated with infection in cats.
Importantly, testing oropharyngeal swabs for SARS-CoV-2 RNA by RT-qPCR provides an opportunity to monitor for feline specific mutations and transmission events from infected cats, as well as allowing for comparison with serology to accurately identify the causative variant of infection.
Both widespread serological and qPCR-based testing are vital to address the One Health aspect of SARS-CoV-2 infection. Without further research to determine the importance of cats as a possible SARS-CoV-2 reservoir, a vital piece of the jigsaw may be missing in the attempt to bring global infections under control.
For the latest
COVID-19 News
, keep on logging to Thailand Medical News.