Detection Of Highly Transmissible And Immune Evasive EG.5.1 In India And Rising COVID-19 Cases In Maharashtra Hints That India Will Not Be Spared!
COVID-19 News
: In a concerning development, health officials in Maharashtra have identified the presence of a new Omicron subvariant, EG.5.1, which has raised alarm bells amidst a recent uptick in COVID-19 cases in the region. This variant, dubbed "Eris," has been linked to a surge in cases in the United Kingdom, and its emergence in India has sparked fears of a potential wave of infections.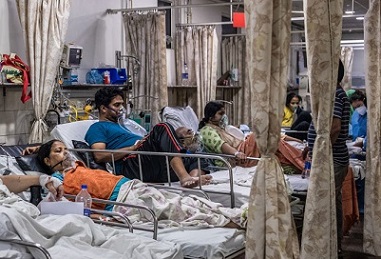 Dr Rajesh Karyakarte, the coordinator for genome sequencing in Maharashtra and a senior scientist at Pune's BJ Medical College, revealed that EG.5.1 was first detected in the state back in May. Despite its presence, the expected surge in cases during June and July did not materialize. Instead, the dominant strains XBB.1.16 (arcturus) and XBB.2.3 (acrux) continued to prevail.
However, some physicians and healthcare staff warn that the EG.5.2 is starting to spread fast now in various parts of India and patients presenting with symptoms are starting to turn up in numbers at hospitals and clinics.
Past
COVID-19 News
reports have showed that the Indian authorities have a flair of downplaying the seriousness of the various COVID-19 waves in the country as seen in the Delta and early Omicron waves and have a reputation of concealing true COVID-19 statistics especially COVID-19 death rates and excess death rates.
https://timesofindia.indiatimes.com/india/who-says-millions-of-covid-deaths-went-unreported-in-india-centre-strongly-objects-methodology-key-points/articleshow/91349479.cms
https://www.bbc.com/news/world-asia-india-60981318
https://www.voanews.com/a/delhi-vs-who-what-is-india-true-covid-death-toll/6560637.html
https://www.bloomberg.com/news/articles/2021-04-22/even-record-death-toll-may-hide-extent-of-india-s-covid-crisis
COVID-19 testing in the country and genomic sequencing are also at extremely low rates.
The Maharashtra state's health department reported an increase in active COVID-19 cases, rising from 70 at the end of July to 115 by August 6. This recent surge in cases has raised concerns among health authorities, who are closely monitoring the situation. However, officials are cautious about immediately attributing this rise solely to the new variant. Respiratory infections commonly lead to a seasonal uptick in COVID-19 cases between June and September, making it crucial to observe the trends over a longer period.
Dr Ameet Dravid, an infectious diseases expert from Noble Hospital in Pune, emphasized that while some patients have shown mild symptoms, there has been a noticeable increase in individuals presenting with flu-like symptoms. Many of these p atients are testing positive for various viruses, including rhinovirus, influenza, H1N1, H3N2, and COVID-19.
Although the emergence of EG.5.1 has sparked concerns, health experts have called for caution rather than panic. Dr Ishwar Gilada, an infectious diseases expert and secretary-general of the Organized Medicine Academic Guild, pointed out that activated memory cells from prior infections and vaccinations continue to offer protection, despite potential waning vaccine immunity. Moreover, there has been no significant rise in hospitalizations, ICU cases, or deaths linked to the new variant so far.
The detection of EG.5.1 in India, particularly amid rising cases in Maharashtra, underscores the need for continued vigilance and proactive measures to prevent the potential spread of this variant. As health authorities monitor the situation, the coming weeks will be critical in determining whether the variant will lead to a surge in COVID-19 cases in the region. Stay tuned for updates as experts closely analyze the evolving situation.
Many are saying that India will not be spared from this current uptick in SARS-CoV-2 spread and COVID-19 infections that is being witnessed in many other countries across the world but that the local authorities will once again hide true daily COVID-19 statistics.
For the latest
COVID-19 News
, keep on logging to Thailand Medical News.