U.S. Medical News: COVID-19 Test Positivity Rates In America Now Reaches 7.6 Percent While Hospitalization Up By 12%. Keep A Lookout At Excess Deaths!
U.S. Medical News
: SARS-CoV-2 Infections have been trending upward for about four weeks now, with the virus showing early signs of a possible fall and winter resurgence. However, while coronavirus infections are slowly rising in certain regions, health experts assure that the numbers currently remain relatively low and are not expected to reach the devastating highs witnessed in previous winters. This assessment is based on a comprehensive analysis of data gathered from various sources, including wastewater monitoring, test positivity rates, hospitalizations, and emergency room visits, which offer valuable insights into the evolving dynamics of COVID-19 as a post-pandemic,non-seasonal threat.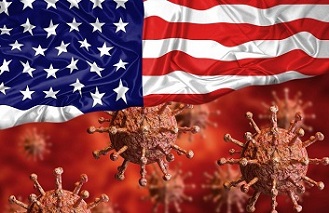 Recent wastewater analyses have identified the highest increases in COVID-19 infections in the Northeast and the South, followed by the West and Midwest. However, the increase rates are small and slow.
https://biobot.io/data/
While hospitalizations across the nation had reached a trough at the end of June, they have since been slowly inching upward. According to CDC data, COVID-19 hospitalizations were up by 12% during the week of July 22, with certain areas experiencing even higher increases.
https://covid.cdc.gov/covid-data-tracker/#trends_weeklyhospitaladmissions_testpositivity_00
At present, there are 17 counties across the United States classified as having "medium" levels of COVID-19 hospitalizations. Two counties in Texas, Navarro County and Freestone County, are also classified as having "high" levels of COVID-19 hospitalization.
The current COVID-19 test positivity rate has surged to 7.6%, a level last observed in November 2021, just before the delta variant wreaked havoc nationwide. But it should be noted that this rate is still rising gradually.
https://covid.cdc.gov/covid-data-tracker/#trends_weeklyhospitaladmissions_testpositivity_00
Experts attribute the current rise in cases to several factors, including the virus's seasonal patterns and potential behavioral changes due to extreme weather conditions, such as people seeking indoor shelter from the summer heat.
Dr Caitlin Rivers, a public health researcher at the Johns Hopkins Center for Health Security, notes, "This is the fourth summer now that we see a wave beginning around July, often starting in the South."
However, despite this seasonal pattern, there is optimism due to the accumulated immunity in nearly all Americans resulting from vaccinations and prior infections, which is expected to reduce the overall severity of COVID-19 during the upcoming winter season. Still, vulnerable populations, including older adults, pregnant women, and individuals with weakened immune systems or specific chronic conditions, remain at risk.
The number of COVID-19 deaths currently stands at its lowest since the beginning of the pandemic, representing only a fraction of the levels seen during the peak in January. The majority of virus fatalities now occur in adults older than 75 according to
quot;https://www.thailandmedical.news/articles/u-s--medical-news">U.S. Medical News
reports and data from various agencies.
However, experts emphasize that the true toll will only be evident at the year's end, following the fall and winter's respiratory challenges. To mitigate the potential impact, public health experts urge continued vigilance and adherence to preventive measures.
Many skeptical physicians, healthcare staff and scientists warn that a close eye should be kept of the true excess deaths rates as certain American authorities and agencies have a habit of trying to conceal the true impact of the COVID-19 crisis due to political interference!
Research efforts have been focused on understanding how updated COVID-19 vaccines and emerging variants might shape the course of the pandemic. In a worst-case scenario, without access to a suitable vaccine and facing a variant that largely evades immune defenses, COVID-19 might lead to an estimated 839,000 hospitalizations and around 87,000 deaths nationwide between September and April. Conversely, in the best-case scenario, where the updated vaccine is widely adopted and effectively targets the circulating variant, COVID-19 may result in 484,000 hospitalizations and 45,000 deaths, comparable to a severe influenza season.
Dr Justin Lessler, a public health researcher at the UNC Gillings School of Global Public Health, warns, "Based on these projections, COVID-19 is likely to remain one of the leading causes of death in the United States for the foreseeable future." This places COVID-19 in the range of mortality seen in the top 10 causes of death, underscoring the ongoing significance of the virus.
An additional concern among experts is the potential overlap of COVID-19 with other respiratory viruses, such as respiratory syncytial virus (RSV) and influenza, during the colder months. Last year, hospitals faced a considerable burden due to the so-called "tripledemic" of COVID-19, flu, and RSV. As respiratory viruses become more active in the fall and winter, healthcare systems may be strained to manage the increased patient load.
Health experts stress the importance of closely monitoring the situation and vaccine developments as the fall and winter approach. Drugmakers are currently working on an updated COVID-19 vaccine targeting the omicron variant XBB.1.5, which dominated during the spring. While the extent of vaccine match with circulating variants remains uncertain, it is expected to provide significant protection against severe illness and death, if not complete prevention of infection.
While the worst days of the pandemic are not expected to return, experts recommend maintaining vigilance. As cases rise, individuals are advised to consider wearing masks again in crowded indoor spaces, get tested when experiencing symptoms, and be cautious around those at high risk for severe illness, such as older individuals and those with weakened immune systems. The unpredictability of the virus serves as a reminder that preparedness and caution are crucial in navigating the post-pandemic world, as COVID-19 continues to present ever-evolving challenges for public health.
For the latest
U.S. Medical News
, keep on logging to Thailand Medical News.