Dengue News: Malaysia Records 6 New Dengue Deaths For The Epidemiological Week 42 While Malaria Also Rising In the Country
Dengue News
: In recent times, Malaysia has been grappling with a concerning surge in both dengue fever and malaria cases, alarming public health officials and experts. Dengue fever, a mosquito-borne viral disease, and malaria, caused by a parasite transmitted through mosquito bites, have been posing significant challenges for the country's healthcare system. As climate change and environmental factors come into play, the battle against these vector-borne diseases intensifies. This
Dengue News
report explores the recent developments in the epidemiological landscape of Malaysia, highlighting the implications, causes, and potential solutions for these growing health concerns.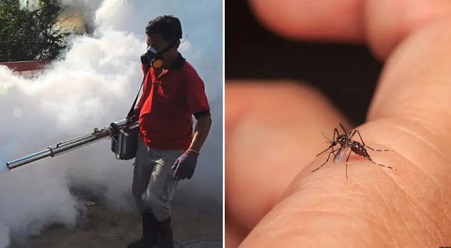 Dengue Fever: A Persistent Threat
During the 42nd Epidemiological Week (ME42), which spanned from October 15 to 21, Malaysia recorded six deaths attributed to complications from dengue fever. This was a stark contrast to the preceding week, ME41, when no fatalities were reported due to dengue-related complications. The Health director-general, Datuk Dr Muhammad Radzi Abu Hassan, released a statement providing insights into the dengue fever situation in Malaysia.
Despite a slight decrease of 0.4% in the number of dengue cases in ME42, with 2,262 cases reported compared to 2,271 cases in the previous week, the cumulative number of cases up to ME42 had surged by an alarming 100.5% when compared to the same period in the previous year. This indicated that dengue fever was on the rise in Malaysia, with a staggering 96,443 cases reported, in contrast to 48,109 cases during the same period in 2022.
Dr Muhammad Radzi also pointed out that the number of hotspot localities had decreased slightly, from 79 to 73, during ME42, but remained a concerning issue. The hotspot areas were primarily concentrated in Selangor, Kuala Lumpur, Putrajaya, Perak, Negeri Sembilan, Sarawak, Kedah, Penang, and Sabah.
Besides dengue fever, the country has also been dealing with chikungunya and zika surveillance. In ME42, one chikungunya case was recorded, bringing the cumulative total to 177 cases. Fortunately, the results of zika surveillance were all negative, indicating that Malaysia is relatively safe from this mosquito-borne disease.
The Root Causes of Dengue Resurgence
One of the key factors contributing to the resurgence of dengue in Malaysia is the changing climate, particularly the El Niño phenomenon. The hotter and drier weather conditions foster a more conducive environment for Aedes mosquitoes, the primary vectors responsible for dengue transmission. Despite numerous public health campaigns, some communities have not yet fully grasped the importance of maintaining clean environments, inadvertently creating breeding grounds for these mosquitoes.
In response to this growing public health threat, the Malaysian Ministry of Health has been enforcing the Destruction of Disease-Bearing Insects Act (APSPP) 1975 across the country. This initiative aims to curb the increase in dengue cases and reduce the risk of dengue infection in the community. However, challenges persist in changing public behavior and perceptions regarding environmental cleanliness.
Malar ia Reemergence: A Cause for Concern
While dengue fever remains a pressing issue, Malaysia is facing an equally unsettling resurgence of malaria cases. This sudden uptick in malaria cases has raised concerns among public health experts, who attribute it to various factors, including climate change and deforestation.
The statistics are disconcerting, with the number of malaria cases in the first part of the year already surpassing the total reported for the entire previous year. In particular, Kelantan, Sabah, and Terengganu have witnessed significant malaria outbreaks. Previously, Malaysia had achieved a commendable record of zero human malaria infections between 2018 and 2021, making this resurgence all the more alarming.
The Complex Causes of Malaria Resurgence
The rise in malaria cases is multi-faceted, with both climate change and human behavior playing pivotal roles. Zoonotic malaria, transmitted from monkeys to humans through mosquito bites, has become a serious concern. It typically affects individuals residing near forested areas, plantations, and agricultural sites, particularly those involved in activities such as logging, fishing, planting, and hunting.
Public health expert Datuk Dr Zainal Ariffin Omar points to climate change and deforestation as contributing factors, as the disruption of natural habitats increases the proximity of humans to malaria-carrying mosquitoes. Universiti Kebangsaan Malaysia's Professor Dr Sharifa Ezat Wan Puteh highlights the impact of climate change on malaria transmission, emphasizing the role of changing temperatures and rainfall patterns in creating conditions favorable for mosquito-borne diseases.
Additionally, Malaysia faces challenges related to the migration of people from malaria-prone countries, increasing the risk of imported cases. Mass blood screenings are proposed as a strategy to detect and manage the disease among workers in high-risk areas. Furthermore, the resistance of malaria parasites to anti-malarial drugs has heightened the threat of the disease, emphasizing the urgency of addressing this issue.
Conclusion
The simultaneous resurgence of dengue fever and malaria in Malaysia poses a formidable public health challenge. Both diseases are influenced by climate change, deforestation, and human activities. The government and health authorities must address these concerns by enhancing preventive measures, public awareness campaigns, and implementing effective strategies to combat these vector-borne diseases. Furthermore, international collaboration and research are crucial to understand and mitigate the impacts of climate change on public health. In a rapidly changing world, vigilance and proactive measures are essential to protect the health and well-being of the Malaysian population.
For the latest
Dengue News
, keep on logging to Thailand Medical News.