COVID-19 Cases Surging Across ASEAN. Travelers And Major Events Advised To Put Off Plans For The Month Of May As Situation Expected To Worsen
COVID-19 News
: There is another COVID-19 onslaught occurring across almost all ASEAN countries spanning from Indonesia, Malaysia, Singapore, Vietnam, Philippines, Indonesia and even Myanmar and Cambodia. The situation in other Asian countries is no different as cases are also increasing in Japan, South Korea and Taiwan. While health authorities across many countries are trying to downplay the COVID-19 crisis and coming up with stupid statements like the infections are mild, its just an endemic phase or that we have to learn to live with the disease, the fact remains that people are still dying each week and many also ending up with debilitating health and medical conditions. (My advice to those are frustrated and with these authorities or some of these stupid physicians making comment in the media..when you know that you are infected with the virus ….try to find ways to get close to these individuals or their families or colleagues so that you could spread the virus to them and see how they deal with it..after all they are claiming its mild!)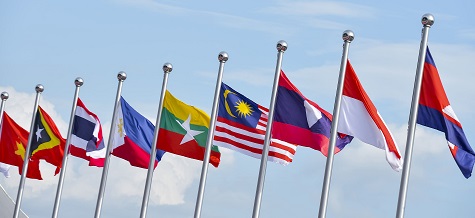 Interestingly, according to the WHO (World Health Organization) latest COVID-19 report, South East Asia is witnessing an increase of 454% in new COVID-19 infections within the last 28 days and an increase of 317% in COVID-19 deaths with the same period although no mainstream media or officials in any of these countries are revealing the actual and true COVID-19 death rates in their countries!
https://www.who.int/publications/m/item/weekly-epidemiological-update-on-covid-19---4-may-2023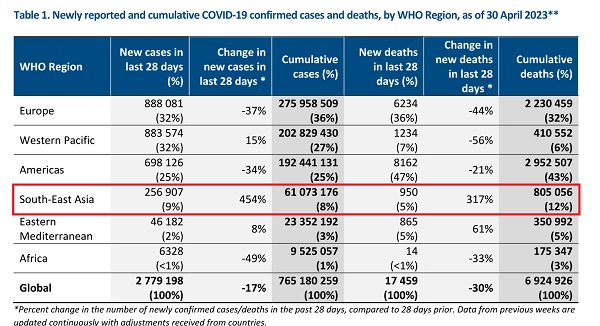 The current onslaughts are driven by a variety of XBB sub-lineages including the newer spawns of some of the more worrisome variants like XBB.1.16, XBB.1.9.1, XBB.1.9.2 and XBB.2.3 etc.
At the moment there are there are more than 150 different XBB sub-lineages that are exhibiting enhanced transmissibility, fast growth and increased immune evasiveness circulating globally including in Asean.
https://cov-spectrum.org/collections/42
Due to easing of COVID-19 preventive measures including travel and airport health screenings, ASEAN also faces a threat of newer Deltacron sub-lineages currently circulating in Australia.
https://www.thailandmedical.news/news/breaking-covid-19-news-worrisome-deltacron-sublineage-xbc-1-6-3-debuts,-driving-new-covid-19-onslaught-in-queensland,-australia
Hospitals In Many ASEAN Countries Expecting A Deluge Of COVID-19 Patients.
Healthcare professionals are already starting to see the strain in many ASEAN countries as COVID-19 infections and also disease severity rises and while many mainstream media that are being bought by governments through schemes like sponsored post and advertising and in some cases are actually owned by the governments or are not reporting on the situation, the scenario at various h ealthcare facilities especially private hospitals, at undertakers and funeral parlors are all showing the tell-tale signs of what is actually happening. Some countries even use dictatorial laws to suppress reporting on the actual COVID situation while their officials downplay the seriousness of what is going on and also deploy strategies so that the masses are not aware of the actual daily COVID-19 infections and deaths.
Philippines
It was reported that the Philippines has reopened their COVID-19 wards due to soaring COVID-19 infections.
It was reported in the that the COVID-19 positivity rate has jumped to 19.3 percent in the Philippines since Saturday.
https://www.philstar.com/headlines/2023/05/08/2264566/octa-philippines-covid-19-positivity-rate-rises-193-percent
On Saturday, the DOH reported 1,878 new cases, 9 deaths, 833 recoveries and 10,195 active cases.
Yesterday, the DOH reported additional 1,920 COVID cases, bringing to 4,102,788 the total number of the highly infectious disease in the country.
Of the total number of confirmed COVID cases nationwide, the DOH said 11,408 are active while 4,024,927 have recovered from the disease.
The number of those who succumbed to the infection rose to 66,453.
The NCR (National Capital Region) posted the most number of new cases in the last 14 days with 5,777, followed by Calabarzon with 2,962 and Central Luzon with 889.
The hospital bed occupancy rate is at 19.7 percent while the cumulative positivity rate is at 13.5 percent.
Vietnam
COVID-19 cases have also risen in Vietnam, which has reimposed some pandemic-era restrictions in key cities. Indoor mask-wearing mandates have since late last month been in effect in public spaces in the capital Hanoi, while commercial hub Ho Chi Minh City has ordered masks to be worn again on school campuses.
Vietnam recorded 3,399 new COVID-19 cases on May 5, the highest daily number over the past six months, according to the Ministry of Health.
https://en.vietnamplus.vn/vietnam-records-highest-daily-number-of-covid19-infections-in-six-months/252585.vnp
Singapore
In a shocking turn of events, Singapore in the past eight weeks have seen a staggering increase in COVID-19 hospitalizations. Since March 5, hospitals have been inundated with patients as the virus continues to wreak havoc.
From April 23 to 29, a jaw-dropping 568 patients were admitted to hospitals, with 15 of them rushed to the ICU in a desperate battle for their lives.
Alarmingly, the past four weeks have seen 47 ICU admissions, significantly up from the 43 recorded in the first three months of the year.
As per the Ministry of Health (MOH), the last week of April saw COVID-19 patients occupying a startling 317 hospital beds daily, a drastic increase from the average of 180 beds in the last week of March.
During this period, a whopping 22,651 individuals were diagnosed with COVID-19. Although this figure marks a 20% drop from the previous week, it remains shockingly high, making it one of the only four weeks this year with infections exceeding 20,000.
Experts warn that the actual number of infections may be much higher than reported. However, with over 80% of the population now having received at least three vaccine shots, and COVID-19 being treated as any other endemic disease, reporting is no longer mandatory.
https://www.thestar.com.my/aseanplus/aseanplus-news/2023/05/07/number-of-people-in-singapore-hospitalised-for-covid-19-rising-since-march
Malaysia
Increasing COVID-19 cases are threatening to overstrain Malaysia's crowded hospitals. More than 70 per cent of government hospital beds in Malaysia were occupied as of April 29, up more than 20 percentage points from a week earlier, and authorities have appealed to anyone testing positive to abide by a mandated seven-day quarantine in an effort to stem the pressure on its medical system.The surge in COVID-19 cases in Malaysia is being fuelled by gatherings over the recent long Hari Raya Idul-Fitri holiday, with the country also recording 20 deaths in the two weeks to April 29 ie 25 per cent more fatalities than the previous 14 days.
In a latest
COVID-19 News
coverage by a local media outlet, it was reported that COVID-19 infections in Malaysia increased by 53.1% to 7,596 in the 8th epidemiology week, from April 30 to May 6, from 4,963 cases in the previous week.
The hospital admission rate of COVID-19 patients (including suspected patients) to public health facilities also showed an increase from 5.8% to 7.2% per 100,000 population during the week.
https://www.freemalaysiatoday.com/category/nation/2023/05/07/health-ministry-to-carry-out-risk-assessment-on-covid-19-infections/
Indonesia
According to Indonesia's Health Ministry, as of May 3, there were 2,647 confirmed cases of COVID-19 in Indonesia with 25 deaths. The increase in cases was also accompanied by increased hospital BOR(Bed Occupancy Rate).
https://en.antaranews.com/news/280485/ministry-advises-caution-as-covid-hospital-bed-occupancy-rises
A latest update of the COVID-19 situation in Indonesia is expected something in the later part of the week but already hospitals across the country are witnessing a surge in hospitalizations.
Myanmar, Cambodia and Laos
These three countries are literally potential "timebombs" as there is very little COVID-19 surveillance and literally minimal or no COVID-19 testing facilities but social media platforms are full of postings about people getting sick and some clinics simply overwhelmed by patients. Some Cambodian media that lack any traits of professional or even investigative journalism reported today that there are no cases of COVID-19 in the country without divulging the actual testing rates which could even actually be less than a hundred!
Thailand
We are currently unavailable to comment of the COVID-19 situation in Thailand as the country is under a more worrisome pathogenic plague…..Thai Politicians!..Yes..everyone at the moment is more concerned about the coming elections and daily, communities are bombarded by these 'pathogenic parasites' rallying for support and making election promises they seldom keep!
To date, no credible
Thailand Medical
expert have come up to reveal the true COVID-19 situation in the country!
Furthermore, the COVID-19 fatality rate is believed to be not as high and a threat as compared to some of the actions of the locals and especially those in uniforms or those associated with them…readers keeping up with the recent case of the ex-wife or a high-ranking Thai policeman who is believed to have killed more than 30 people by cyanide poisoning will understand what I am taking about!
https://edition.cnn.com/2023/04/28/asia/thailand-alleged-poison-killer-arrested-intl-hnk/index.html
Overall Situation In Asean Expected To Worsen
With the emergence of various more transmissible and immune evasive SARS-CoV-2 XBB sub-lineages and the very likely the new more worrisome Deltacron sub-lineages from Australia likely to hit various countries in ASEAN in a matter of weeks, the situation is expected to worsen despite authorities trying to downplay the COVID-19 situation.
Avoiding travel to these ASEAN countries and also avoiding attending events in these countries are highly recommended at least for a few weeks till the situation hopefully subsides.Locals in these countries especially the vulnerable should exercise more COVID-19 preventive measures and also avoid travelling or attending events or visting crowded areas. Do not listen to idiots who tell you that the current infections are mild or that we have to learn to live with the virus. Lets see how they deal with it when their loved one gets infected or die from the virus instead!
For the latest
COVID-19 News
, keep on logging to Thailand Medical News.