BREAKING! COVID-19 News: SARS-CoV-2 Infections Can Lead To Vogt-Koyanagi-Harada Syndrome And Total Blindness!
COVID-19 News
: A new study cum case report by physicians from the Department of Neurology, Miller School of Medicine, The University of Miami, Florida-USA has shocking found that SARS-CoV-2 Infections can lead to Vogt-Koyanagi-Harada Syndrome and total blindness! It is not known at this stage if the condition is caused by specific SARS-Cov-2 sub-lineages and if so which ones.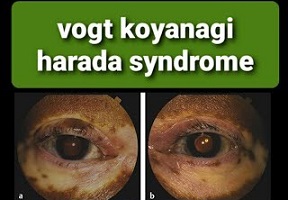 Vogt-Koyanagi-Harada disease (VKH) is a central nervous system condition that specifically affects vision and hearing. Descriptions of this disease date back to the 12
th
century, but the disease is named after three 20
th
century physicians who described the collective manifestations of this disease. Alfred Vogt initially described bilateral iridocyclitis and eyebrow depigmentation in 1906, followed by Yoshizo Koyanagi's 1926 description of bilateral serous detachments in association with cerebrospinal fluid (CSF) pleocytosis. Einosuke Harada identified the integumentary symptoms of the condition shortly thereafter. The disease presents with signs and symptoms of a loss of immune tolerance to melanocytes within the meninges, eyes, skin, hair, and ears.
https://www.ncbi.nlm.nih.gov/books/NBK574571/
This relatively rare condition has a distinct phenotypic picture in both its early and late manifestations. Despite identifiable clinical findings, the pathophysiologic mechanisms behind VKH have been challenging to identify. Over the last few years, some of the genetic and immunologic facets of VKH have been elucidated due to recent technological advances. Ophthalmic complications from this condition are numerous, and early identification and treatment can reduce morbidity.
Vogt-Koyanagi-Harada (VKH) disease, a rare autoimmune disorder is characterized by ocular, auditory, neurological, and integumentary manifestations. The disease has been linked to viral infections such as cytomegalovirus (CMV) and Epstein-Barr virus (EBV), potentially due to molecular mimicry.
Past
COVID-19 News
coverages and studies had also shown that certain COVID-19 vaccines were also linked to the development of Vogt-Koyanagi-Harada disease (VKH).
https://journalretinavitreous.biomedcentral.com/articles/10.1186/s40942-021-00319-3
https://www.sciencedirect.com/science/article/pii/S2451993622003620
https://www.sciencedirect.com/science/article/pii/S2451993622001505
https://www.mdpi.com/2073-4409/11/6/1012
A few other studies and case reports have also previously showed that COVID-19 infections can lead to Vogt-Koyanagi-Harada disease (VKH).
https://www.ncbi.nlm.nih.gov/pmc/articles/PM C10025255/
https://journals.lww.com/ijo/Fulltext/2022/02000/Vogt_Koyanagi_Harada_disease_following_a_recent.69.aspx
https://www.karger.com/Article/FullText/518834
In this study cum case report, the study team reported a case of VKH in a 27-year-old male following COVID-19 infection and discuss the possibility of COVID-19 as an immunological trigger for VKH.
Case Report
The patient presented with a two-week history of intermittent unilateral headache, bilateral eye pain with photophobia, phonophobia, tinnitus, and blurry vision, which eventually led to total bilateral vision loss.
Further examination revealed panuveitis with serous retinal detachments bilaterally, and a positive COVID-19 PCR result. Imaging studies and cerebrospinal fluid (CSF) analysis were consistent with VKH. The patient was treated with high-dose prednisone and methotrexate, resulting in significant visual recovery and symptom resolution.
Diagnostic Criteria for VKH
The revised diagnostic criteria (RDC) for VKH includes the exclusion of sympathetic ophthalmia and other uveitis entities, ocular manifestations in early and late stages, neurological/auditory findings, and integumentary findings. The patient met all criteria except integumentary findings, which are less common. Thus, the diagnosis of VKH was made.
Importance of CSF Analysis and Imaging
Although some researchers argue that VKH can be diagnosed through clinical and imaging findings alone, CSF analysis contributes to ruling out other infectious or inflammatory conditions. In the patient described in the case report, the CSF study revealed lymphocyte-predominant pleocytosis, a common finding in VKH. Imaging studies also showed bilateral retinal detachment and other characteristic findings of VKH.
COVID-19 as a Potential Immunological Trigger for VKH
The exact mechanism for the development of VKH remains unclear, but viral infections have been implicated in triggering the disease. The possibility that COVID-19 was the immunological trigger for VKH in the patient is supported by the presence of neurological and ophthalmological manifestations in COVID-19 patients. Furthermore, VKH has been reported in patients after receiving COVID-19 vaccines, suggesting a potential link between the virus and the disease.
Conclusions
Early diagnosis and adequate treatment are crucial in managing VKH, a rare and potentially debilitating disorder. Corticosteroids and immunosuppressants remain the mainstay of treatment. In this case report, COVID-19 could be a potential immunological trigger of VKH if the infection onset was prior to the 2-week history of VKH symptom onset or during the prodromal phase of the disease. Further investigation is necessary to establish the validity of this hypothesis.
For the latest
COVID-19 News
, keep on logging to Thailand Medical News.