BREAKING! Hong Study Shockingly Shows SARS-CoV-2 Infection Causes Male Hamsters' Testicles To Shrink! Human Males Risk Being Eunuchs?
The findings of a new study is causing panic among males around the world including celebrities like Justin Bieber who was just diagnosed with COVID-19.
https://www.nytimes.com/2022/02/20/arts/bieber-covid-positive.html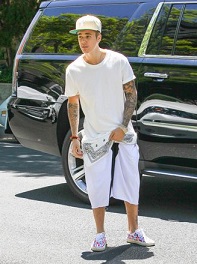 Justin Always Clutching His Crotch!
Should the findings be true, Justin might have nothing to clutch to at his crotch region as according to the study conducted by researchers from the University of Hong Kong, SARS-CoV-2 infections causes the testicles of male hamsters to shrink!
The study findings imply that COVID-19 could spell trouble for testicular health, including a decrease in size, sperm count, and testosterone levels.
To date the role of SARS-CoV-2 in the pathogenesis of testicular damage is uncertain.
The study team investigated the virological, pathological, and immunological changes in testes of hamsters challenged by SARS-CoV-2 wild-type and its variants by intranasal or direct testicular inoculation using influenza virus A(H1N1) pdm09 as control.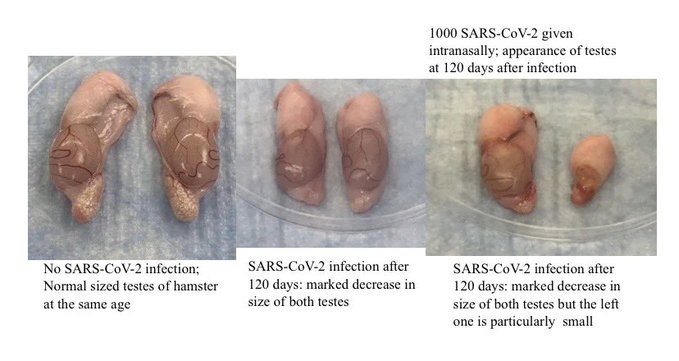 The Hamster's Not Justin's Testicles!
Varying doses of SARS-CoV-2, the virus responsible for COVID-19, were intranasally delivered to hamsters, only some of which were vaccinated against the virus. The hamsters were then killed between one and 120 days after infection and their testicles examined.
The study findings showed that besides self-limiting respiratory tract infection, intranasal SARS-CoV-2 challenge caused acute decrease in sperm count, and serum testosterone and inhibin B at 4 to 7 days post-infection (dpi), and subsequently reduced testicular size and weight, and serum sex hormone level at 42 to 120 dpi.
Acute histopathological damage with varying degree of testicular inflammation, hemorrhage, and necrosis, degeneration of seminiferous tubules and disruption of orderly spermatogenesis were seen with increasing virus inoculum. Degeneration and necrosis of Sertoli and Leydig cells were found.
Although viral loads and SARS-CoV-2 nucleocapid (N) protein expression were markedly lower in testicular than lung tissues, direct intra-testicular injection showed N expressing interstitial cells and epididymal epithelial cells.
Control intranasal or intra-testicular challenge by A(H1N1)pdm09 showed no testicular infection or damage. From 7 to 120 dpi, degeneration and apoptosis of seminiferous tubules, immune complex deposition and depletion of spermatogenic cell and spermatozoa persisted.
Importantly intranasal challenge with Omicron and Delta variants could also induce similar testicular changes.
However, the study team claimed that these testicular damages can be prevented by vaccination.
The study findings confirmed that SARS-CoV-2 can cause acute testicular damage with subsequent chronic asymmetric testicular atrophy and associated hormonal ch anges despite a self-limiting pneumonia in hamsters. Awareness of possible hypogonadism and subfertility is important in managing convalescent COVID-19 males.
The study findings were published in the peer reviewed journal: Clinical Infectious Diseases.
https://academic.oup.com/cid/advance-article/doi/10.1093/cid/ciac142/6530400
The study findings showed an "acute decrease" in sperm count and testosterone levels four to seven days post-infection in unvaccinated hamsters.
Meanwhile, "damage" to the testicular tissue including inflammation, degeneration, and necrosis was observed as early as a week after infection and persisted in the sample collected on Day 120.
Testicular size and weight were also found to be reduced after infection. Hamsters that were vaccinated against the virus did not exhibit testicular damage.
Corresponding author, Professor Dr Kwok-Yung Yuen from the State Key Laboratory of Emerging Infectious Diseases, Carol Yu Centre for Infection, Department of Microbiology, Li Ka Shing Faculty of Medicine, The University of Hong Kong told
Thailand Medical
News, "SARS-CoV-2 can cause acute and chronic testicular damage in hamsters and is consistent with the anecdotal reports of clinical orchitis and hypogonadism in recovered COVID-19 human males. Long term follow-up of sperm count and sex hormone profile of convalescent COVID-19 males is warranted."
Dr Richard J. Sugrue, an associate professor of virology at Singapore's Nanyang Technological University who was not involved in the study commented, "Hamsters are commonly used in COVID-19 studies as their bodies' reactions to respiratory viruses are similar to humans and experiments on hamsters are able to provide useful information about the progression of virus pathogenesis. However, while hamsters are helpful in studying virus infections, they remain biologically different from humans in significant ways. Any results obtained with the hamster model would therefore need to be treated with caution when they are applied to human disease. The animal model work would be the first step and the results obtained would then need validation using human clinical studies and materials."
A recent study found that the human testes might be viral sanctuaries for the SARS-CoV-2 virus.
https://www.thailandmedical.news/news/breaking-brazilian-and-american-study-discovers-that-the-testes-of-males-could-be-viral-sanctuaries-for-the-sars-cov-2-virus
The human testicles have been found to be sanctuaries for diseases such as HIV, Ebola, and Zika, where viruses can enter and linger for years without being detected by the immune system.
https://www.scientificamerican.com/article/a-private-place-where-hiv-zika-and-ebola-hide/
The SARS-CoV-2 coronavirus targets angiotensin-converting enzyme 2, a type of protein found in the testicles that's believed to be the receptor of the virus. Other viruses in the SARS-CoV family have been suspected to cause testicular dysfunction and inflammation. However, reports differ on the susceptibility of testicular cells to COVID-19.
https://www.nature.com/articles/s41585-021-00542-5
Recent studies have also found that COVID significantly reduces sperm count in humans, at least in the short term.
https://pubmed.ncbi.nlm.nih.gov/33975987/
One research comparing median sperm count, those who were not infected by COVID had an almost five times higher sperm count in their ejaculate than those who had been infected.
https://www.ncbi.nlm.nih.gov/labs/pmc/articles/PMC8255403/
Worryingly, COVID-19 has also been found to cause erectile dysfunction in males. One study involving 100 men in Italy of which 25 were COVID-positive and 75 negative, showed a positive correlation covid-19 and erectile dysfunction.
https://pubmed.ncbi.nlm.nih.gov/33742540/
Scientists from the University of Miami theorized that erectile dysfunction that coincided with COVID infection was a result of restricted blood flow to the penis.
https://wjmh.org/DOIx.php?id=10.5534/wjmh.210055
How the SARS-CoV-2 virus affects male genitals and fertility remains among the topics of greatest public discussion.
World famous singer Nicki Minaj stirred controversy last year with an out-of-pocket tweet suggesting that the COVID vaccine could result in impotence, citing a friend of her cousin in Trinidad and Tobago. Following global backlash against her viral tweet, the White House offered to address Minaj's queries about the COVID vaccine, while Trinidad and Tobago's health minister dismissed her claims as false.
https://twitter.com/nickiminaj/status/1437532566945341441?lang=en
Interestingly in January 2022, a man reported about his penis shrinking more than an inch after contracting COVID, though for now he appears to be the only one claiming this rare side effect.
https://www.insider.com/covid-penis-man-said-disease-shortened-penis-size-vascular-problems-2022-1
Many males however have been reporting post-COVID testicular pain as early as 2020, while a 2021 study found that testicular pain was more frequently observed among hospitalized COVID patients.
https://pubmed.ncbi.nlm.nih.gov/33063899/
Thailand Medical
News was the first to report about the possible effects of SARS-CoV-2 on the male testes as early as February 2020 but our article was then classified as fake news by a stupid Italian male reporter and also by ignorant and non-qualified fact-checkers in America employed by Facebook. These ignorant bastards never apologized for their mistakes and we still have a legal suit going on with them as we are claiming for damages.
https://www.thailandmedical.news/news/breaking-news!-latest-research-published-by-chinese-scientists-say-coronavirus-might-render-certain-male-patients-infertile
For more about the Male Testes And SARS-CoV-2, keep on logging to
Thailand Medical
News.