BREAKING NEWS! Nipah Virus Outbreak In Kerala-India. Two Dead, 4 Hospitalized, Dozens More Suspected Cases!
Nipah Virus
: In a grim turn of events, Kerala, the picturesque southern state of India, is once again grappling with the menacing Nipah virus. Two individuals have already succumbed to this deadly pathogen, while four more are battling for their lives in local hospitals. Dozens of others are under scrutiny, as the specter of a Nipah outbreak looms large. The outbreak, reminiscent of the 2018 incident that claimed 17 lives, has rekindled concerns about this rare but highly lethal virus.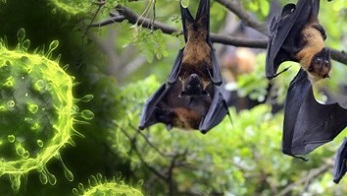 The Indian National Institute of Virology late on Tuesday acknowledged that the state of Kerala has a
Nipah Virus
outbreak with two individuals both men, already dead from the virus and 4 other individuals from Kerala's Kozhikode district hospitalized for the virus including three children. One of the three children is currently in a critical condition. It was reported that all four hospitalized individuals had been in close contact with the first deceased patient who passed away on the 30th Of August. Also, more than two dozen other individuals are being investigated as some are manifesting symptoms.
It was reported that the deceased, both men, were admitted to private hospitals in the district after complaining of fever, but authorities said they showed symptoms similar to a Nipah virus infection. Body fluid samples of one of them have been sent to the National Institute of Virology (NIV) in Pune where it tested positive for the Nipah virus.
The Kerala health department late on Monday issued a high alert in Kozhikode district and later extended it to the whole state after suspected cases were found in other districts as well. Local experts are also concerned that the virus could have mutated and that a new strain is at play after suspected cases were also found in other districts that are not infested with bats.
Veena George, Kerala health minister has rushed to Kozhikode along with district in-charge minister PA Mohammed Riyas. Both ministers will convene a high-level meeting on Tuesday and Wednesday to oversee the preparedness and plan further course of action.
Dr AS Anoop Kumar, who played a key role in the discovery of Nipah virus infection in Kozhikode in 2018 and who has relayed the same suspicions this time to the health department, confirmed that both men who died had contact with each other at some point.
Dr Kumar told a local media, "We have to find out the index case in this outbreak. It could be the man who died on August 30 or there could be another case before that. We also have to pin down the epicentre of this outbreak, the locality where the virus emerged in a human. Earlier studies by NIV and veterinary department had confirmed that fruit bats in the Perambra area of Kozhikode carry this virus."
Nipah Virus: A Deadly Intruder
Nipah virus, a zoonotic infection, primarily infects animals such as bats, pigs, dogs, and horses. However, it can jump from these animals to humans, leading to severe diseases, with symptoms that include fever, headache, breathing difficulties, cough, sore throat, diarrhea, vomiting, muscle pain, severe weakness, and, in extreme cases, disorientation and seizures. Unlike COVID-19 or influenza, Nipah isn't highly transmissible, and its spread is relatively slow. Dr. E Sreekumar, Director of the Institute of Advanced Virology-Thiruvananthapuram, points out that the virus's previous history and nature do not allow it to spread as rapidly as more contagious diseases.
The Grim Reality of Nipah
What sets Nipah apart from other infectious diseases is its alarmingly high Case Fatality Ratio (CFR). In previous outbreaks, such as the 2001 and 2007 incidents in West Bengal, the CFRs were a staggering 68% and 100%, respectively. Even during the 2018 Kerala outbreak, the CFR stood at a grim 91%, with only two survivors out of the infected individuals. To put this in perspective, the current CFR of COVID-19 in India hovers around a mere 1.2%.
Understanding Nipah Transmission
Nipah transmission occurs primarily through close contact with infected animals or secretions containing the virus found on fruit trees, fruits, date palm sap, juice, or toddy. Human-to-human transmission can also occur in close quarters, such as homes or hospitals. Handling the bodies of Nipah-infected individuals and crowded environments can facilitate transmission. Notably, the virus struggles to spread in open, well-ventilated spaces, as witnessed during the 2018 Kerala outbreak, which was contained primarily within a confined hospital corridor.
The exact source of Nipah virus transmission from animals to humans remains a subject of ongoing research. In the 2018 outbreak, the source could not be definitively identified, though bats were suspected to have contaminated fruit, leading to human infection. Cases in Bangladesh have been linked to secretions from contaminated fruit bats on trees and fruits.
Protective Measures
At present, the outbreak remains localized, sparing the rest of the country from immediate risk. However, vigilance is key. Dr Sreekumar advises individuals in the affected area to avoid close contact with the family members and other contacts of the two index cases. During previous outbreaks, precautions such as thoroughly washing fruits, discarding those with signs of bat bites, and boiling palm sap or juice before consumption were recommended to prevent transmission.
Government Response
The Kerala government has sprung into action, sending samples from the hospitalized patients and other suspected cases to the National Institute of Virology (NIV) for confirmation. Contact tracing is already underway, with those in close contact with the two cases placed under quarantine. This standard protocol helps monitor potential spread while authorities investigate the source of infection and the index case.
Diagnosis and Treatment
Diagnosing Nipah virus involves a real-time polymerase chain reaction (RT-PCR) test using nasal or throat swabs, cerebrospinal fluid (CSF), urine, and blood samples. After recovery, the presence of specific antibodies can confirm past infection through the ELISA test. Unfortunately, there are no antiviral treatments available, and management primarily focuses on symptomatic relief, such as controlling nausea, vomiting, and breathing difficulties. Researchers are exploring monoclonal antibody treatments as a potential avenue for future therapies
The Unfortunate Geography of Nipah
Unlike neighboring Bangladesh, where Nipah has become a seasonal disease with cases reported between December and May, India experiences sporadic outbreaks. The first cases surfaced in 2001 in West Bengal, adjacent to Bangladesh. Since then, there have been four separate outbreaks in India. While the virus's spread remains relatively contained, the odds of fatality once infected remain extremely high.
Conclusion
The resurgence of the Nipah virus in Kerala serves as a stark reminder of the ever-present threat posed by emerging infectious diseases. While Nipah may not spread as rapidly as some other pathogens, its high fatality rate demands urgent attention and preparedness. The Kerala government's swift response, contact tracing, and research into the outbreak's origin are critical steps toward containing this deadly virus. As the situation unfolds, it's a somber reminder of the importance of global vigilance and collaboration to prevent and manage emerging infectious diseases like Nipah.
For more updates on the
Nipah Virus
outbreak in India, keep on logging to Thailand Medical News.