Much Sought After Overpriced Obesity Drug Wegovy By Novo Nordisk Found To Lower Adverse Cardiovascular Events By 20 Percent!
Pharma News
: In a groundbreaking development, Novo Nordisk's revolutionary weight loss drug, Wegovy, has not only captured the attention of the weight-conscious population but has now demonstrated a remarkable potential to significantly lower the risk of major cardiovascular events (MACE).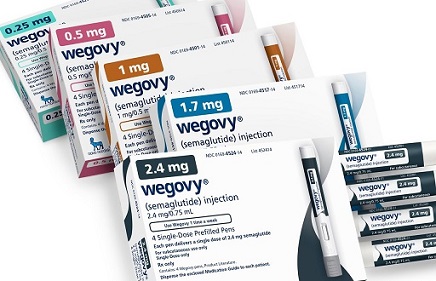 The results of an extensive clinical trial have unveiled a 20% reduction in the occurrence of MACE among participants, ushering in a new era of hope for individuals grappling with obesity and its associated cardiovascular risks.
Novo Nordisk's Wegovy, which has been a sought-after solution for weight management, is poised to redefine how we approach the dual challenges of obesity and cardiovascular disease.
The company's decision to expand the drug's label is fueled by compelling data from a rigorous double-blind, placebo-controlled study, which enrolled 17,604 adults aged 45 or older classified as overweight or obese. Crucially, these participants also exhibited cardiovascular disease without a history of diabetes.
https://www.globenewswire.com/news-release/2023/08/08/2720343/0/en/Novo-Nordisk-A-S-Semaglutide-2-4-mg-reduces-the-risk-of-major-adverse-cardiovascular-events-by-20-in-adults-with-overweight-or-obesity-in-the-SELECT-trial.html
The clinical trial, named SELECT, examined the effects of Novo Nordisk's once-weekly injectable drug, Wegovy, in conjunction with standard care protocols. The results astounded the medical community with a substantial 20% reduction in MACE risk. Major cardiovascular events, including cardiovascular death, nonfatal heart attack, and nonfatal stroke, were all positively impacted by the intervention, forming the composite outcome that highlighted Wegovy's prowess.
At the heart of Wegovy's success lies its main pharmaceutical ingredient, semaglutide, a member of the GLP-1 agonist class of drugs. This class of drugs, initially devised for managing type 2 diabetes, inadvertently unveiled its potential for inducing weight loss, thereby sparking further exploration into its application in obesity management. Novo Nordisk's type 2 diabetes drug, Ozempic, also employs semaglutide, albeit in a lower dosage than Wegovy.
While the excitement surrounding Wegovy's potential to revolutionize obesity treatment is palpable, its high cost has been a point of contention. Priced at US$1,300 for a box of four injectable pens, it currently remains uncovered by Medicare, with only select insurance companies providing coverage. This cost barrier has prompted concerns about the drug's accessibility, as revealed by a recent KFF survey indicating that only 16% of respondents expressed interest in weight-loss drugs without insurance coverage.
https://www.thailandmedical.news/news/u-s-medical-news-americans-willingness-to-pay-high-costs-for-weight-loss-drugs-despite-risks-and-limited-efficacy
Intere stingly, Wegovy's emergence is not an isolated event within the pharmaceutical landscape according to
Pharma News
reports. Eli Lilly's Mounjaro, originally developed for type 2 diabetes, has also shown promise in chronic weight management and is undergoing FDA review for this application.
Mounjaro's success in the diabetes realm, reflected in its remarkable sales figures, highlights the growing significance of weight management within this context. The shared mechanisms of action between Wegovy and Mounjaro hint at a promising future for the latter as well.
The robustness of Wegovy's cardiovascular outcomes is further emphasized by its previous performance in clinical trials involving patients with type 2 diabetes and high cardiovascular risk. An earlier study enrolled 3,297 such patients, unveiling Wegovy's potential to reduce rates of cardiovascular death, nonfatal heart attack, and nonfatal stroke. Although not designed to show superiority, this study nevertheless demonstrated the drug's potential as a game-changer in cardiovascular risk management.
The implications of Wegovy's success extend far beyond the realm of pharmaceuticals, impacting health insurance coverage and healthcare costs. The alarming prevalence of cardiovascular problems and their substantial burden on healthcare systems renders Wegovy's data an essential bargaining tool for securing insurance coverage. With the potential to significantly reduce the occurrence of major cardiovascular events, the drug might well prove to be a cost-effective investment for health systems worldwide.
Novo Nordisk's plan to seek regulatory approvals for label indication expansion for Wegovy in the US and Europe in 2023 marks a pivotal moment in the battle against obesity and its cardiovascular consequences. The potential of Wegovy to reshape how obesity is perceived and treated is best encapsulated by Martin Holst Lange, Novo Nordisk's executive vice president for development. He asserts that the results from SELECT underscore Wegovy's potential not only in delivering effective weight management but also in reducing the risk of heart attack, stroke, and cardiovascular death.
The medical community is abuzz with anticipation as these groundbreaking findings pave the way for a new era in obesity and cardiovascular disease management. As Novo Nordisk's Wegovy prepares to make its mark as a formidable tool against cardiovascular disease, patients and healthcare providers alike eagerly await further detailed results from the SELECT trial, with the hope that this innovative drug may redefine the landscape of cardiovascular risk reduction and weight management.
For the latest
Pharma News
, keep on logging to Thailand Medical News.