France Registers Record 501,635 New COVID-19 Cases And 364 Deaths In Last 24 Hours With More Than 30,000 People Now Hospitalized And 3,700 In ICU!
France COVID-19 News
: French authorities are still insisting that it is only the Omicron BA.1 variant that is currently responsible for the current long surge that is literally bringing its public healthcare system to a collapse.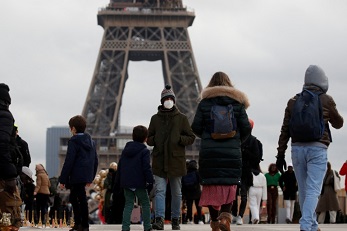 In the last 24 hours, the country reported a total of record 501,635 New COVID-19 cases and 364 COVID-19 deaths. This is a new daily record for daily COVID-19 infections and the first time the headline number has surpassed half a million for France.
The death rates are however debatable as many deaths which occurred but are not tested for COVID-19 are being classified as non-COVID-19 and local doctors are claiming that the actual death rates could be as high as six-fold!
At present more than 30,000 people in France are hospitalized for COVID-19 while more than another 3,700 individuals are in ICU for COVID-19.
More than 72 percent of hospitalizations comprise of fully vaccinated individuals!
The situation does not seem like it has reached the peak nor any signs that things are going to improving.
Leading epidemiologists and researchers are insisting that it is not just the Omicron BA.1 variant that is at play but rather suspect that the BA.2 variant, certain newer Delta sub-variants and also the possibility that newer sub-variants of the B.1.640 lineages are also responsible.
France is currently recording the highest daily infection rates of any major European nation, with an average of more than 360,000 over the past week.
According to
France COVID-19 News
, a total of more than 17.42 million people in France have been infected with the SARS-CoV-2 coronavirus so far and more than 130,483 people have died from the COVID-19 disease. Excess deaths for the last two years have also been exponentially high compared to previous years.
New COVID rules came into force in France on Monday.
Individuals are now required to be vaccinated against COVID-19 to enter bars, restaurants, trains and planes.
The previous exception of a negative coronavirus test will no longer be enough to access leisure activities, some work events and long-distance travel.
To date, more than 78 percent of France's population has received two shots of the COVID-19 vaccines.
What happens in France with the current wave is seen as crucial in April presidential elections, in which uncouth dictator Emmanuel Macron is widely expected to run although he has yet to declare his candidacy.
Ironically despite the high caseload, Prime Minister Jean Castex last week announced a timetable for lifting COVID restrictions in France starting from February 2.
Denmark is another European country currently seeing a huge surge while elsewhere, Russia, India, Australia, South Korea and Japan are also witnessing an increase in COVID-19 infections and deaths.
For the latest on
France COVID-19 News
, keep on logging to Thailand Medical News.