BREAKING! Illegal Dutch Hamsters Reported Spreading New Delta Subvariant In Hong Kong! Authorities Have Ordered All Hamsters To Be Surrendered For Euthanization!
Hong Kong health authorities today reported that a pet shop employee was infected with a rare Delta subvariant that further showed extra mutations based on data from the genomic sequencings results with evidence pointing that the source of the transmission was probably a type of European hamsters of the species known as Cricetus cricetus that most probably was imported illegally from the Netherlands.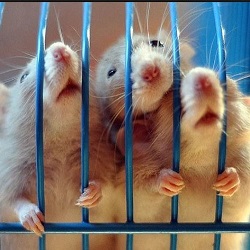 Dutch Hamsters At A Holding facility In Hong Kong Awaiting Euthanization. The FLCC said that the hamsters were being prosecuted due to the fact that they were unvaccinated plus they had close ties with Belgium virologist, Dr Gert Vanden Bossche! Lol!
The Hong Kong government and also health authorities have ordered that all pet shops and also people who might have bought any hamsters since December 22 to have the hamsters surrendered to the authorities for immediate euthanization to prevent spread of the new zoonotic Delta subvariant.
The Hong Kong leader Carrie Lam Cheng Yuet-ngo herself at a media briefing earlier today, appealing to people to surrender the hamsters and also to take extra precautions against the spread of this new Delta subvariant.
During the media briefing, she said that a pet shop employee has been confirmed as infected with the new Delta subvariant.
Health authorities and government officials have told pet shops and owners to hand over about 5,000
hamsters
for euthanization and temporarily suspended imports of small animals after finding evidence for the first time of possible animal-to-human transmission of Covid-19 in Hong Kong.
Health officials commented that the original source was most probably hamsters that were illegally imported from Netherlands that had also been mixed with other hamster species from other countries during transit and distribution to various pet shops in Hong Kong.
Genome sequencing conducted on the pet shop employee found that the genome type similar to a type of Delta subvariant was the one circulating in Europe and most probably originated from Netherlands. The fact that the pet shop was also stocking up on the Cricetus cricetus species of hamsters from Netherlands also showed a correlation to the possible origin of the transmission source.
Hong Kong officials made the order on Tuesday morning after 11 samples taken from hamsters came back positive and two more human infections emerged, one confirmed and one preliminary positive, linked to the same pet store in Causeway Bay.
A pet shopkeeper was earlier diagnosed as the city's first untraceable Delta infection in more than three months. The animals would be tested before euthanization, authorities said.
Dr Leung Siu-fai the director of Agriculture, Fisheries and Conservation announced that all owners who had bought hamsters since December 22 would have to turn over the animals.
He told media this morning, "We have assessed the risks of these batches are relatively high and therefore made the decision based on public health needs. We urge all pet owners to observe strict hygiene when handling their pets and cages. Do not kiss or abandon them on the streets."
t; All hamster owners should take their pets to the vet if they observed any health anomalies or they could contact the department for help, he added.
The new Delta subvariant infection was first reported on Sunday and involves a 23-year-old woman who worked at the Little Boss pet shop.
Hong Kong health authorities said that the current evidence from genomic sequencing data suggested it could be the first coronavirus transmission from animals to humans in Hong Kong.
Hong Kong leader Carrie Lam warned of possible risks of a community outbreak of COVID-19 arising from the Delta case and a cluster linked to a Yau Ma Tei quarantine hotel.
She said it was a concern that the employee was confirmed as infected with Delta. Cases of the Omicron variant have also been recorded, including a woman who stayed at the Yau Ma Tei hotel and is suspected to have infected nine others.
The Hong Kong leader warned, "We are worried that there could be the risk of two variants spreading simultaneously. The risk of this pet shop is that it involves animals, and it has more than 10 branches across Hong Kong."
Hong Kong since the start of the COVID-19 outbreak had always been safeguarded from massive surges and outbreaks but off late, numerous clusters have emerged in the special administrative region of China. As of today, the city's overall COVID-19 tally stood at 13,048 cases, with 213 related deaths.
The mainland Chinese authorities have also put further pressure on the city's officials ordering that should cases go up in the next few days, a stringent lockdown is to be pursued.
For more on the developing story about the
Dutch Hamsters spreading SARS-CoV-2 in Hong Kong
, keep on logging to Thailand Medical News.