Aryl Hydrocarbon Receptor Identified As A Proviral Host Factor For SARS-CoV-2 Replication And Can Used As A Therapeutic Target Against All Variants
Scientists Discover Surprising Host Factor that Boosts SARS-CoV-2 Replication
COVID-19 News
: In the battle against the persistent COVID-19 pandemic, scientists have been tirelessly searching for effective treatments that can combat the ever-evolving SARS-CoV-2 virus and its variants.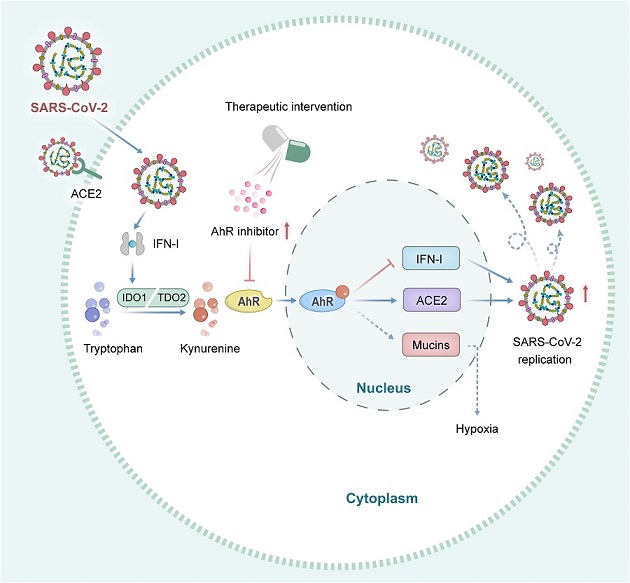 Schematic diagram of AhR promoting SARS-CoV-2 replication and acting as a therapeutic target.
AhR was activated by SARS-CoV-2 infection by Trp-Kyn metabolism pathway. The activated AhR inhibits the host antiviral
responses mediated by IFN-I and up-regulates ACE2 expression, thus promoting viral replication. AhR antagonists block
the activation of AhR, enhance the host antiviral response, and reduce the expression of ACE2 receptor, thus reducing viral replication.
In a new study, researchers from the Chinese Academy of Medical Sciences and Peking Union Medical College in Beijing have uncovered a surprising host factor called the aryl hydrocarbon receptor (AhR), which not only promotes viral replication but also emerges as a potential pan-SARS-CoV-2 therapeutic target.
Their research findings could revolutionize the way we approach antiviral therapies and provide hope in the fight against COVID-19 and its various emerging sub-lineages.
AhR is a crucial immune regulator that senses tryptophan metabolites in the body. While its function in the immune system has been extensively studied, its involvement in SARS-CoV-2 infection remained largely unknown. The research team set out to investigate the role of AhR in the viral replication process and whether targeting AhR could be an effective strategy for antiviral therapy against SARS-CoV-2 and its variants.
A previous
COVID-19 News
report in mid-2020 indicated that an inhibitor of AhR called HP162 could aid as an antiviral against Zika infections and even possibly against SARS-CoV-2.
https://www.thailandmedical.news/news/covid-19-news-hp163-identified-as-inhibitor-of-host-factor-aryl-hydrocarbon-receptor-ahr-that-aids-viral-replication-in-zika-and-possibly-covid-19
AhR as a Proviral Host Factor
The study revealed that infection with SARS-CoV-2 activates AhR signaling, leading to enhanced viral replication. This occurs through interference with the body's natural antiviral immune response, particularly the inhibition of type I interferon (IFN-I) expression, and the upregulation of the ACE2 receptor, which serves as the entry point for the virus. By blocking AhR or using AhR knockout techniques, the researchers were able to significantly reduce the replication of SARS-CoV-2 and its variants in vitro.
Promising Results In Vivo
Taki ng their findings to the next level, the study team tested the effects of AhR-targeting drugs in live animals. They discovered that pharmacological AhR blockade and AhR antagonists effectively curtailed SARS-CoV-2 replication in hamsters, demonstrating the potential of this approach in combating the virus.
Moreover, these treatments ameliorated lung inflammation caused by SARS-CoV-2 infection, highlighting their therapeutic benefits beyond viral replication control.
AhR as a Broad-Spectrum Antiviral Target
The significance of this study extends beyond the fight against the current strains of SARS-CoV-2. The researchers suggest that AhR may serve as a broad-spectrum antiviral target against other variants, including the highly transmissible Delta and Omicron variants, as well as potential future mutations. This broad-spectrum effect is critical in light of the ever-changing nature of the virus and the challenges it presents to existing vaccines and treatments.
Implications for COVID-19 Treatment Strategies
Traditional antiviral therapies that target viral components face the risk of generating immune escape strains and drug-resistant mutants. By focusing on host factors like AhR, which are necessary for viral replication, researchers can develop more effective and resilient antiviral strategies. The results from this study indicate that AhR antagonists could hold the key to a new class of therapeutic options for COVID-19 and its variants.
Conclusion
The discovery of AhR as a proviral host factor and a potential pan-SARS-CoV-2 therapeutic target brings newfound hope in the fight against COVID-19. The groundbreaking study from Chinese researchers demonstrates that by blocking AhR, it is possible to hinder viral replication and alleviate lung inflammation caused by the virus. This breakthrough not only presents a promising treatment but is useful for the development of a broad-spectrum antiviral that is able to withstand the development of drug resistance by the many emerging SARS-CoV-2 sub-lineages.
The study findings were published in the peer reviewed journal: Science Advances
https://www.science.org/doi/10.1126/sciadv.adf0211
For the latest
COVID-19 News
, keep on logging to Thailand Medical News.