Mice Study Shows That SARS-CoV-2 Omicron Variant Can Still Cause Brain Infections And Lymphoid Depletion Despite Being Milder!
COVID-19 News
: In a groundbreaking revelation by scientists from some of South Korea's leading universities, the Omicron variant of SARS-CoV-2, the virus causing COVID-19, has been found to potentially cause brain infections, even in cases where the disease presents milder symptoms.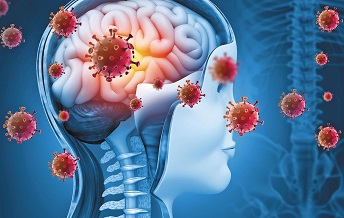 The research, a collaborative effort between Kangwon National University, Seoul National University, and Yonsei University College of Medicine, utilized a transgenic mouse model, known as K18-hACE2 mice, susceptible to SARS-CoV-2 infection. The scientists discovered that Omicron, contrary to previous beliefs, can indeed invade the brain and potentially cause severe encephalopathy, a severe illness that affects the brain.
The Omicron variant has been dominating the COVID-19 landscape due to its high transmissibility, even though it often results in less severe symptoms than the original Wuhan strain or the Delta variant. This has been observed across multiple COVID-19 models in mice and hamsters. Importantly, while the original Wuhan strain has been known to cause fatal brain infections as shown in various past studies and reported in past
COVID-19 News
coverages, the Omicron variant had not been associated with apparent brain infections until now.
This study could potentially shatter the belief that Omicron is a less dangerous variant.
By intranasally infecting K18-hACE2 mice with the Omicron variant and the original Wuhan strain, the study team found that two out of five Omicron-infected mice developed severe brain infections. This is a startling finding, as it suggests that the Omicron variant can induce severe outcomes, such as significant weight loss and encephalopathy, despite its reputation for causing milder symptoms.
An even more concerning discovery was the observation of lymphoid depletion in the spleen of Omicron-infected mice with brain infection. The spleen, an organ crucial for immune response, showed signs of severe atrophy of the white pulp, a key area that produces lymphocytes, in Omicron-infected mice with brain infections.
This suggests that Omicron can also interfere with the body's adaptive immunity system, which could potentially exacerbate the disease's severity.
The Omicron variant's ability to cause brain infections could have significant implications for how we approach and manage COVID-19.
Patients with neurological symptoms such as headache, dizziness, confusion, and altered mental status have been associated with brain infection and inflammation. It has been suggested that COVID-19's involvement with the Central Nervous System (CNS) could result in more severe disease and a higher risk of death.
Until now, the Omicron variant was seen as a less virulent form of the virus, causing milder symptoms. However, this study challenges this belief. The Omicron variant's ability to invade the brain, even in situations where the disease appears mild, is a concerning revelation. Furthermore, the discovery that the Omicron variant can also cause abnormalities in the lymphoid tissues, crucial for a robust immune response, calls for careful reassessment of our approach towards managing this variant a nd its various emerging sub-lineages and recombinant sub-lineages.
The study underscores that it is imperative not to underestimate the potential severity of the Omicron variant. This is especially critical for patients with immune disorders or underlying health conditions. In these individuals, the Omicron variant could potentially cause serious complications, such as brain infections and other complications.
While further research is needed to fully understand the implications of these findings, this study signals a significant turning point in our understanding of the Omicron variant's pathogenicity. It is a stark reminder that the battle against COVID-19 is far from over, and we must remain vigilant to protect ourselves and our communities.
The study findings were published in the peer reviewed journal: Laboratory Animal Research (Springer.)
https://labanimres.biomedcentral.com/articles/10.1186/s42826-023-00157-4
For the latest
COVID-19 News
, keep on logging to Thailand Medical News.